By Lou Ponsi
In past years, the Capistrano Unified School District's (CUSD) annual college fair has featured representatives from more than 200 universities and colleges, giving thousands of district students and families the opportunity to meet one-on-one with reps and collect information in one place.
That will still be the case for the district's 2020 college fair, but with a couple of big changes.
This year, CUSD's college fair has gone virtual and will take place over a four-day period instead of one day.
CUSD is hosting the fair from Oct. 12 to 15. Families can get all the information and register by going to the district's college and career planning website, cusd-futureology.org, and then clicking on the CUSD Virtual College Fair link.
"We collaborated with our college rep partners from all over the county and all over the world and they have registered and provided their own personal university Zoom links, " said Beatrice Nguyen, a CUSD College and Career Counselor, who helped plan the event. "We want the families to have that (same) sense of autonomy of walking from table to table and choosing who they want to speak to."
The Zoom links will be posted live on the college fair website on the first day of the fair, and parents and students and can jump from rep to rep and learn about each school, Nguyen said.
More than 200 college and universities are expected to be represented during the fair program, Nguyen said.
"We are going to have a whole spectrum of representation from the Ivy League to the tiniest liberal arts schools and private schools out there," Nguyen said. "There will be Cal States there. There will be UCs there. The purpose of this is to widen a student's scope and just let them see how many options they have out there and how many schools might fit their personal needs because it really is an individual choice."
Also on the first day, which runs from 3 to 8 p.m., two college showcases will take place that run concurrently with the virtual college table displays.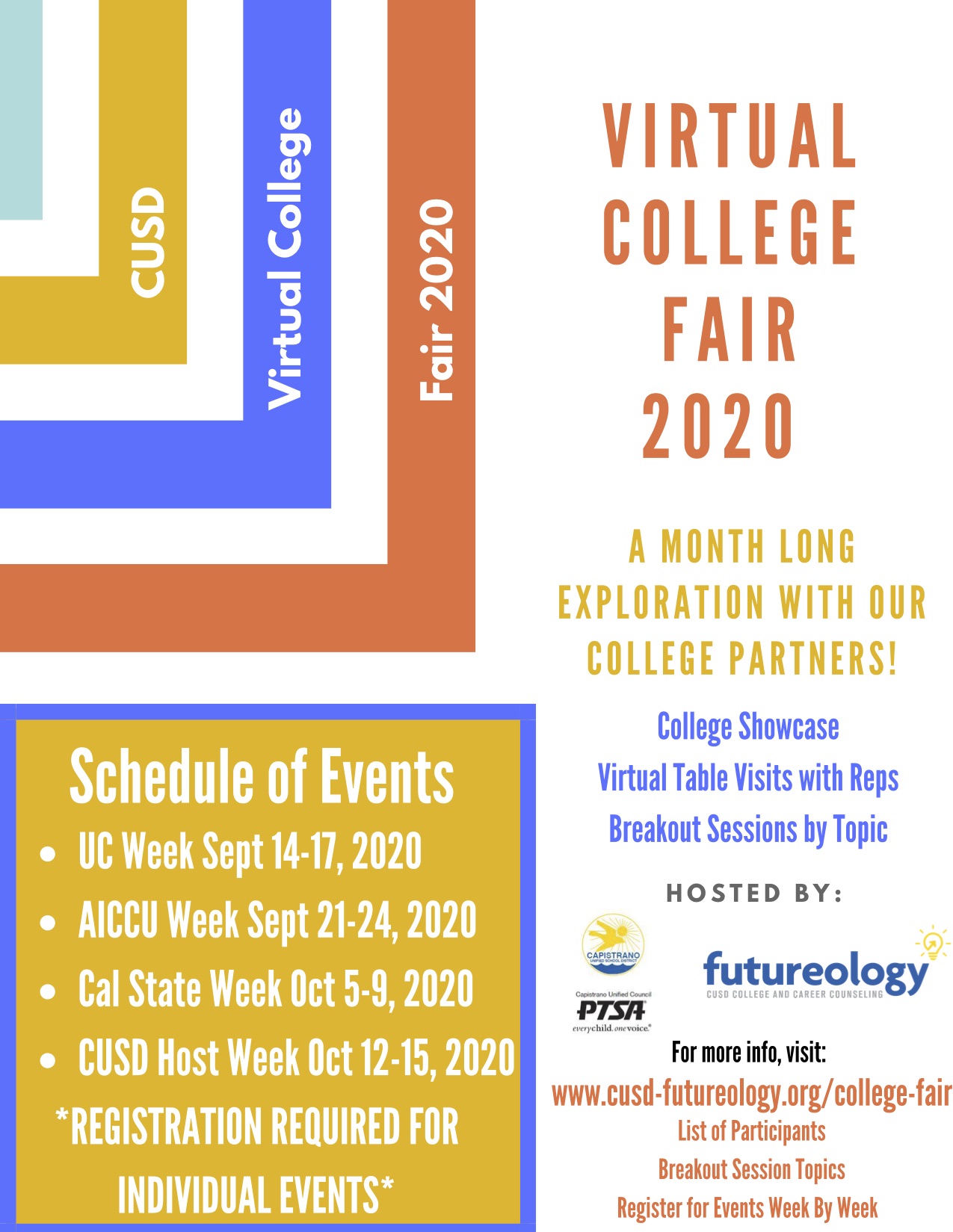 The college showcases include 80 back-to-back, three-minute live highlights from schools, with presenters talking about what makes their programs unique.
"These kind of quick highlight presentations are really great and the reps are really good at highlighting some of the most interesting or important things we need to know about that college," Nguyen said. "Our hope for this is for families, in the course of two hours, to get the same amount of exposure to a lot of schools without having to do anything but sit down and watch. That was the point behind the showcases."
The next three days of the fair run from 4 to 7:45 p.m. and will feature a series of 45-minute breakout sessions on a variety of topics.
Those topics include "College Options for Students with Learning Differences," "Exploring Engineering Programs," "How to Research Careers and Majors in Your College Search," and "Pulling Back the Curtain: Applying to Visual & Performing Arts Schools."
Students and parents will also have access to a "webinar locker" throughout the fair.
The webinar locker contains recorded presentations and sessions that the CUSD has hosted in the past.
Session recordings will be available the week of Oct. 26.
Registration is required for the college showcases and breakout sessions.
"Our district really is offering one of the more comprehensive virtual college fairs," Nguyen said. "At least in the county. So we're really proud of that."
To register and for more information, visit www.cusd-futureology.org/college-fair