By Greg Mellen
Being an assistant principal is a full-time job. Taking over in the job at a new school with a new principal and new office manager just ups the ante. That's where Nathan Howe found himself at Laguna Niguel Elementary at the start of the school year.
Still, when he had the chance to add the job of Arts Administrator to his workload one day a week, he leaped at the opportunity. Howe rides herd over more than 30 teachers and the music programs at 33 elementary schools and two K-8 schools.
"It's a vast program," Howe said. And it's his job to keep all the balls in the air and the trains on time.
Although Howe is less than a year into the job, and despite that it's only one day a week, his efforts have been impressive enough that he was named among the winners in the 2023 Orange County Music and Arts Awards. The awards are presented by the Orange County Department of Education's Music and Arts Administrators, representing kindergarten through 12th grade in 28 school districts.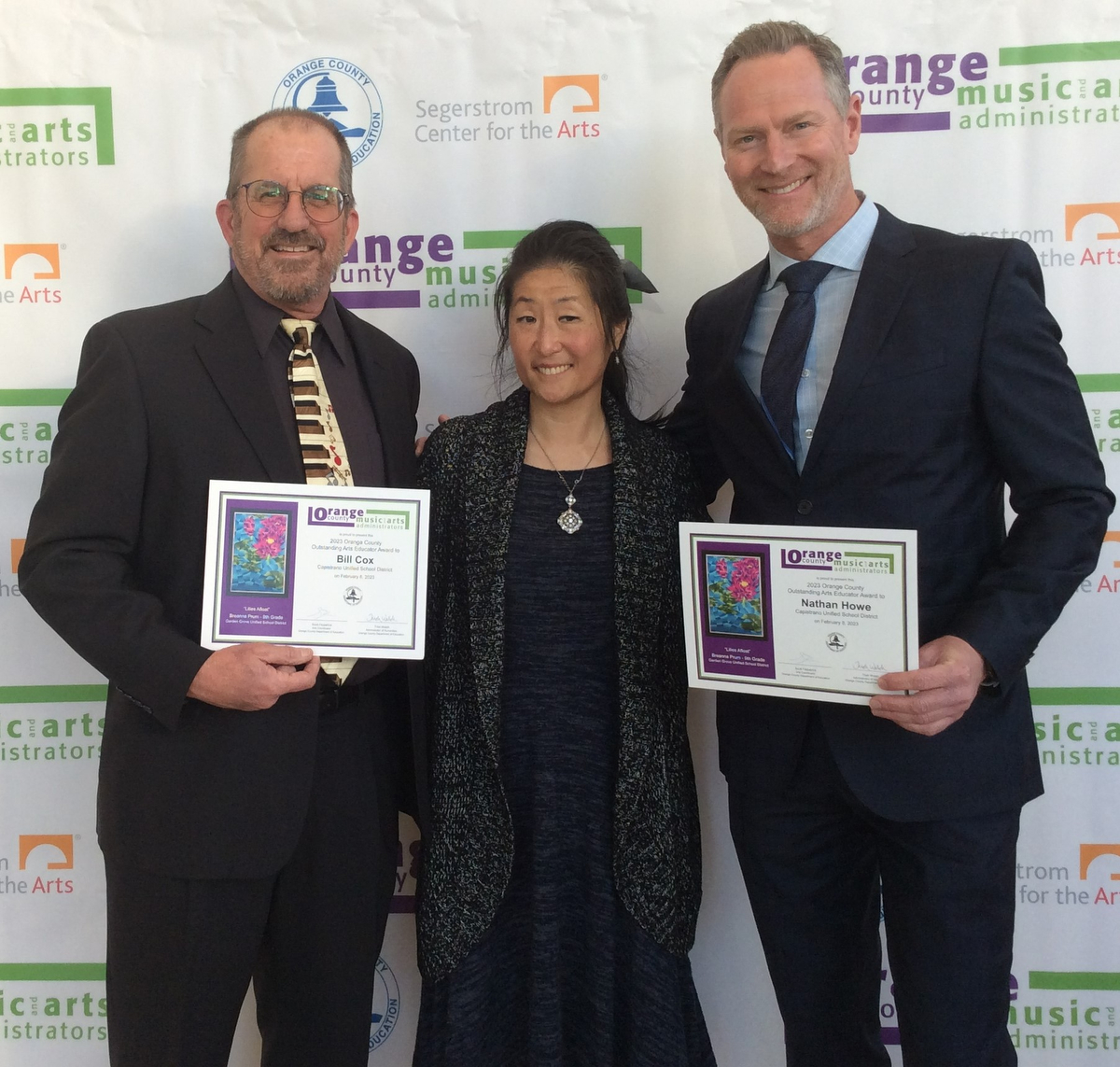 Winners were chosen from more than 80 nominees as top arts teachers, administrators, and advocates from across the arts spectrum, including music, theater, dance, and visual arts. The award winners were feted at an awards ceremony in February at the Samueli Theater at the Segerstrom Center for the Arts in Costa Mesa.
When he learned of the award, Howe said, "I was shocked. I'm halfway through my first year." Howe is among nine Arts Administrators to be recognized by the organization.
At Capistrano Unified, elementary school music education is broken into two categories: primary, for students in kindergarten through third grade; and the block program for fourth and fifth graders.
The more robust of the programs is the block program. Through this program, students receive two 40-minute music lessons per week from teams of teachers that visit six or seven schools. Students have options to delve more deeply into strings (violin, viola, cello), band (flute, clarinet, saxophone, trumpet, trombone), or choral and general music studies.
Jeff Long, who has taught band and strings in the district for the past 12 years between elementary and middle school, said Howe's enthusiasm and support helped lift morale among teachers, who have had three administrators in three years.
"He's been very supportive," Long said. "He admittedly hasn't had experience, but he came in with an open mind and open ears."
"I think as music educators we are forgotten about," said Samantha Gossage, a primary music teacher and former Music Teacher of the Year for the district. "He has really stepped up and advocated for us."
"He's been very open," said Bill Cox, himself an Arts Award winner this year. "He has music knowledge and being an assistant principal he has hands-on experience."
Howe is in his third year in the district, with stints at Wood Canyon and Marblehead Elementary. Before coming to CUSD, he had been a junior high assistant principal in another district.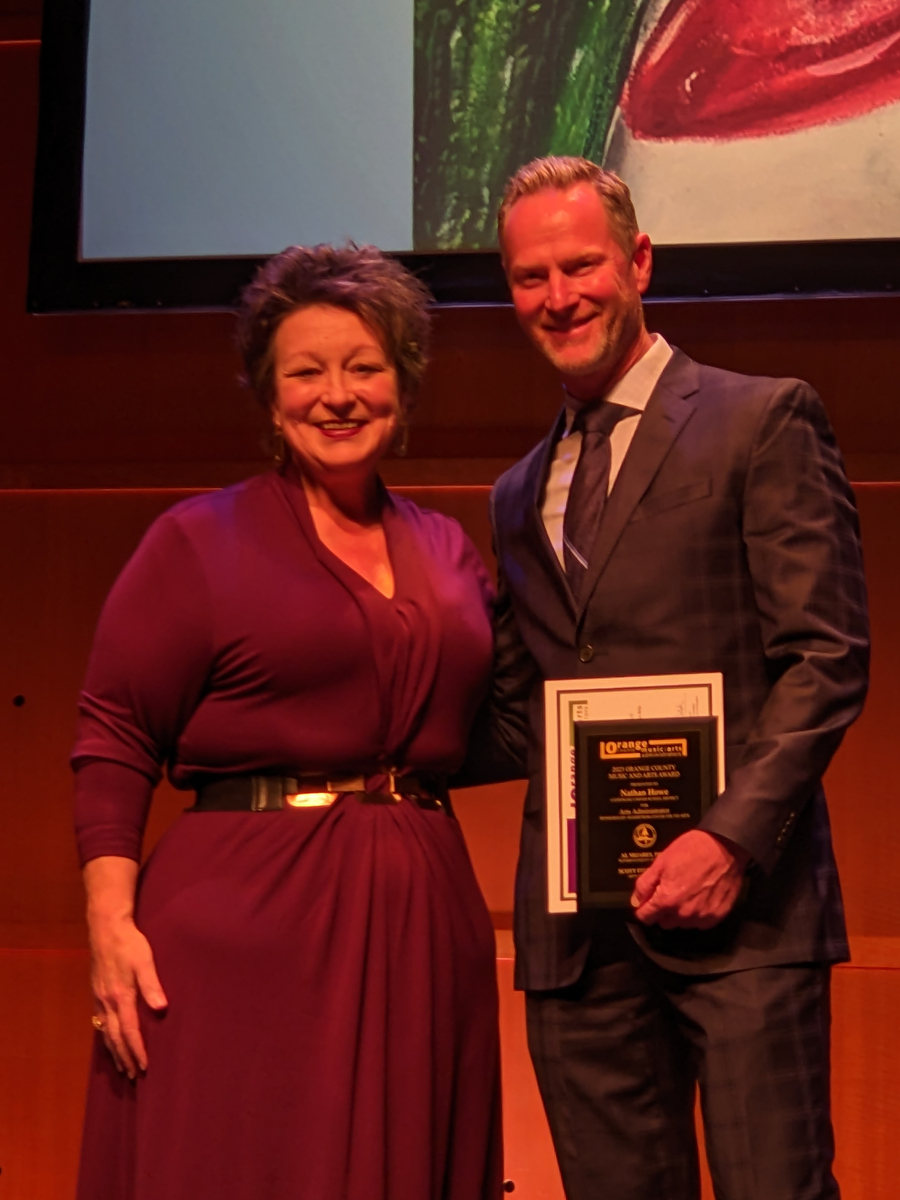 Curiously, he does not play an instrument or read music. However, he says, "I am an audiophile and a big music nerd." Howe says he has taught music history. As a youngster, whenever he bought music, he said, "I would read liner notes and knew them inside and out… I also read Rolling Stone magazine religiously and watched MTV endlessly."
"He's a vernacular music nerd," said Gossage, who was amazed at the scope and depth of Howe's knowledge of music and recording. Cox said of Howe's knowledge of musical minutiae, "He has that trivia locked in his mind."
Howe has been a strong supporter for the teachers.
"He has really stepped up and advocated for us," said Gossage.
Howe said he is already preparing to position the music program to get a fair share of the $1 billion in state funding that will be earmarked for the arts through Proposition 28.
Ideally, he says, he'd like to hire an assistant for each of the block music team, to help manage the mechanics and logistics of getting instruments to kids to free the teachers to spend more time on teaching and student engagement.
So far, he says the position reminds him of a saying he once heard: "When your heart and mind are in the same place, you're in heaven."