By Cathi Douglas
When elementary school music teacher Kim Nason attended the recent Orange County Music and Arts Administrators annual awards ceremony, she didn't expect to receive the top lifetime achievement award.
The block music teacher, who most recently taught fourth and fifth graders at seven Capistrano Unified schools, was astonished and honored to receive the organization's Irene Schoepfle Award. The award is a countywide honor that celebrates teachers who've made a noteworthy impact on generations of young musicians.
Nason retired at the end of the 2021-22 school year, thus the prestigious award capped a distinguished, 32-year career during which she taught music to more than 25,000 students in grades K-8 and served as a mentor and adviser to many new teachers.
During those years she also completed her master's degree in choral conducting from California State University, Fullerton. In addition, Nason directs the choir at her church, Shepherd of the Hills United Methodist in Rancho Santa Margarita, and performs as a member of the Pacific Chorale.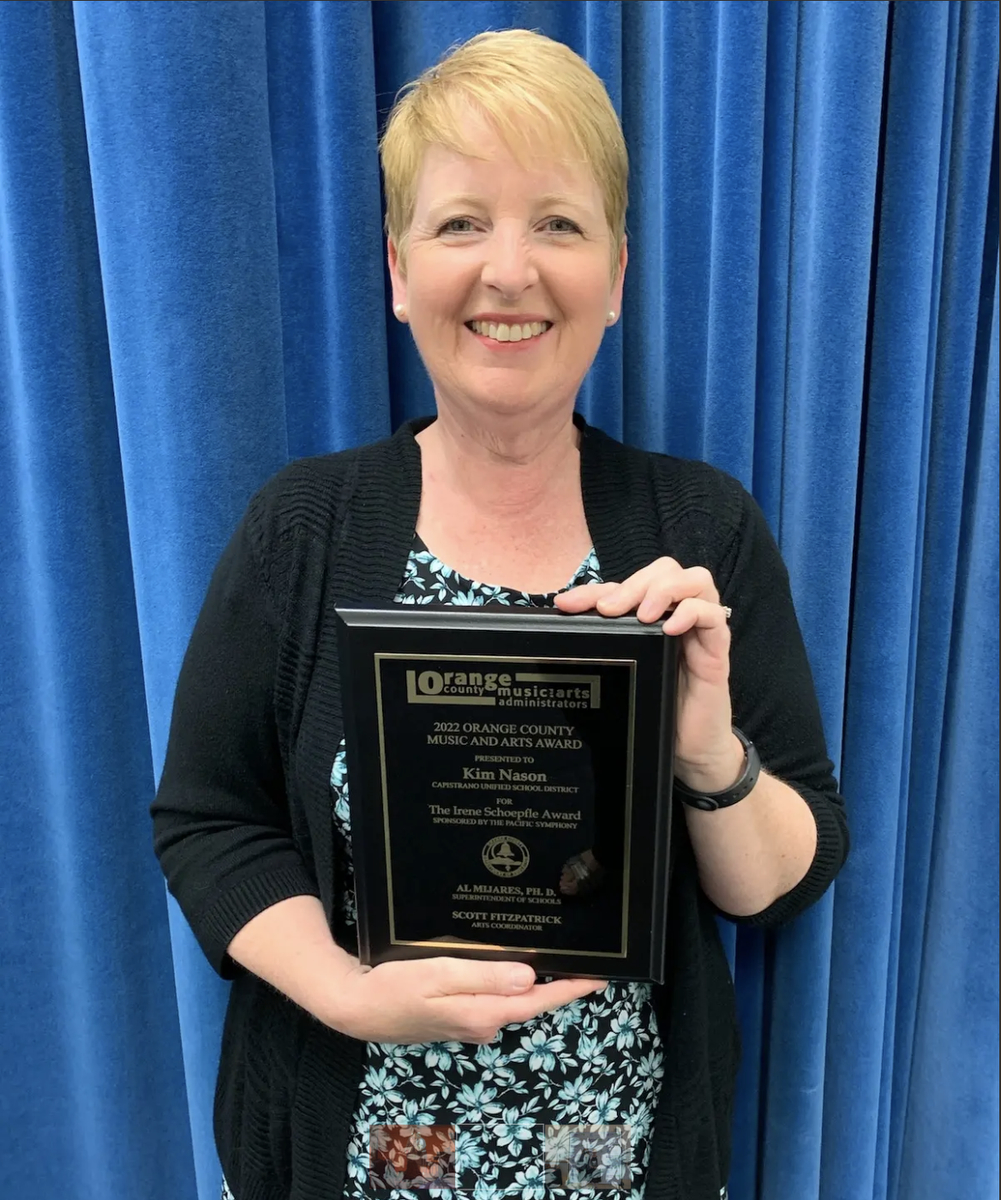 "It was surprising and very flattering that other teachers recognize my contributions," recalls Nason of the May 17 ceremony, which took place in the Samueli Theater at the Segerstrom Center for the Arts. "So many teachers were honored that evening for different things, so to receive one of the biggest awards made me especially pleased.
"It felt good to be recognized," adds the Mission Viejo resident. "It's been a special year. Since I'm retiring, people have been saying a lot of nice things about me."
One of those is Nason's fellow elementary school music teacher Sharon Evans, who nominated her colleague for the award.
"Kim is so deserving of this honor," Evans says. "She is an amazing music teacher who's done outstanding work at the district and in other leadership positions throughout Southern California, including conducting at her church and many other performances, and leading choral music directors individually and in professional organizations."
Evans sought advice from Nason over the years and appreciates her professionalism and dedication to the students.
"She has a lot of experience under her belt and is very knowledgeable," she notes. "She knows her craft very well and enjoys working with the kids; she has a lovely presence and personality and finds ways to make connections with them that are fun and memorable."
In the nomination application, Evans wrote that, "Kim is driven to always be thoroughly prepared and find new approaches to reach all students in the classroom. She attends many workshops and participates and serves in leadership roles to keep honing her own skills both as a teacher and musician.
"She pores over each score to find the most effective ways of teaching the unique aspects of each work," Evans wrote, "and she writes out a plan every time so not a minute is wasted. She is aware of best practices in student engagement and keeps the lessons moving to keep students involved."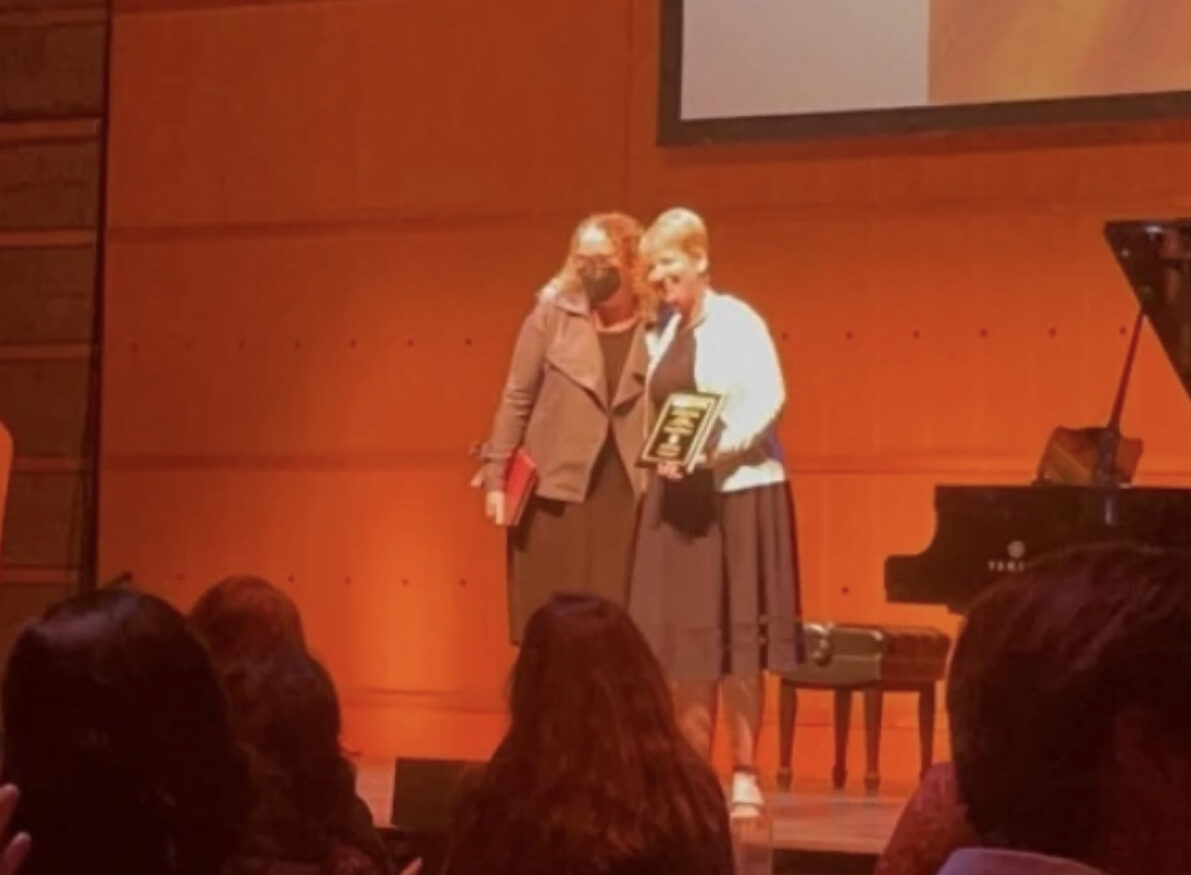 Nason is well-loved by her students, Evans adds, which is evident in the way they respond to her conducting and direction, evident in the numbers of students who sign up to work with her each year, and the ways they express themselves in song.
Although she's retiring from her district work, Nason says she is considering other teaching opportunities. She was busy right after academic year end directing her church's annual musical, something she's done every summer for more than 20 years.
Nason was honored as the district's Teacher of the Year for elementary music in 2016 and has served as a mentor and advisor to other teachers.
"(The) student teacher she has trained has gone on to have great success and speaks very highly of their time with her," notes Evans.
Samantha Gossage, worked as a student with Nason in 2017-18 and now serves as a Capistrano Valley primary music teacher in grades TK-three.
"Everything she does is planned meticulously," Gossage notes. "Kim gets the students engaged and keeps them engaged through the entire lesson. She is an extremely musical person and has encouraged me to be musical as well, to put my whole heart into what I'm doing."
Gossage says Nason is well deserving of honor because of her lifelong commitment to music education and her impact on so many teachers, students, and families. She leaves behind colleagues who treasure working with her.
"I'll miss everything about Kim," Gossage admits. "I'll miss her musicality, her voice on the team, having a friend to talk to… She's a mentor, friend, teacher, director, singer – she is everything."