By Elysse James
For the first time in 10 years, Capistrano Valley High School's theater program won first place from the California Educational Theatre Association and the chance to perform at an upcoming high school theater festival.
San Juan Hills High School received a third-place award this year for "Romeo and Juliet."
The 52-member cast and crew of the fall production of "Clue" were surprised and excited by the first-place win for the Orange County area, one of three regions covered by the CETA (the others are the Riverside and San Diego areas).
"This is only the second time in our school's history we've won first place with a show," director and drama teacher Emily Tucker said. The school has received runner-up awards in the past for "Antigone" and "Rumors."
The winning schools are chosen by a team of three professional judges from the Association who later provide feedback to the students.
Natalie Hill, who played Mrs. Peacock in the "Clue" production, said she had fun bringing her character to life.
"This is a big, big deal for our school," Hill said. "We're all really excited. It's a huge honor for me as a senior to be part of this kind of legacy."
The school has been entering the contest for 14 years, but hasn't taken first place since a performance of "Rumors" a decade ago.
"I was extremely excited," Tucker said of the win. "I was so proud of my actors and my technicians because it was a really hard set to build and it's a really hard show to act."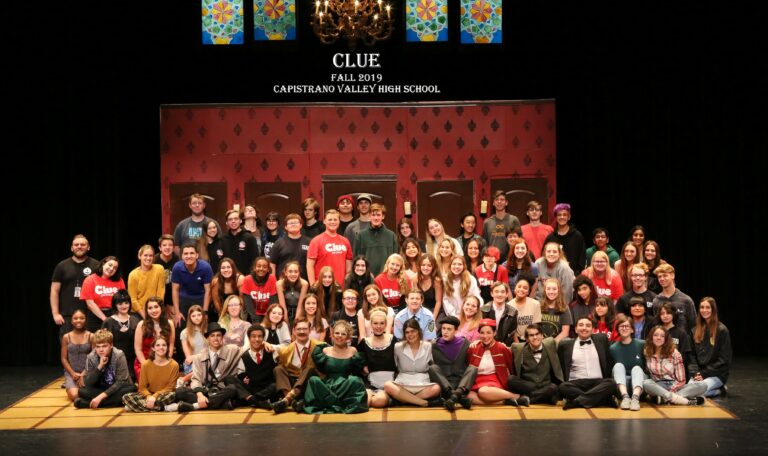 The team will perform at the MainStage of the Southern High School Theatre Festival in January for an audience of about 1,300 high school theater teachers and directors, students, and parents from other CETA member schools. Students will get to watch short scenes from plays that received second and third place nods, attend acting and technical workshops, apply for scholarships, and watch a professional Comedy Sportz show.
"We've definitely grown and our talent has grown," Hill said. "We've gained so much in the past couple years and it's really, really special that we're able to do this."
The festival runs from January 17 to 19, 2020 at Fullerton High School and the Plummer Auditorium.
The "Clue" crew will have just an hour before the curtain goes up to build the entire set. Once the performance concludes, they have an hour to tear down and clean up the stage for the winning schools from the other regions to perform.
"Normally when a show ends on our closing night we say goodbye to the show, and that cast and crew never get to work together anymore," Tucker said. "It's like a family reunion to perform one last time."
Tucker called her students into her classroom during their break this fall to announce the news.
"They all started screaming," Tucker recalled. "Then they were all hugging each other. They know what a big deal it is to win. Some told me it had been their high school goal to perform at CETA."
Jasmine Kint, assistant stage manager, said she fell to the floor when she heard the announcement.
"It was amazing. I cried," Kint said. "It was really special, especially my senior year, to win something like this where everyone is working together to make it happen."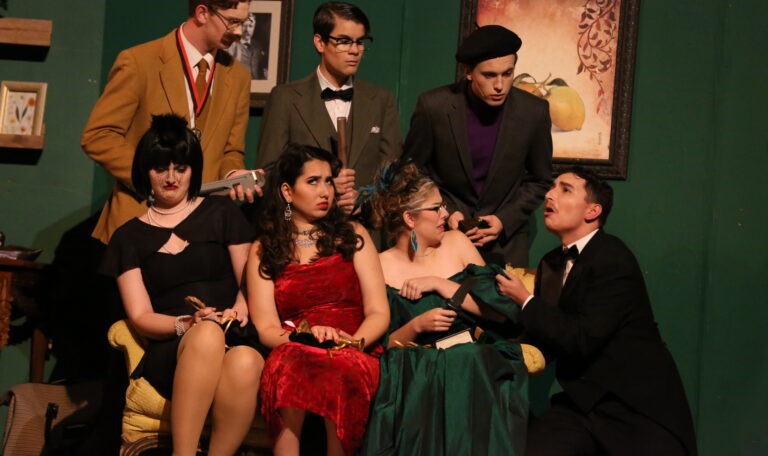 The cast and crew of the fall production of Clue at Capistrano Valley High School include the following:
Director:  Emily Tucker
Assistant Director: Maddy Cole
Technical Director: Justin Barnes
Cast
Wadsworth: Lucas Morgan
Miss Scarlett: Alexa Parvaneh
Mr. Green: Quinn Rizco
Mrs. White: Chloe Konoske
Colonel Mustard: Luka Dobrilovic
Mrs. Peacock: Natalie Hill
Professor Plum: Walker Nelson
Yvette: Kristen Slymen
Mr. Boddy: Sebastian Elizarraras
Cook: Kayla Bryant
Cop: Jonny Langan
Motorist/Agent: Evan Nowack
Telegram Girl/Agent: Makenna Malkin
Reporter: Mason Gulline
Crew
Stage Management: Samantha Fernandez (SM), Jasmine Kint (BSM), Abby Brull (ASM)
Running Crew: Abby Brull*, Krystal Penn, Rachel DeGhetto, Maylin Sterling, Shelby Lewis, Bella Cherney, Scott Garreton, Josh Radensky, Kaitlyn Scanlon, Natalie Mugnai Diba DarvishAzad
Sound Crew: David Jung*, Audrey Zimmer*, Ben Mayer, Alin Pichikian, Anna Whitney, JB Law, Seth Liebrand
Hair and Make-Up/Costumes: Julia Hess*, Ellie Mezak*, Kayleigh Werner**, Hailey Gecgil, Dana Meza, Nic Beyer, Bella Giovanni, Annie Huish, Alexa Ghalwash, Ellie Boone, Ellie Sepulveda
Lighting And Projections: Katrina Silva*, Max Weiss**, Chloe Beall, Emilie Roper, Jayden Tidwell, Krystal Penn
Paint: Lauren Richards*, Tyler Phan, Ciara Park, Sophie Sepulveda, Jazz Kint
Construction: Nathan Lahaderne*, Sarah Garreton**, David Jung, Aiden Sallows, Ciara Park, Siena Yoseph, Mateo Gamez, Marcus Little, Jackson Garcia, Ella Mayer, Shelby Lewis, Alin Pichikian, Kyla Allen, Alyssa Ivory, Shahin Farrokhian, Caleb Martinez, Jackson Shimizu, Sophie Sepulveda
Rigging:  Nathan Lahaderne*, Aiden Sallows, Jackson Shimizu, Sarah Garreton, David Jung
Accompanist: Maxwell Wilkens
* crew leads and show designers