By Elysse James
Capistrano Unified has served 81,015 meals — an average of 4,500 per day — since schools closed March 16, but has capacity to serve much more. The district is inviting all children to collect meals from its distribution sites each Monday and Wednesday.
The district was accustomed to producing 18,000 meals on a school day, but since schools have been closed as classrooms move to distance learning, CUSD's Food & Nutrition Services have been serving far less.
This week, they served just 10,128 from Monday to Wednesday, said Kristin Hilleman, Food and Nutrition Services director.
"We have plenty of food and anyone can stop by, they just need to have their kids with them or documentation to take advantage of the program," said Shannon Illingworth, nutrition specialist. "It helps their families and it helps us."
Adults can provide documentation using the following:
Official letter/email from school showing enrolled child
Individual report card
Attendance record from Parent Portal
Student ID card
Birth certificate for child not in school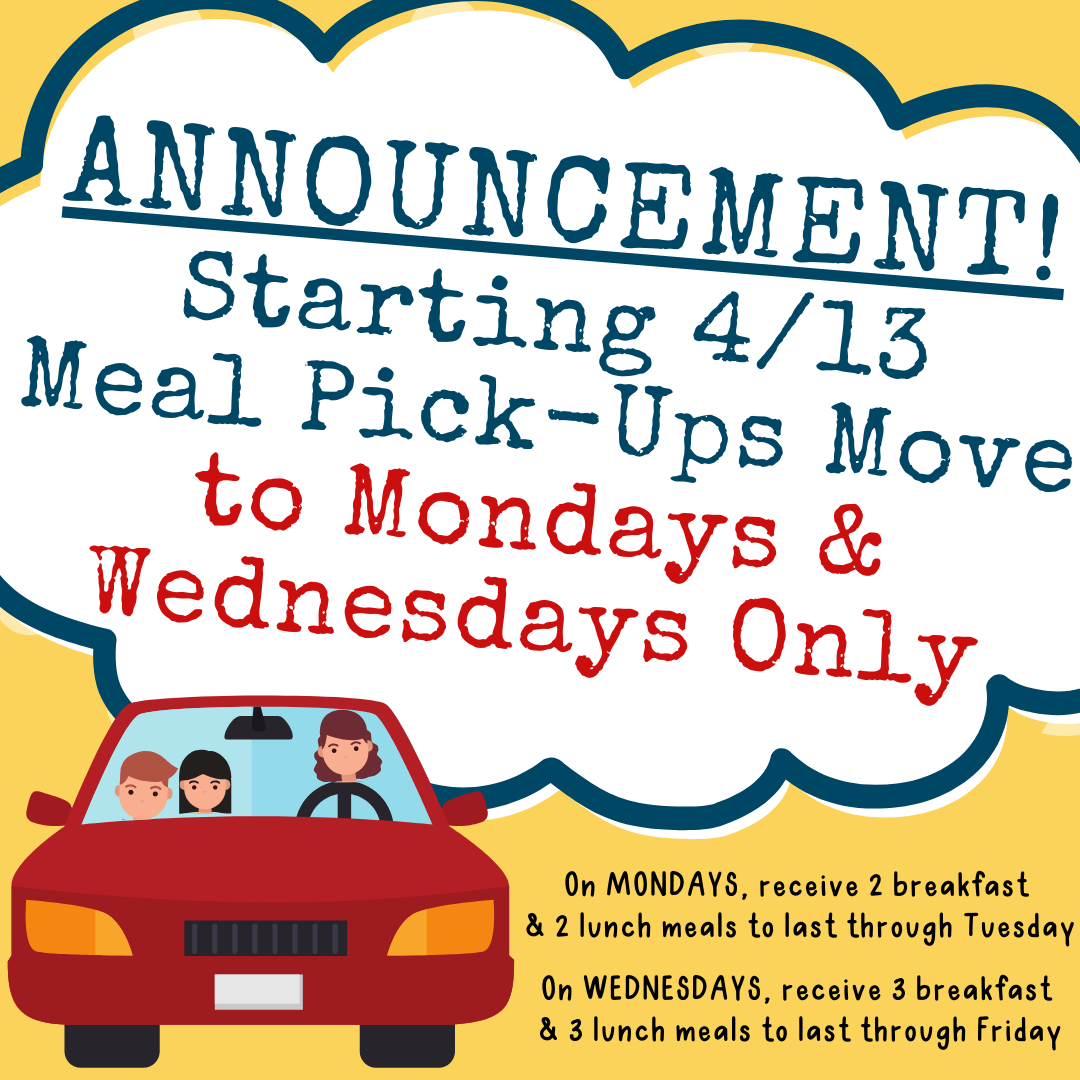 The cost of each meal is reimbursed by the United States Department of Agriculture (USDA), she said.
"We are used to operating at a high volume, but now we're only doing one-third of that," Illingworth said. By picking up meals for children, "you're helping your family and you're helping our program as well," she said.
To better protect everyone, the district is changing its meal distribution schedule to Mondays and Wednesdays only, starting April 13. On Mondays, students will receive two breakfasts and two lunches, and on Wednesday will receive three breakfasts and three lunch meals.
"It was pouring rain on Monday at lunchtime and they were out handing out the meals," Illingworth said. "They are working super hard, rain or shine."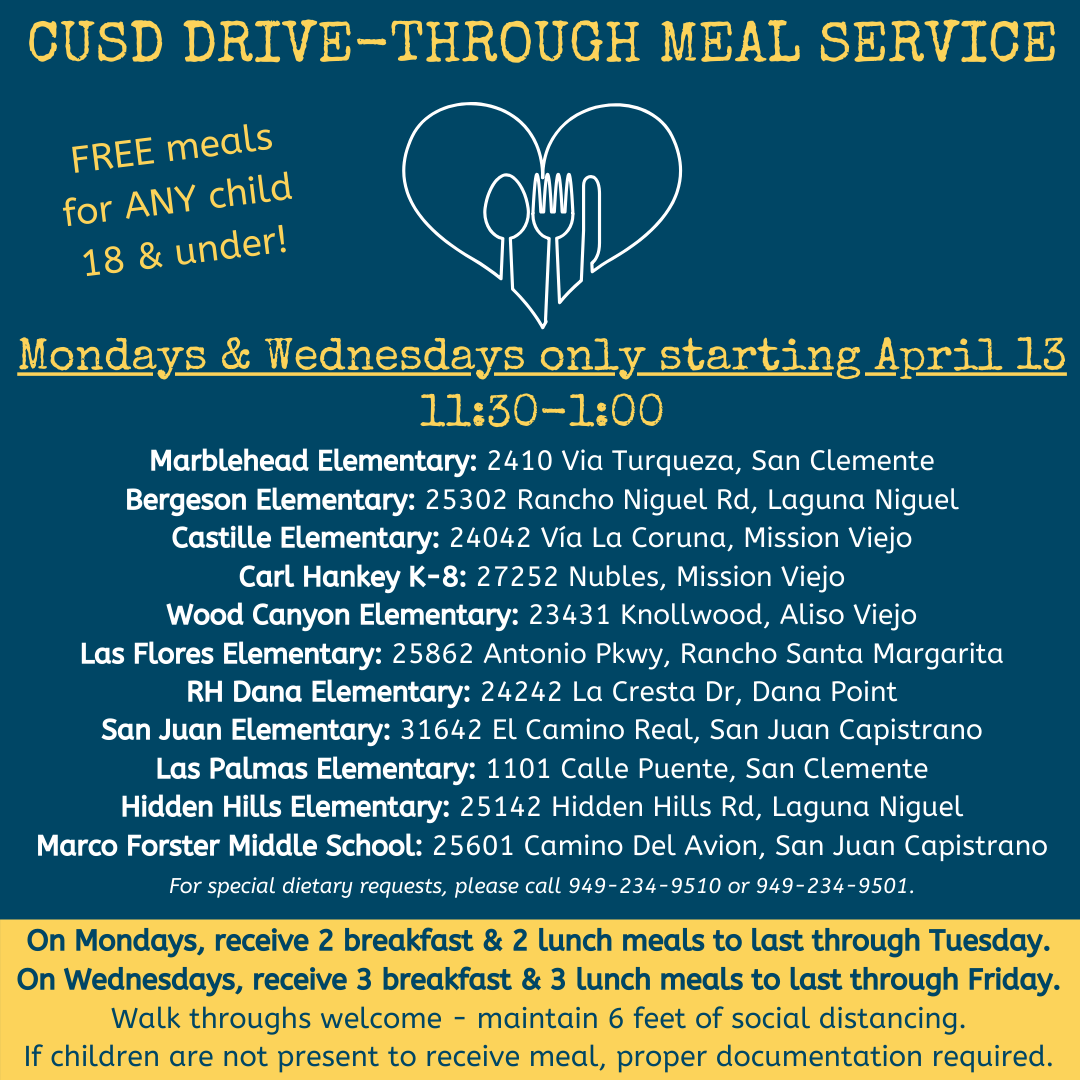 Any child age 18 and younger can receive the meals as long as they are in the vehicle; if children are not in the vehicle adults must hold documentation up to the window, such as a letter or email from the school showing the child is enrolled, a report card, attendance record, student ID card, or birth certificate for a child not in school.
To pick up meals, people stay in their vehicles and line up at the participating school sites. As the vehicles approach the curb, signal how many meals are needed by holding up that number of fingers. Staff then place meals on a cart next to the curb, and step away at least 6 feet before the person gets out of their vehicle to collect the food, doing their best to not touch the cart. If the cart is touched, it will be sanitized before the next meal is placed.
This keeps everyone a safe distance apart to protect both employees and families.
Meals are served between 11:30 a.m. and 1:00 p.m. Monday through Friday.
This service takes place in the parking lot or bus lane at these participating schools: 
Carl Hankey K-8: 27252 Nubles, Mission Viejo
Castille Elementary: 24042 Vía La Coruna, Mission Viejo
Hidden Hills Elementary: 25142 Hidden Hills Rd, Laguna Niguel
Las Flores Elementary: 25862 Antonio Pkwy, Rancho Santa Margarita
Las Palmas Elementary: 1101 Calle Puente, San Clemente
Marblehead Elementary: 2410 Via Turqueza, San Clemente
Marco Forster Middle School: 25601 Camino Del Avion, San Juan Capistrano
Marian Bergeson Elementary: 25302 Rancho Niguel Rd, Laguna Niguel
H. Dana Elementary: 24242 La Cresta Dr, Dana Point
San Juan Elementary: 31642 El Camino Real, San Juan Capistrano
Wood Canyon Elementary: 23431 Knollwood, Aliso Viejo
Visit the Food & Nutrition Services Department website for more information.