By Elysse James
Capistrano Unified teachers and district officials worked round the clock and through their spring break to prepare for distance learning in the midst of the statewide stay-at-home order.
More than 1,500 teachers signed up for training using Google Hangouts Meet starting Tuesday, March 17, said Stephanie Avera, Capistrano Unified Director of Educational Technology. Avera and her team mobilized in a matter of hours once the decision to temporarily close schools was finalized.
Between organizing and holding trainings and answering emails, Avera estimates she worked from 7 a.m. to 7 p.m. seven days last week, often longer.
"That wasn't only me," she said. "That was a lot of people working that many hours to get everything going so the teachers are prepared to teach."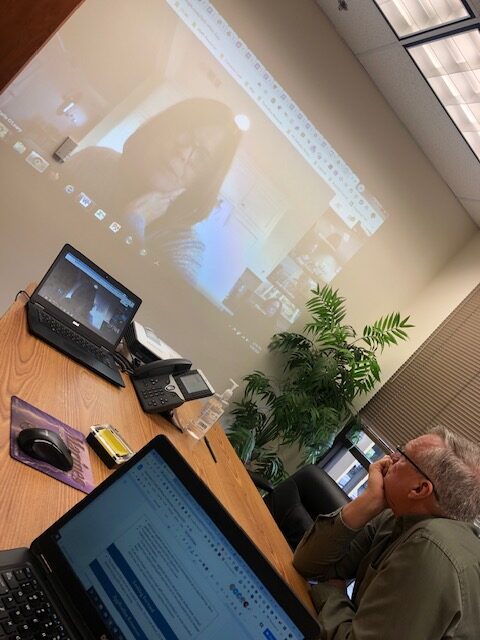 About 1,500 teachers have participated in trainings so far, Avera estimates. Each training is capped at 250 users, Avera said, and every single training has been full.
"This is uncharted waters for us and its going really well," said elementary curriculum specialist Elisa Slee, who is helping with the daily training sessions. "If you think you work a lot, now you work nonstop, but I think we're all getting used to this."
When Avera first sent a sign-up sheet for the virtual sessions, she underestimated the interest. The document quickly grew to 22 pages "of name after name signing up for classes," Avera said. "It's amazing and it's awesome. I love technology and how transformative it can be in a classroom."
Programs like Google Classroom, Screencastify, Seesaw, and more allow teachers to watch students work on assignments virtually and give real-time feedback, create virtual classrooms and videos that allow students to interact and collaborate, upload assignments, and share video lessons, Avera said.
More than half of the district's 900-some elementary school teachers were already using this technology regularly. Now, teachers who were previously not as tech-friendly are learning and getting creative with their new tools.
@MrsMaass5 GREAT JOB!!

— Ladera Ranch Lions (@LRLions) March 22, 2020
For example, one teacher asked students to share pictures of their pet or stuffed animal, so the kids could see each other's pets and see each other, too. Several teachers took home their class organisms (worms, hissing cockroaches, and crickets). They've been posting pictures of the creatures to share with their classes, Slee said.
"Everybody has been completely accepting and willing to try, and open with their attitudes," Avera said. "They're willing to do anything for the kids."
The majority of teachers in grades 3-12 were already using Google Classroom and other tools to communicate on a daily basis.
"It's been phenomenal the way everybody has stepped up," said Virginia Reischl, Secondary English and History Curriculum Specialist for Capistrano Unified School District. "Everybody has the students in their best interest. The main question I get from department chairs is, 'What about students who don't have access? How do I get them a Chromebook, internet access?' Their main concern is equity and access."
The district is working to distribute more than 6,000 Chromebooks to students who requested one to use at home. In addition, some teachers are creating paper packets parents can pick up at the schools for children to work on at home.
Hoping all our Panthers realize how much Newhart Staff MISSES YOU! Feel free to comment some kindness here if you miss Newhart as much as we do! ?❤?❤? https://t.co/jgAjyxc6l4 pic.twitter.com/feCQXlBUxW

— Newhart MS Panthers (@FNMSpanthers) March 20, 2020
"Even though we're separated it's unifying our district even more," Avera said. "We cover 200 square miles and sometimes it's hard to collaborate. This has caused us to unify more than anything else in the past."
Teachers at every grade level are meeting — online only — to answer questions and collaborate, Slee said.
"The communication has just blown my mind, everybody just working together to support the teachers and assuage their fears," Reischl said. "It's one day at a time for them as well. We need to have grace and understanding for everybody."
By the Numbers
7 cities are part of CUSD
63 campuses in CUSD
120 teachers per elementary grade level
250 person limit for each online training
1,500 teachers participated in online training
2,200 teachers moving to online learning
6,000 Chromebooks going home with students this week
More about how Capistrano Unified continues to prepare for and prevent COVID-19:
Kaiser Pediatrician talks COVID-19 with Capistrano Unified
Capistrano Unified serves lunch, breakfast to 6,705 kids and counting
Capistrano Unified Principals engage students virtually during COVID-19 closures
Social distancing for kids in the age of COVID-19, Capistrano Unified shares resources
Capistrano Unified serves more than 1,000 free meals during COVID-19 school closure
Capistrano Unified offers students free curbside lunches during COVID-19 school closures
Capistrano Unified Closes Schools Amidst Global Coronavirus Concerns
No coronavirus cases in Capistrano Unified; district prepares