Harvard. Columbia. UCLA. UC Berkeley.
They are among the prestigious colleges and universities where 30 Aliso Niguel Class of 2019 will compete next year.
It was a big year for the Wolverines. Nine teams won league championships, and two athletes – Sean Slusiewicz (100M breaststroke, Stanford) and Morgan Flynn (pole vault, Class of '20) won individual CIF championships.
"Our students pride themselves on being students first," said Andrew N. Mashburn, athletic director. "Wins and losses come and go, but the experience you have being part of a great school with pride in academics and sports in incomparable."
The teams winning league championships: Girls Golf, Girls Basketball, Girls Soccer, Boys Soccer, Boys Swimming, Boys Track and Field, Boys Lacrosse, Baseball, Boys Golf.
Among the highlights, according to Mashburn: a 10-2 record in football and reaching the quarterfinals of the CIF tournament, girls' volleyball advancing to the CIF quarterfinals and winning two games in the CIF state regional tournament; girls' tennis advancing to the CIF finals; girls' soccer and basketball winning repeat league championships and the continued regional dominance of the boys' swim and track programs.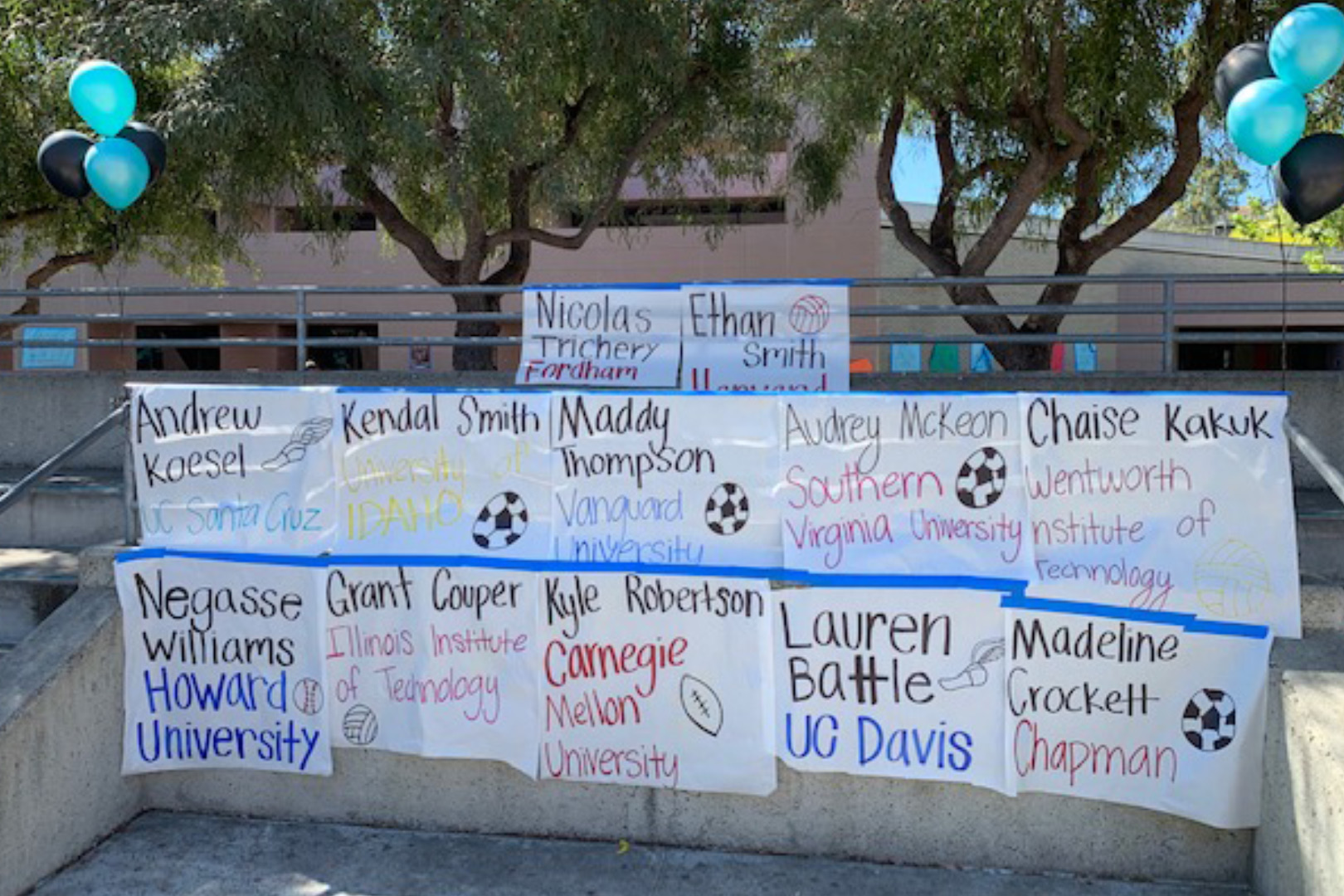 The athletes who so far have signed letters of intent declaring where they will play at the next level are:
Andrew Koesel, Track and Field, UC Santa Cruz
Annie Jarvis, Rowing, UC Berkeley
Audrey McKeon, Soccer, Southern Virginia University
Carley Brown, Softball, BYU
Caytlyn Schmuhl, Soccer, Friends University
Chaise Kakuk, Volleyball, Wentworth Institute of Technology (Boston, MA)
Danielle Mandichak, Softball, Columbia University
David Le Bioda, Baseball, Pepperdine
Ethan Hoopingarner, Baseball, USC
Ethan Smith, Volleyball, Harvard
Evan Fitterer, Baseball, UCLA
Grant Couper, Volleyball, Illinois Institute of Technology
Kendal Smith, Soccer, University of Idaho
Kenzington Martin, Gymnastics, George Washington University
Kyle Robertson, Football, Carnegie Mellon University
Kyle Vom Steeg, Volleyball, UCLA
Lauren Battle, Track and Field, UC Davis
Maddy Thompson, Soccer, Vanguard University
Madeline Crockett, Soccer, Chapman
Natalie Sadighi, Gymnastics, UC Berkeley
Negasse Williams, Softball, Howard University
Nicolas Trichery, Swimming , Fordham university
Nolan Upchurch, Baseball, Occidental College
Quinn Mathews, Baseball, Stanford
SaraJayne Affleck, Soccer, BYU
Sean Slusiewicz, Swimming, Stanford
Tanner Smith, Swim, Biola University