Tesoro High School's Class of 2020 celebrated their graduation pandemic-style, with a socially distanced ceremony. Students waited in their vehicles with their families until their big moment on the stage.
Masked school officials and administrators cheered on the high school seniors from a short distance away as the students walked the red carpet to receive their diplomas and pose for photos.
"This class not only handled the uncertainty of COVID well, but so many of them appreciated their teachers and the efforts that were put forward in the spring," Principal Ken Ezratty said. "I think they now have a different perspective as to what is important than the average recent high school graduate.  They will handle adversity in the future based on this experience."
The graduates are listed in alphabetical order following the photo essay.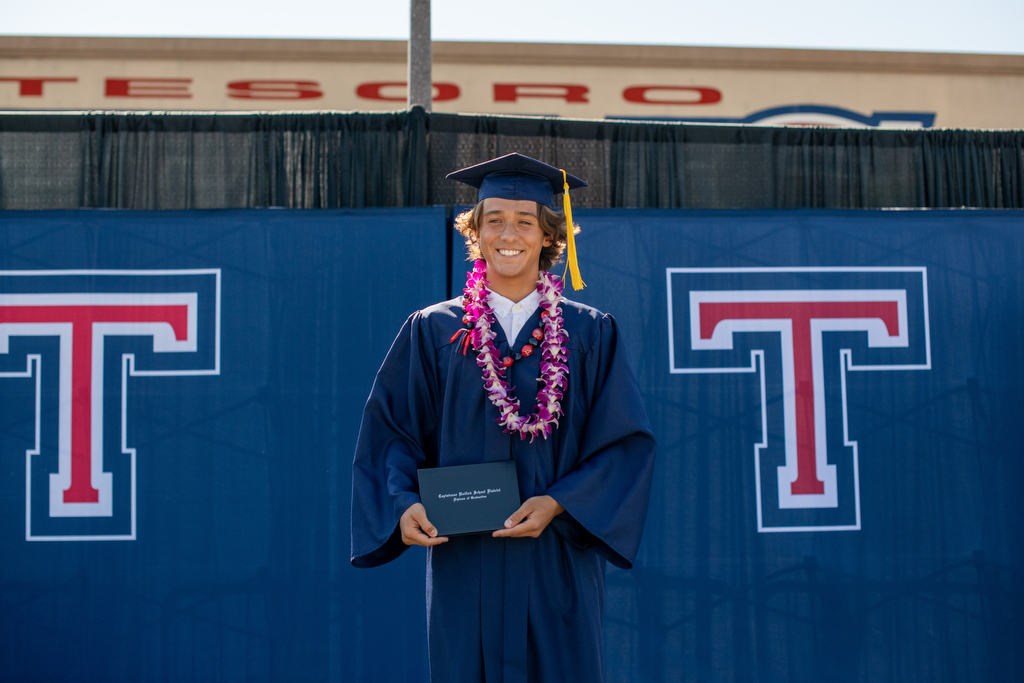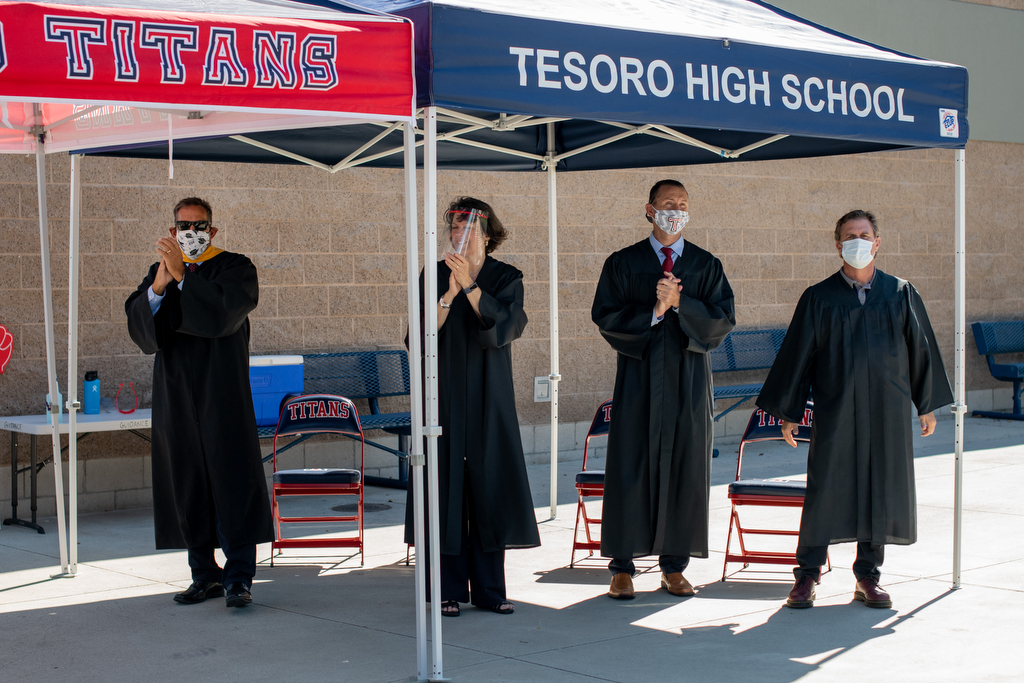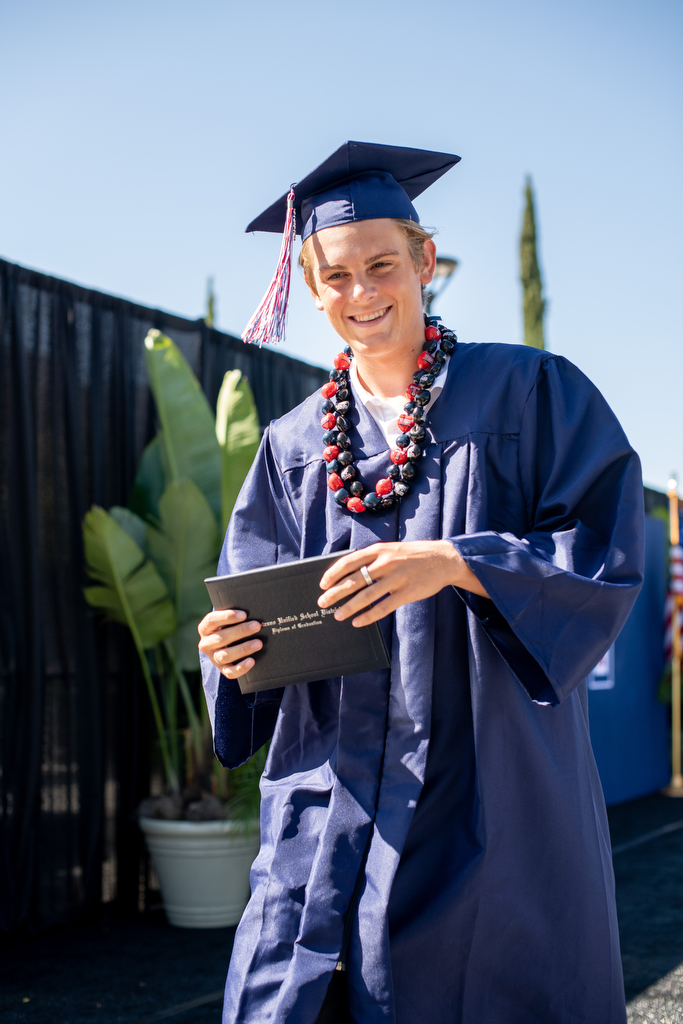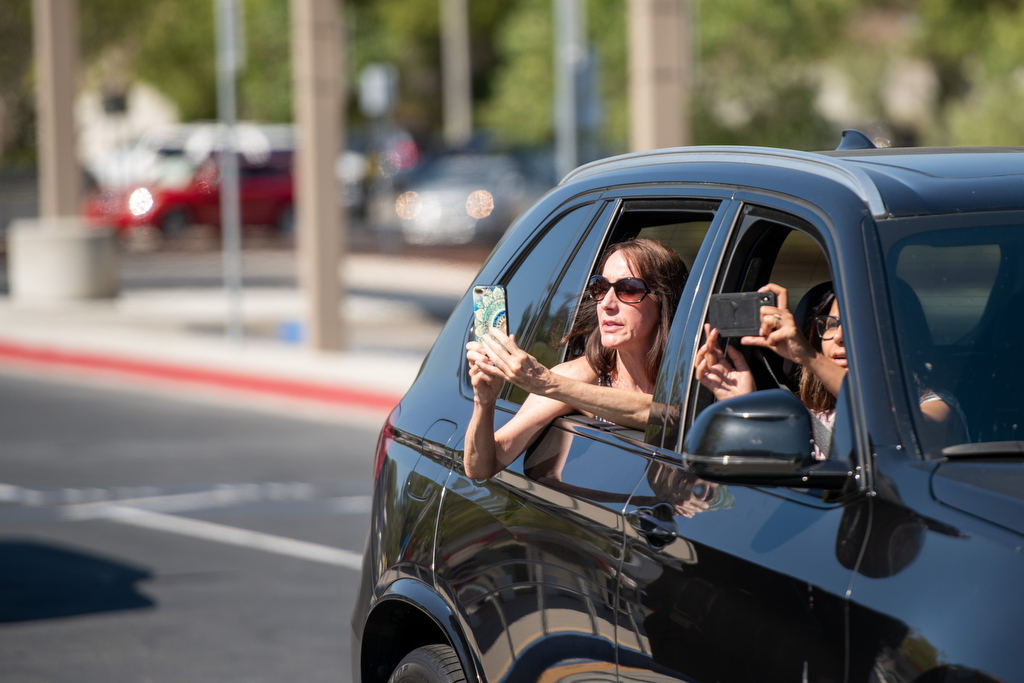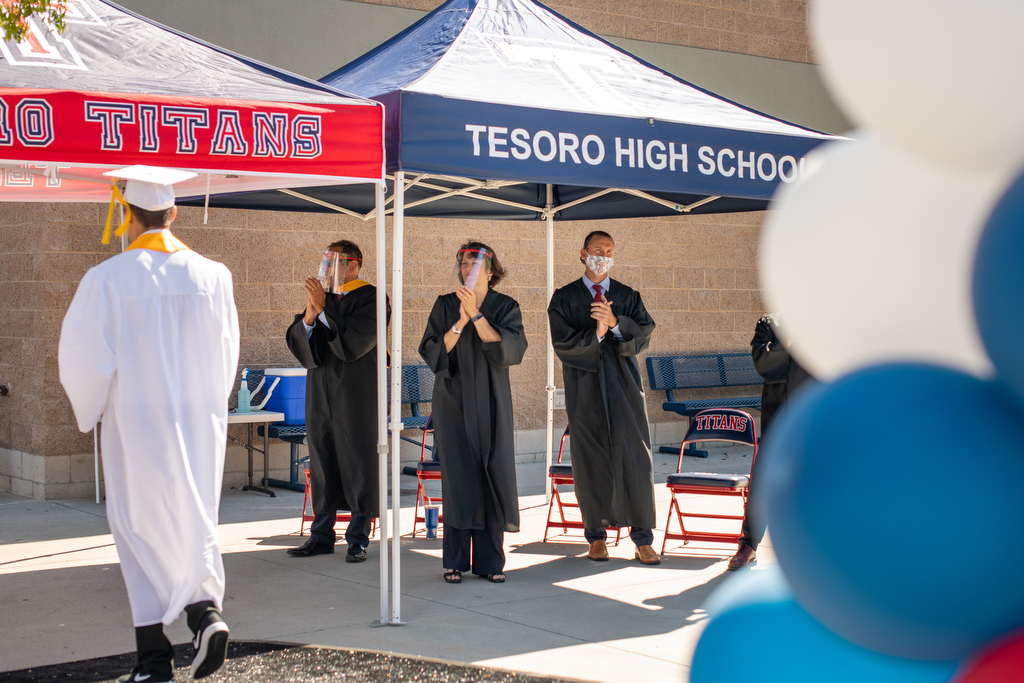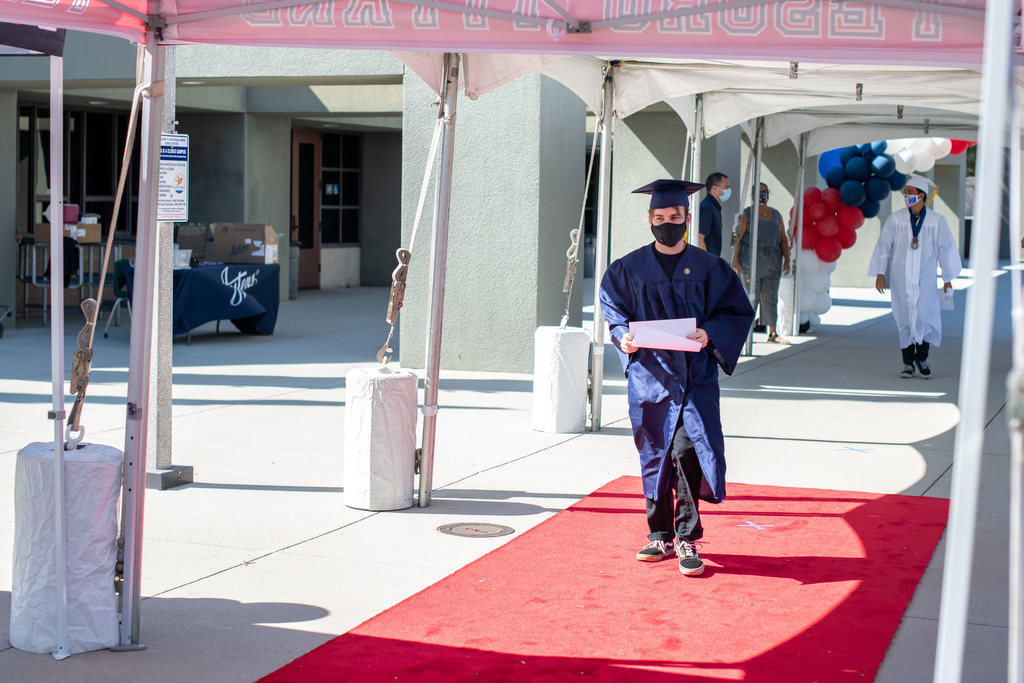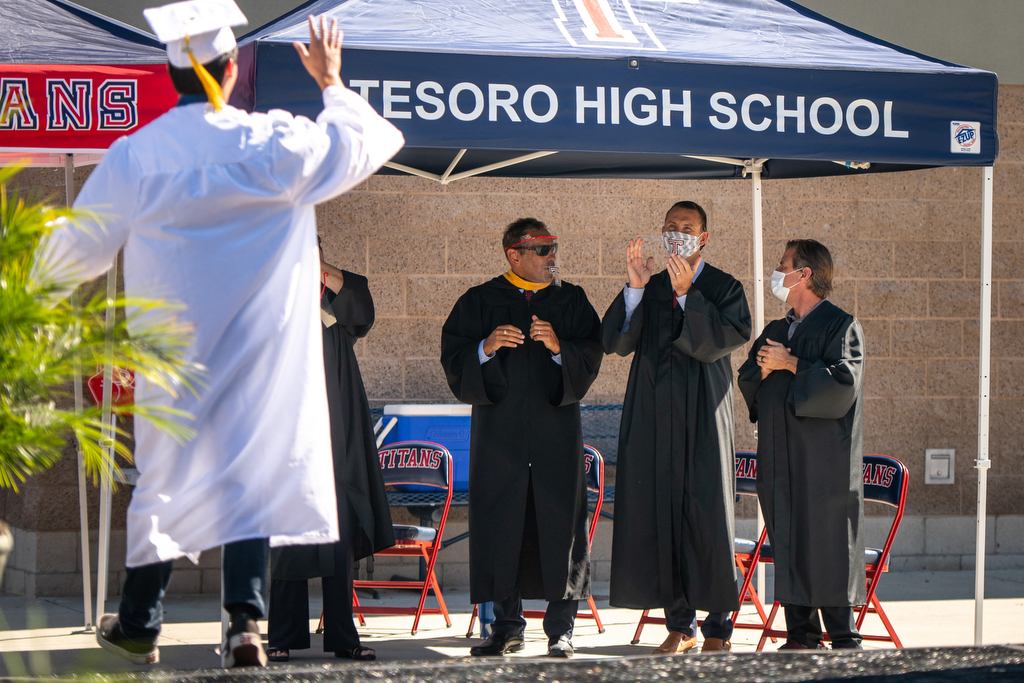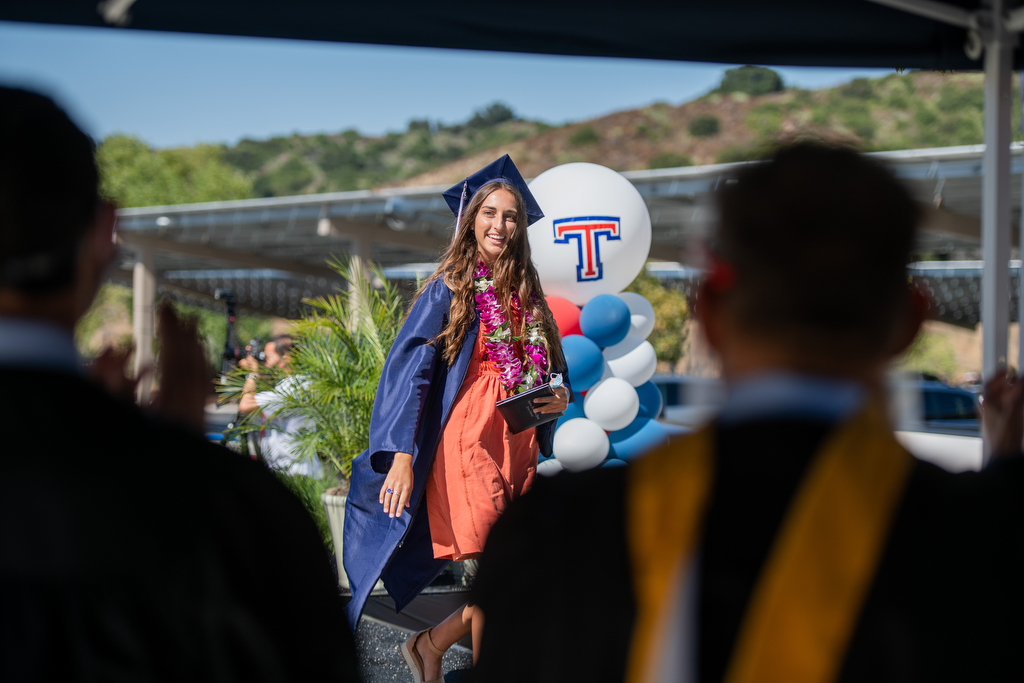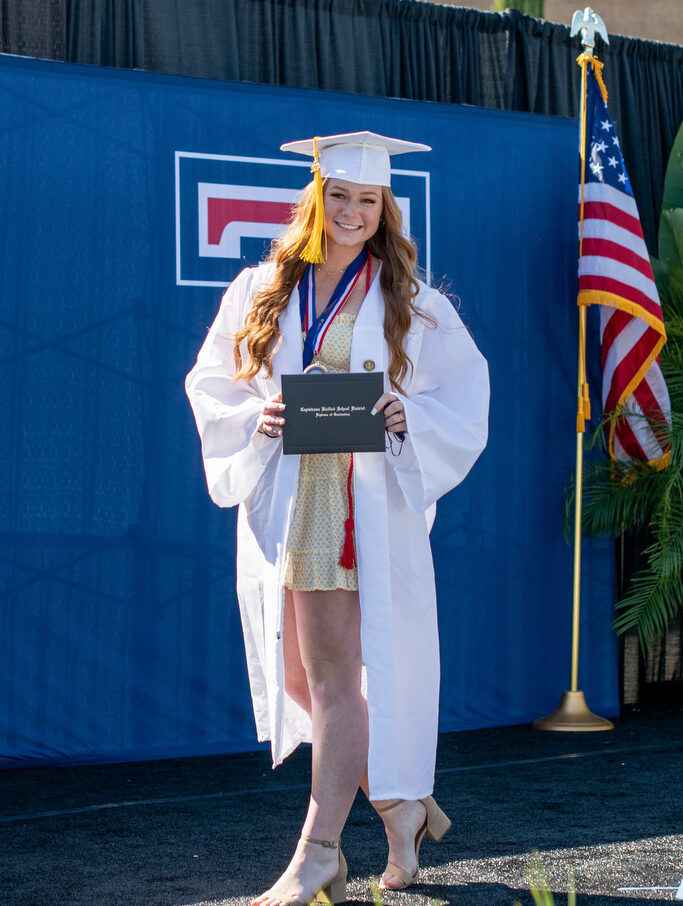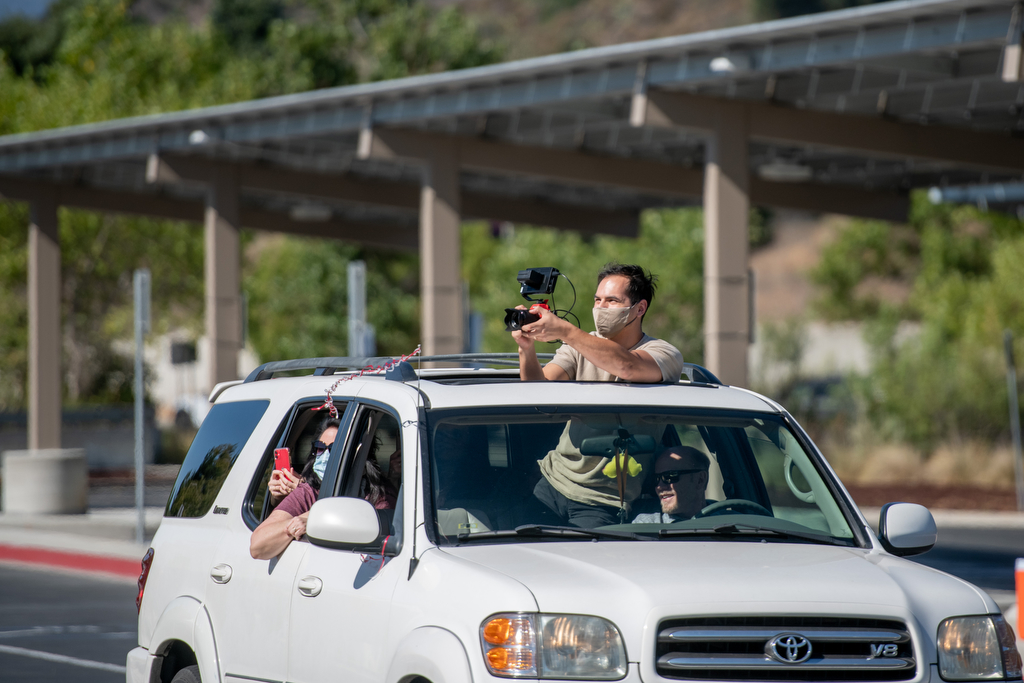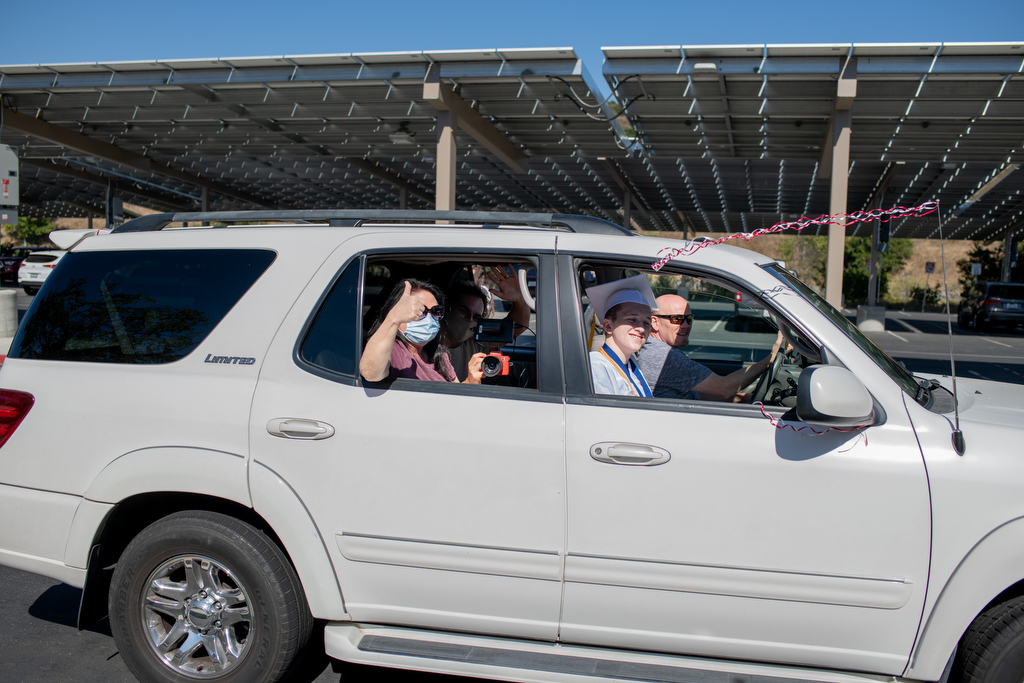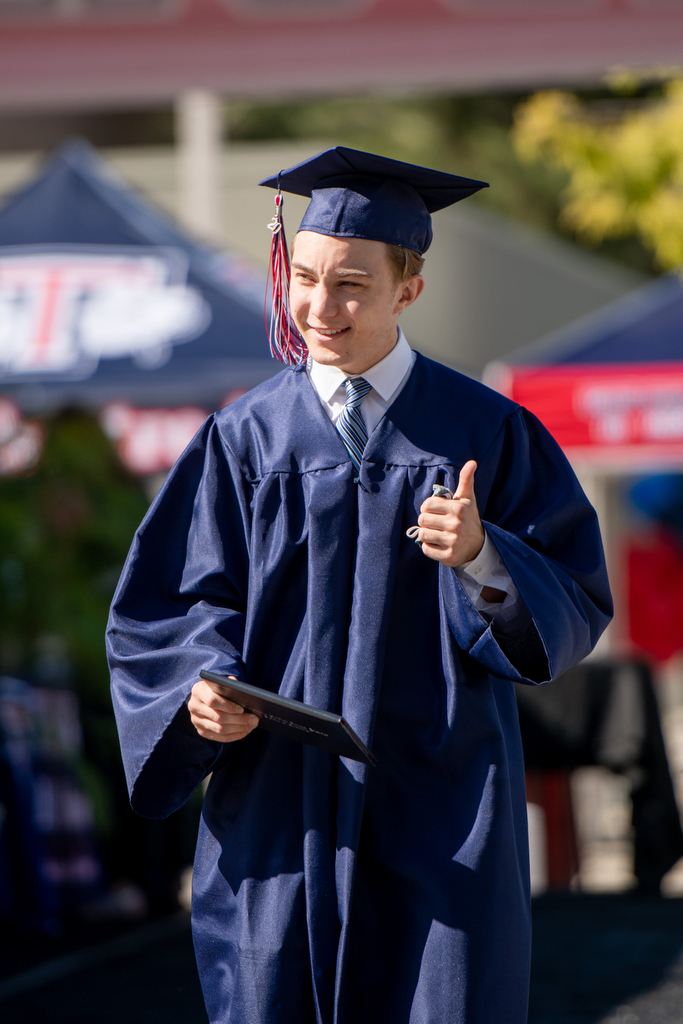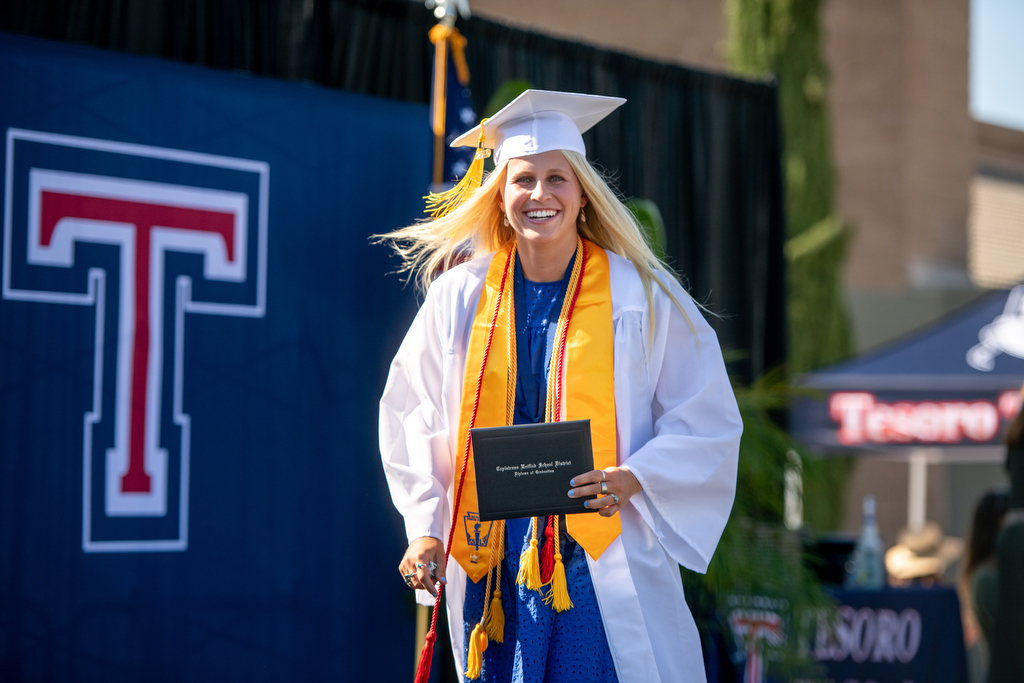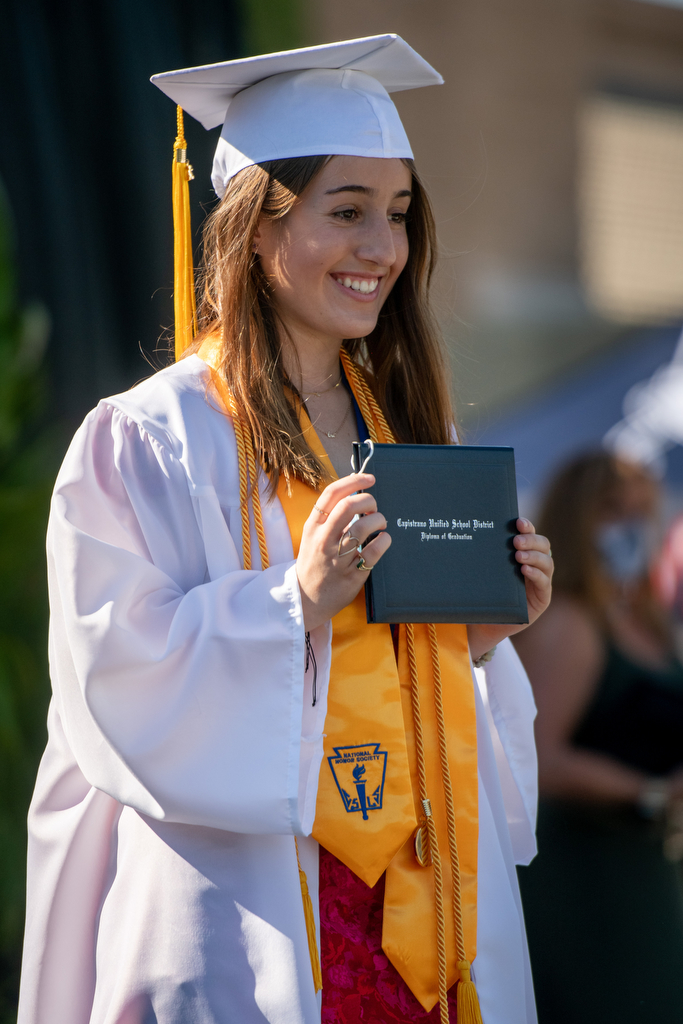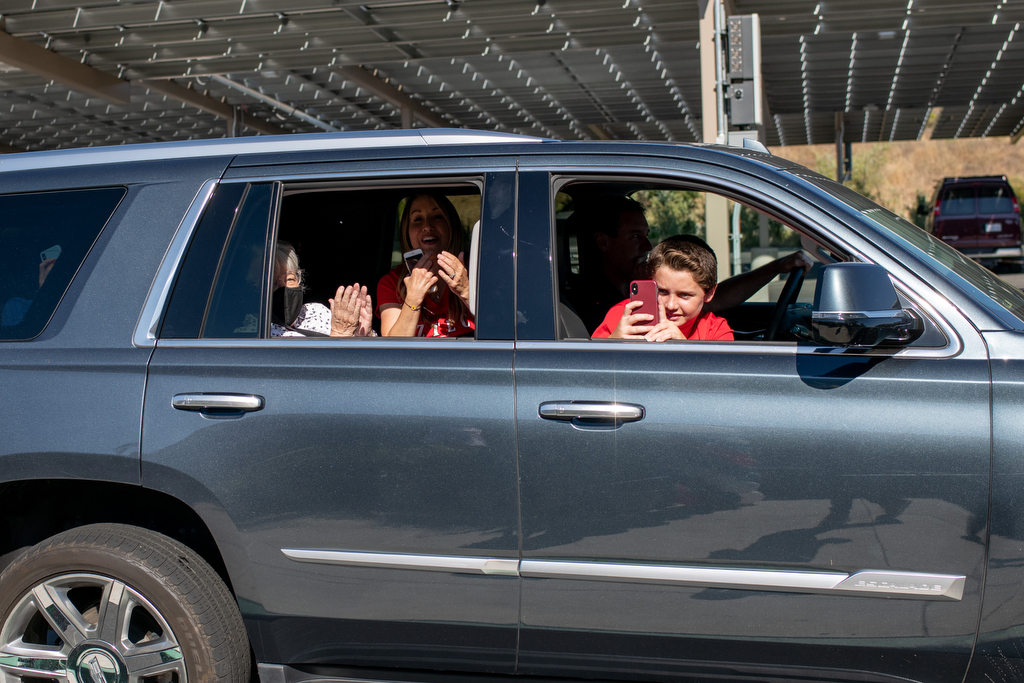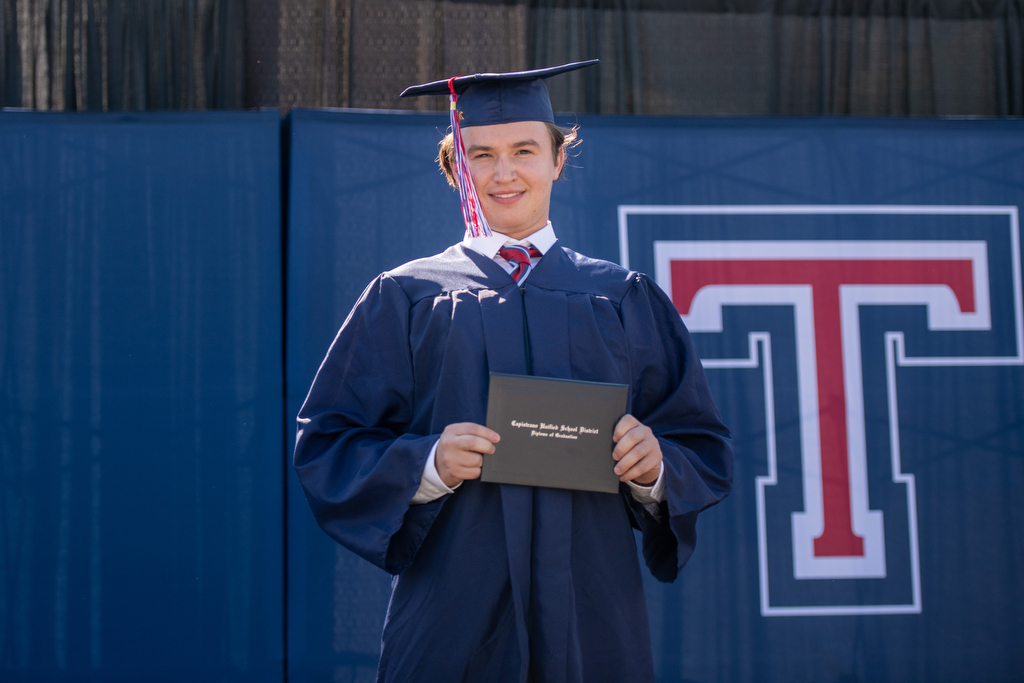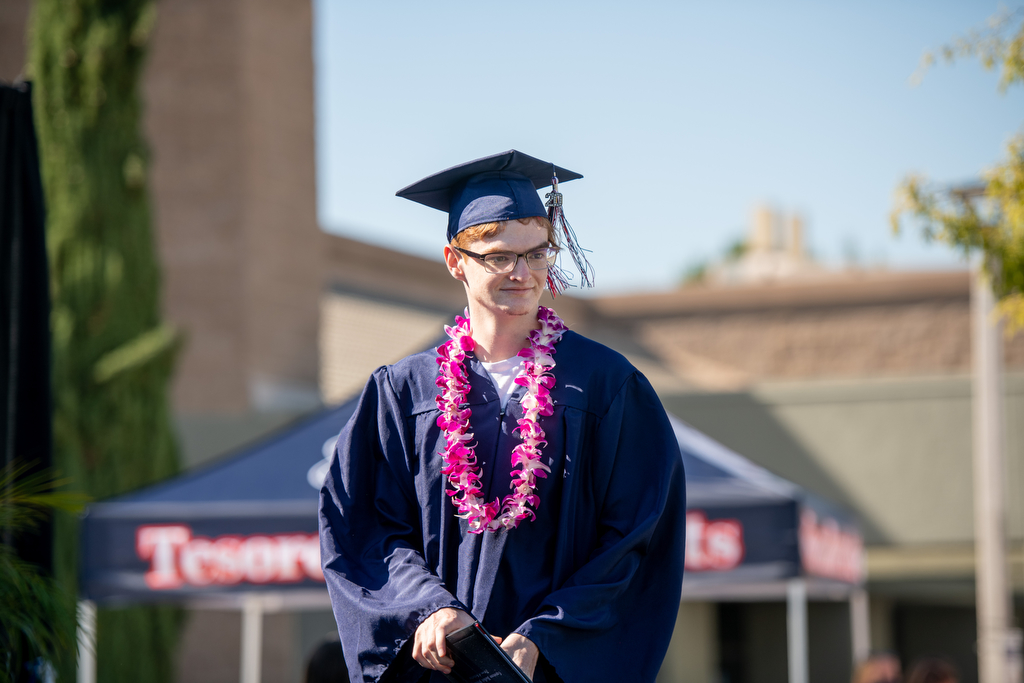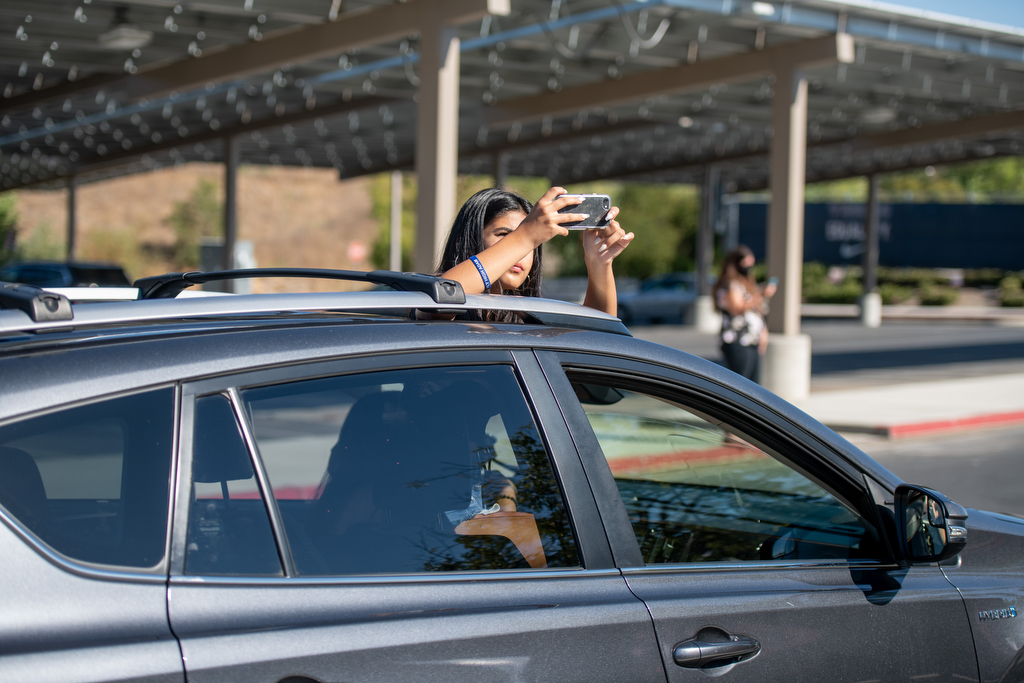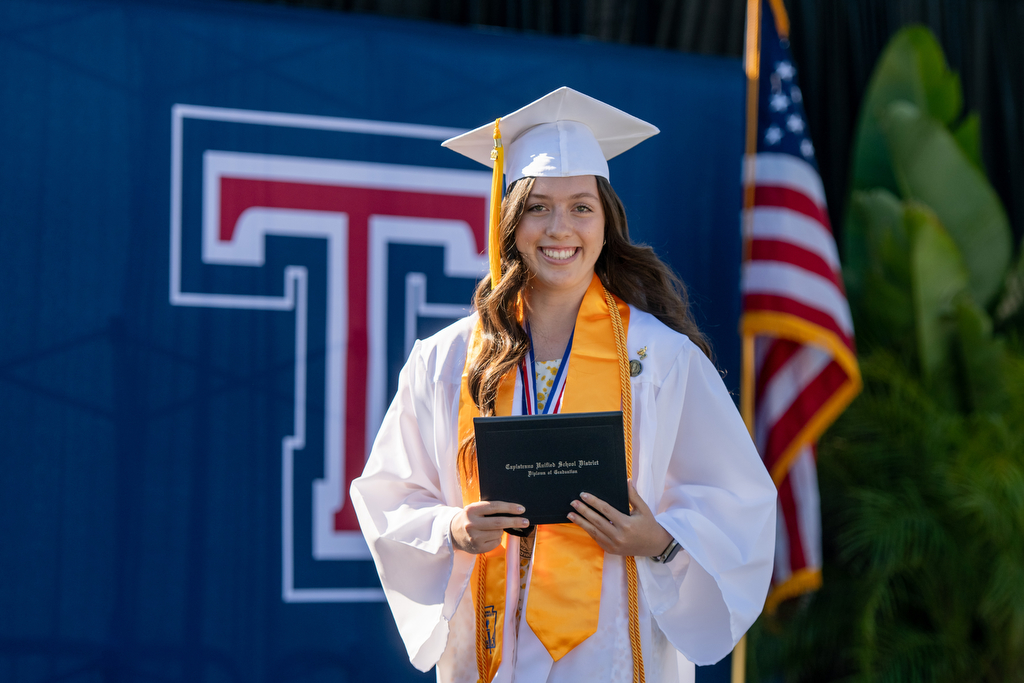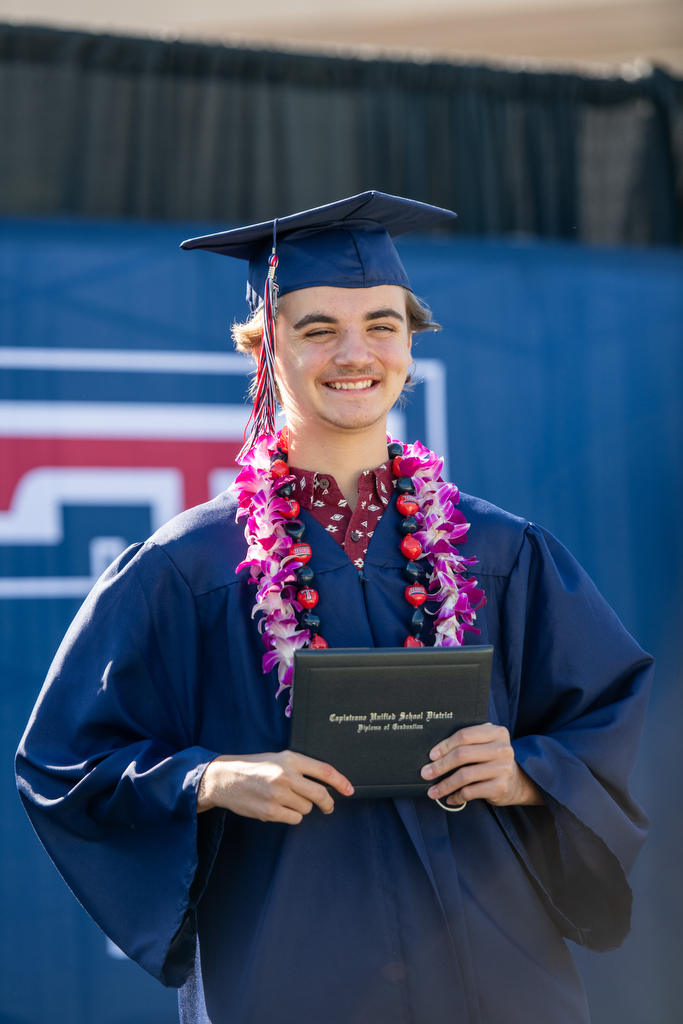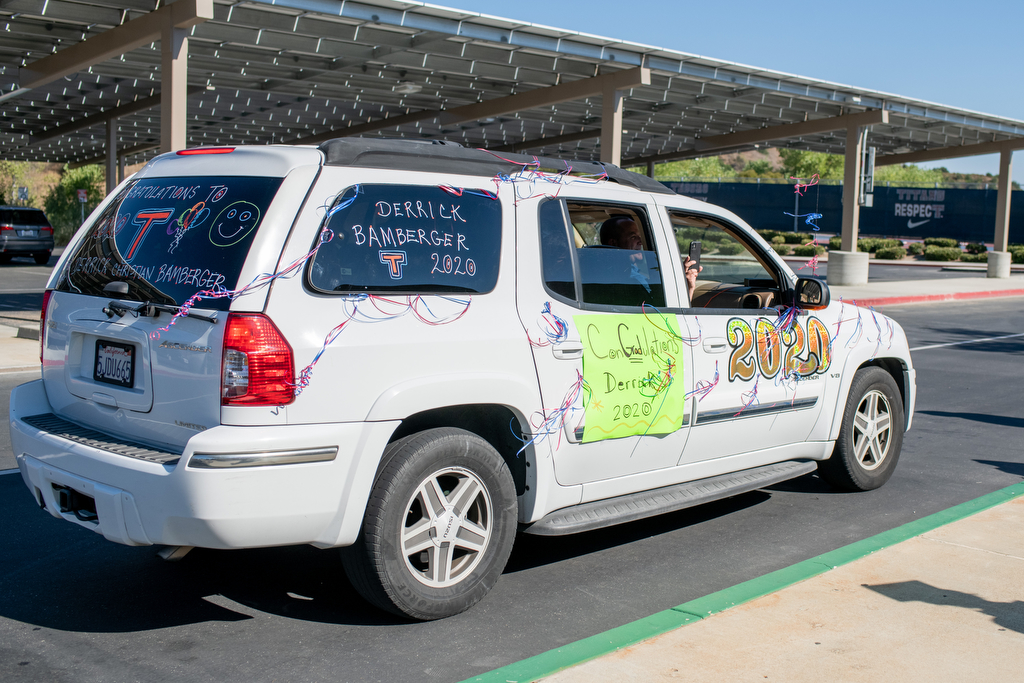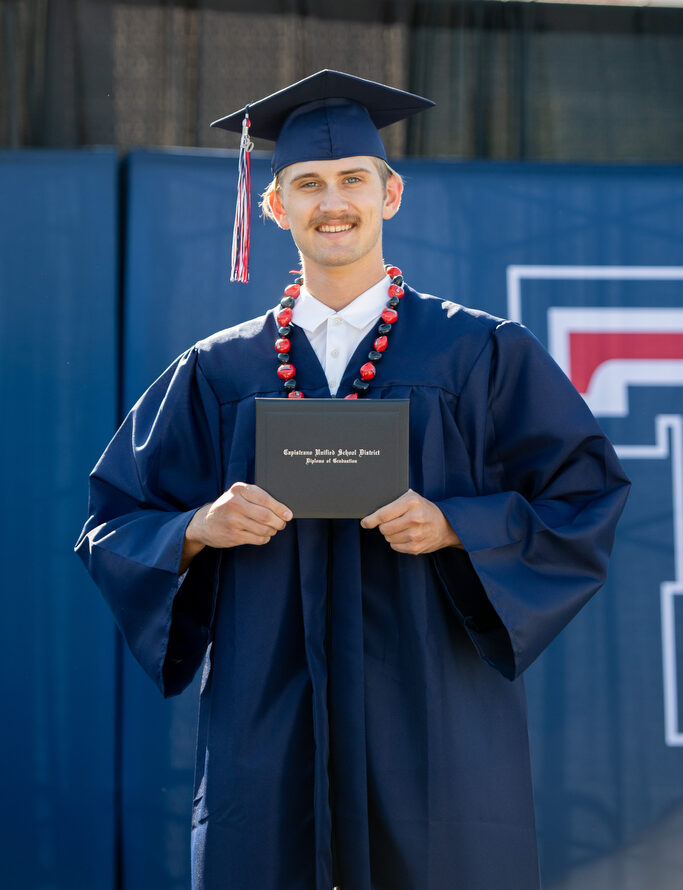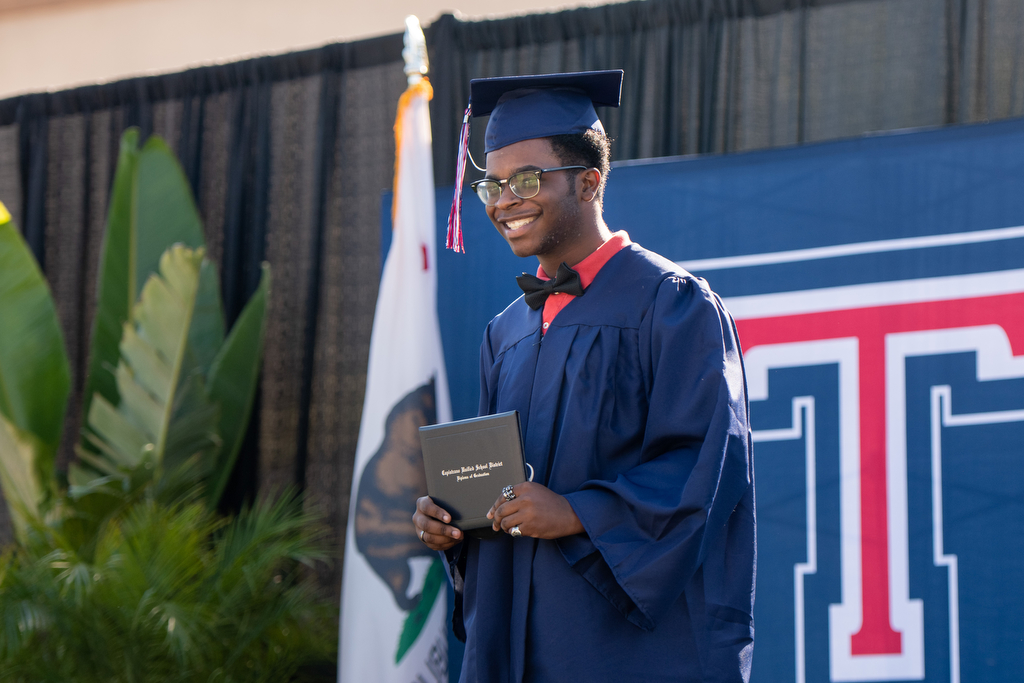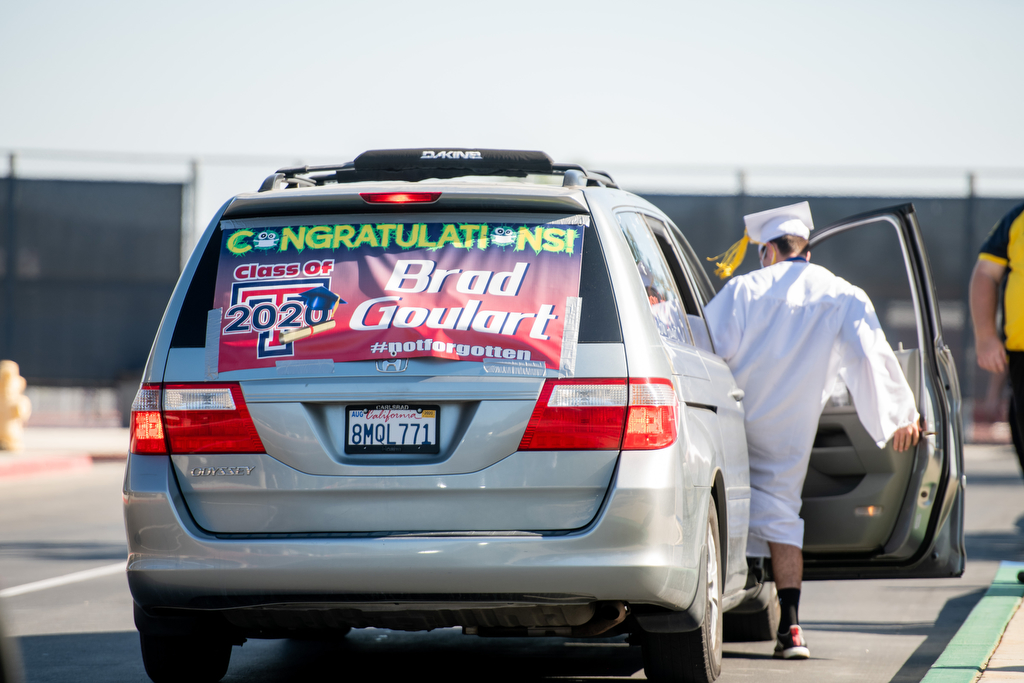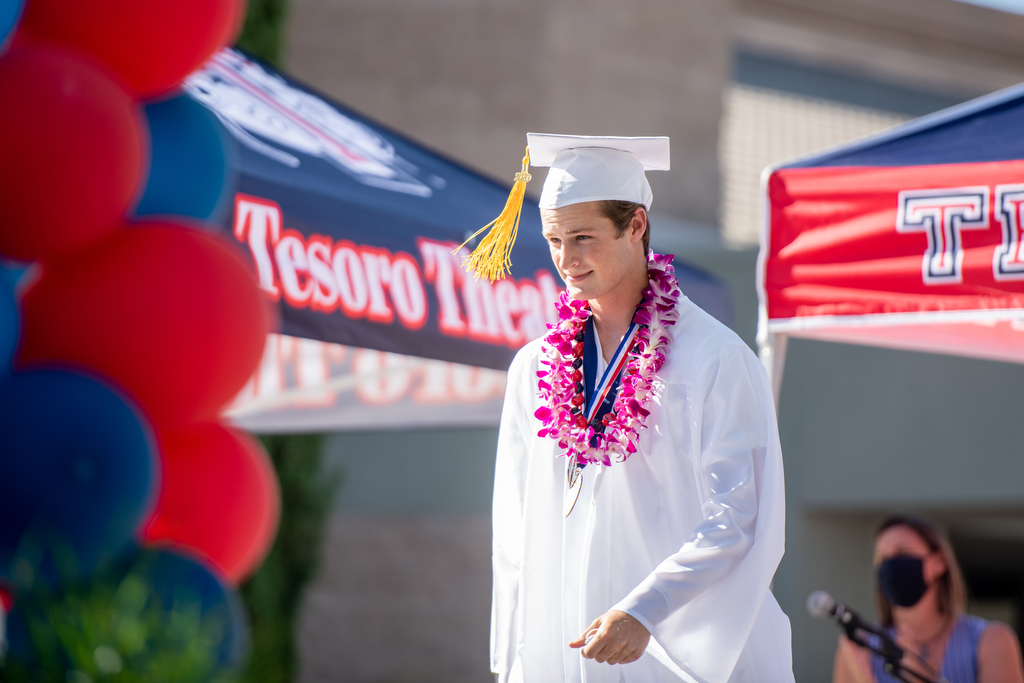 The Tesoro High School 2020 graduates are, in alphabetical order:
Ziyad Abdelghany
Ana Sophia Acosta
Tyler Micheal Adolphson
Maya Anjali Agrawal
Muskan Agrawal
Shereen Aleya Aissi
Trevor Nicholas Allensworth
Sheida Amin
Katrina Nicole Anderson
Sebastian Scott Anderson
Kalen Vincent Antonucci
Loriane Ardiley
Caleb Matthew Arellano
Kyla Argue
Nicole Janae Armour
Broc Alan Arnold
Brandon Avant
Erick Aldair Aviles
Rishi Ayyagari
Jasmine Skye Azizi
Lena Eun Bae
Alexis Sitarah Balkhi
Malea Ysabel Balos
Derrick Christian Bamberger
Ramsey Joseph Barazin
Grace Noelle Barnes
Sydney Rae Barragan
John Rees Bastian
Aaron Basye
Laura Hayag Bautista
Clayton Merrell Beach
Clayton Addis Beale
Colin Eben Benade
Mark Anthony Berber
Christian Michael Berg
Talia Faith Bernacchi
Patrick James Bernhard
Matthew William Berry
Brandon Charles Bertram
Jackson Randall Bethune
Kayd Bhagat
Mackenzie Ann Biarbe
Hailey Claire Bibelheimer
Brynna Nicole Bishop
Brelynne Blair
Austin Thomas Blanchard
Rachael Sarah Block
Thomas Benjamin Blomdahl
Jacob Aaron Boeck
Sarah Louise Botros
Robert Michael Bowen
Cameron Leigh Boyd
Jordyn Emily Bramwell
John Thomas Brno
Michael Julian Brungardt
Aubrey Malia Bryan
Grace Leah Budd
Nicholas King Burns
Sydney Caitlin Burns
Nicholas Charles Bush
Jackson Donald Butler
Amanda Anne Cai
Giovanni Jesse Callahan
Ariel Kaleigh Camantigue
Tyler Michael Camelot
Mia Mae Camiolo
Brazil Nyael Campbell
Samantha Cecilia Campion
Phoebe Michelle Cao
Savannah Rose Carpenter
Andrea Christine Carrion
Toryn Jared Kevin Cartier
Ava Catherine Caruso
Jonah Flynn Casacchia
Mariah Danielle Casey
Saige Marie Cde Baca
Ronald Anhello Cevallos Cordova
Yusuf Atir Chak
James Dean Chamberlin
Savannah Michelle Chambers
Shane Thomas Chapman
Chanel Miranda Chapman-Vasquez
Edward Cho
Jadon Choi
Bella Wynn Christman
Joseph Byung-Eun Chun
Matthew Joshua Chung
Joshua Cielo
James Christopher Clinger
Amanda Jean Coates
Ellison Elizabeth Colarossi
Corinne Taylor Conant
Maile Conger
Ethan Carter Contreras
Matthew Allan Cook
Gavin Laird Cooper
Jayden Thomas Craig
Emma Victoria Craven
Josephine Renee Alberto Cronk
Baylee Crummett
Ryanna Nicole Cruse
Cole Cruz
Lauren Marie Cruz
Tristan Cruz
Corinne Alexis Cude
Anne Louise Cummings
Nina Grace Cussen
Nima Darvish
Christopher James Dauria
Alexander William Davies-Morris
Scott Michael Davis
Christopher George Dawson
Matthew James De Angelo
Luca Vincent De Marco
Nicholas Joseph Gerald Dean
Jillian Ashley DeGidio
Julian Antonio deLeon
Casey Mitchell Dennington
Reva Samir Desai
Jacob Douglass Devine
Emiliano Diaz
Emma Lee Diaz
Jenean Marie Diaz
Annie Marie Dickinson
Alyssa Maria DiFrenna
Phoebe McCharen Dilts
Derek Nicholas Dimalanta
Alexei Charles Donaldson
James Robert Donavan
Brandon Daniel Donis
Matthew Heath Donnan
Andrea D'Paola
Italia Francesca Dubia
Jacqueline Paris Dubia
Shannen Paige Duke
Taryn Isabella Dunkley
Olivia Michelle Ebling
Kayla Sue Ehle
Evan David Eisenhart
Sabri Samer El-Farra
Braden Nathanael Elliott
Kayla Marie Elliott
Charlize Ventura Ellis
Kolin Mathew Elofson
Emma Kathryn Engle
Joshua Brent Engle
Kyle Ole Espen
Bella Milagros Espinoza-Molina
Mia Danielle Estrada
Hanson William Evans
Zachary William Ewing
Riley Samantha Farber
Joshua William Farias
Elizabeth Gail Fessler
Matthew Evan Fettis
Connor Steven Fife
Aiyana Rose Figueroa
Sydney Ann Fils
Nathan Kelso Finney
Katelyn Noelle Fithian
Grant William Flores
Christian Riley Flynn
Ethan Michael Foote
William Powell Fort
Kyle Brenner Freedline-Scovis
Clark Joseph Frehner
Aidan David Freis
Matthew Joseph Frey
Emma Grace Frisby
Jake Stone Frohoff
Tyler Akira Furukawa
Matthew Lewis Fyhrie
Caroline Ann Gallagher
Colton James Gallarza
Cooper Gallaway
Ariana Gao
Carlos Elias Garcia
Hailey Elena Garcia
Melanie Yvette Garcia
Zoe Olivia Garcia
Kaden Robert Garrett
Kyle Gau
Alexia Allison Geffs
Tristan Ray Geffs
Jake Robert Gentile
Andrew Jason Gerlach
Joseph Philip Glickman
Nathaniel Phillip Glonek
Amelia Sablan Go
Spencer James Timothy Golpashin
Christopher Edward Gomez
Sofia Victoria Gomez
Nathan Lee Gonzalez
Charles Galen Gornowicz
Bradley Steven Goulart
David Matthew Gourgy
Ethan Stewart Grainger
Zoe Jane Grant
Andrew William Green
Shelby Elizabeth Groussman
Jackson David Groves
Savannah Janae Guerrero
Luis Gutierrez
Mason Paul Halas
Tyler Michael Hall
Sameer Hamidi
Julie Nicole Hanaoka
Riley Jacob Hansen
Haley Britt Harding
Matthew Thomas Harrington
Rainee Shea Haubner
Nicholas John Haugen
Josephine Loren Hauser
Michael James Hawks
Reagan Isabella Hayes
James Richard Hein
Blake Andrew Henninger
Rachel Renee Henry
Valentina Hernandez
Logan Matthew Hertogh
Arthur Stanley Hess
Anthony Martin Hewitt
Matthew Brett Heys
Brandon Hill
Rocky Ho
Ranielle Hoffman
Daniel James Holcombe
Ray Holmes
Brooke Erin Howard
Jackson Lee Howsmon
Chiao-Wei Hsu
Alexander Muyi Hu
Ravyn Wren Huerta
Jonathan David Hungate
Ethan Raymond Hurst
Vinh Xuan Huynh
Brock Forrest Imonen
Lauren Elizabeth Isaacs
William Mitchell Jacobsen
Livia Rose Jadwin
Enrique Jaimes
Nessa Jamalian
Paige Japlit
Ahmad Amjad Jarrad
Sarah Marie Javorsky
Hank Allen Johnson
Madison Rose Johnson
Malaya Carolynn Jones
Noah Joseph
Sharvin Mandar Joshi
Jaymes Anthony Juarez
Jake Tyler June
Jace Chun Ah Kang
Daniel Thomas Kanjo
Nicole Dinh Kas
Akira Sven Kato
Aidan Jameson Kelly
Hannah Olivia Kelsey
Timothy James Kennelly
Jayson Kim
Brett Jeffrey King
Caeden William King
Monique Simonne Klein
Christina Rose Knebel
Eden Marie Kofford
Yookyung Koh
Cade Michael Koren
Marlise Marae Korzep
Grace Janelle Koster
Natalie Kuecker
Jayden Nathaniel Kunysz
Olivia Nichole Laffere
Samantha Raye Lapp
Hayley Quinn Larson
Georgia Elizabeth Laskey
Aria Maria Latos
Shelbie Layne Lazerson
Francesca Yenvi Leduc
Alex YongJae Lee
Brandon Sky Lee
Enoch Lee
Jonah Steven Lee
Madison Sky Lee
Yujin Lee
Nicholas Philip Leivici
Alexandra Rebecca Levine
Carson Jett Lewis
Guanlin Li
Hannah Li
Yi-Ann Cheri Li
Emma Rose Lian
Dominic Mangalus Liganor
Dylan Cipriano Limlengco
Justin Cipriano Limlengco
Lane Patricia Lindeman
Sean Preston Lindgren
Alyssa Leann Lobascio
Gianna Corina Lomuscio
Isabella Lucia Lomuscio
Savannah Jean Looft
Christina Maria Lopiccolo
Catherine Anne Loyd
Mia Irene Luna
Jordan Gwyneth Lyle
Katherine Rose Lyon
Aarushi Madan
Shreeya Madan
Sydnie Magula
Michael James Mahlen
Audrey Thanh Trang Mai
Richard Jerald Maier
Graan Manely
Kyle Aaron Manes
Trevor Connor Manes
Madison Elizabeth Marchant
Melanie Brooke Marchant
Jenna Christine Martin
Olivia Kathryn Martin
Madison Leigh Martini
Kaycee Joy Martnick
Vanessa Elizabeth Massaro
Matthew Richard-Lee Matton
Sophia Loree Maurer
Abbey Doris Mauro
Wyatt Pierce McCarthy
Harrison James McCormick
Max McGill
Evan Michael Shun McGowan
Kade McGraw
Branden John McIlrevey
Nicholas Daniel McIntyre
Noah Thomas McLaughlin
Andrea Mei McMillan
Clara Meade
Fiona Nicole Meehan
Bryan Alexander Mehring
Samantha Lee Melanson
Samantha Lee Melanson
Zachary Logan Mendenhall
Cole Mendoza
Katherine Lisa Mendoza
Mackenzie Ryan Mendoza
Rachael Mary Meninno
Elisabeth Grace Mericle
Morgan Elizabeth Messenger
Brooke Avery Miller
Stephanie Lynn Miller
Malia Sharon Mills
Emma Rose Mirabella
Tyler Akbar Mirza
Grace Elizabeth Mitchell
Kayla Sharie Mitchell
Veena Mokkapati
Luke Molinari
Lauren Monks-Green
Alain Esteban Monroy
Faith Anaisa Michelle Moore
Dominic Michael Moreno
Zackary Michael Morgan
David Michael Morse
Benjamin Michael Moscrop
Julia Monique Mueller
Kyra Muinos
Jake Steven Mulligan
Cody Christian Mutz
Vanessa Izumi Nagoya
Nicole Victoria Neale
Nolan Evan Needelman
Spencer Darrell Neff
Davis Neimanis
Ryan Robert Neisius
Morgan Elle Nelson
Ryan Lawrence Nelson
Benjamin Joseph Duc Nguyen
Colin Duy Nguyen
Lauren Nieto
Piper Jean Nishida
Kristina Ellen Noble
Jordon Cole Nosek
Francene Bethany Nuguid
Amir Jamal Obeid
Emma Catherine Obergfell
Cara Nicole O'Flaherty
Abigail Jordan Okonski
Lucas Andrew Olshan
Matthew Ryan Onopa
Rosa Maria Oropeza
Maximus Draven Pagliei
Cassidy Grace Palomares
Ethan Travis Palomares
Kyle Kendrick Parrish
Ani Claire Partridge
Zachary Aiden Pearce
Natasha Shalini Pena-Wijayawickrama
Shamika Nilukie Perera
Andrew James Perez
Riley Kate Perez
Isabella Perin
Annabella Bookout Periquet
Lawrence Esteban Peterson
Kellie Ann Petrosian
Margaret Pham
Taylor Snow Phillips
Ty Joseph Pickard
Jessica Leigh Pierson
Bryce Richard Pinon
Isabella Marija Plese
Noah Presley Portillo
Kevin Jia-Hong Potts
Madison Victoria Poyner
Benjamin Thomas Pringle
Ariel Puckett
Paula Marianne Quirino
Nicholas Arya Rafatjoo
Sean Rai
Brooke Simran Ramchandani
Riley Michael Ramirez
Sarah Eva Ramirez
Tyler Hiroshi Ramirez
Anya Rampal
Sofia Ramsey Silva
Katie Alexandra Randall
Daniel Douglas Randolph
Kian Fabian Ranjbar
Emily De'an Rao
Buckley Mays Raring
Aubrie Ann Rasheed
Amrithan Ratnam
Arsam Rayegan
Riley Joan Reed
Riley Rae Reese
Presley Mark Reeves
Patricia Anne Sansaro Requilman
Kaiden Ashton Reyes
Skyler Jonelle Reyes
Matthew Charles Rezendes
Bradley Daniel Ricard
Gabrielle Marie Richardson
Breanna Jo Rikelman
Jenna Rios
Kyle Thomas Ritscher
Trevor Dean Roach
Taylor Anthony Rocha
McKenna Dylan Rodriguez
Ashley Grace Roelofs
Justin Leonard Rogers
Quinn Elise Rohrbach
Julian Romo
Kamryn Douglas Rood
Lauren Elena Rosales
Nadine Mikaelle Rosete
Ryan Andrew Ross
Emma Marie Roybal
Luke Alexander Rozinskas
Taylor Elyse Rubin
Ethan Gabriel Ruiz
Hector David Ruiz
Christopher Thomas Runnalls
Karsyn Virginia Sack
Merigo Raif Saia
Christopher Edward Sampson
Camila Sanchez-Sandoval
Richard Thomas Satterlee
Matthew Aaron Savitt
Kyle Schaefers
Justin Ford Schafer
Nicholas Schetman
Macy Vail Schild
Jessie Moody Schulman
Katherine Lynne Schwan
Sarah Elizabeth Selznick
Brooke Lorainne Semelsberger
Savannah Pauline Shadell
Steven Frederick Shadell
Jacquelyn Sharga
Jordan Shay
Kaitlyn Christine Shea
Courtney Shelton
Carly Marie Sherman
Sydney Sherman
William Lin Shieh
Dania Melody Shiekh
Chloe Morgan Shutes
Cameron Sina Siavoshi
Ashley Joyce Simard
Julia Elizabeth Simpson
Samira Virginia Skaff
Nicole Victoria Skorupa
Wesley Clark Smith
Sabrina Christine Sorenson
Ashlyn Ann Springer
James Sprouse
Marissa Nicole St John
Ian Staff
Jack Thomas Stall
Lauren Marie Stevens
Caitlin Yodchand Streeter
Logan Eric Sturm
Sierra Marie Summers
Lindsay Morgan Sung
Kenton George Swanson
Kiyoko Morgan Tahara
Sabrina Magdalena Tanamachi
Aiden Michael Tanner
Maya Tellez
Madison Anamarie terHorst
Courtney Kathleen Theis
Gavin Joseph Thomas
Abigail Rose Tillotson
Jake Cortez Timberlake
Ashley Marie Todd
Alana Lee Toren
Kieron Isaac Towles
Caitlyn Christine Trainor
Maily Emily Tran
Justin Tritz
Alyssa Rae Trudell
Ethan Tsou
Kyle Christopher Vaaler
Olivia Loren Van Steenhuyse
Johnathan Vincent Varricchio
Amanda Vaskovich
Charissa Lynn Vassalotti
Maximiliano Vega
Kaylee Ann Veltri
Brooke Isabella Verdugo
Christian Cole Verdugo
Noelle Lyn Vigouroux
Remy Charlotte Vigouroux
Bridget Tevi Viravouth
JayCee Katherine Vladic
Alexander Ian Vollmond
Aubrey Rose Waldeck
Kelsey Taylor Walsh
Justin Wang
Ethan Warren
Alexandra Elizabeth Watson
Benjamin Enrique Weber
Brooke Erin Wehrli
Andrew William Wertheim
Nicholas Matthew Wertheim
Danielle Marie Weston
Paige Madelyn Whipple
Ashley Jordan White
Tristan Douglas Wilkins
Ethan Paul Willard
Grace Frances Williams
Justin Williams
Zackery Dean Williams
Delaney Kathryn Wilson
Amelia Loren Windal
Alyssa Marie Wingen
Chelsea Dawn Witten
Cameron Raymond Wolff
Callan Margaret Wolford
Elizabeth Paige Wolfson
Riley Stan Wong
Eric Jaewoo Woo
Jonathan Woo
Montana Lynn Wood
Jeffrey Woodham
Natalie Kathleen Woolley
Zachary Colin Wran
Darren Matthew Wu
Jackie Wu
Andrew Russell Wynne
Sophia Tianying Xiang
Tyler Tadashi Yamaguchi
Brandon Christophe Yim
Nathan Kai Yoshioka
Nadim Karim Youssef
Lanping Yue
Layla Rayan Zahedi
Ty Christopher Zap
Chester Zelaya
Tianyi Zheng