By Greg Mellen
It was already a banner day at Marblehead Elementary when the mobile science learning lab sponsored by the Wyland Foundation arrived on campus to teach fourth and fifth graders about clean water and environmental issues.
When Robert Wyland, known professionally as Wyland, showed up personally, it became awesome.
And when Wyland and his friend Bill Stewart decided on a whim to paint one of his iconic dolphin murals on a blank wall near the playground, the day became absolutely epic.
"I've dreamed of Wyland's artwork since I was little," said Marblehead Principal Jamie Goodwyn, but she never dreamed her campus would be emblazoned with his art. It was a day in which the gifts kept giving and magnifying.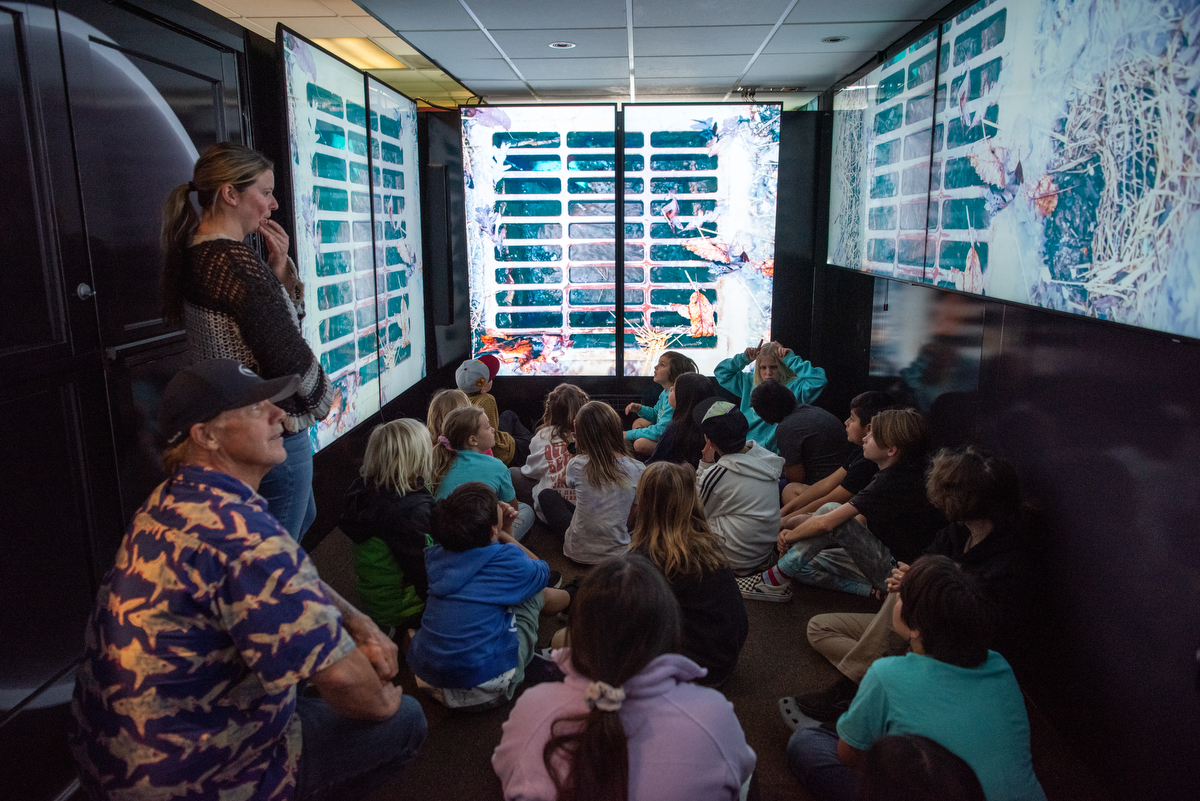 Goodwyn was delighted when the school, an environmental studies hub in the Capistrano Unified School District, secured a visit by the Wyland Clean Water Mobile Learning Experience. The PTA and Vice President Kira Olander were able to land a grant for the popular traveling science lab on wheels.
"I reached out and definitely wanted this to complement our environmental studies," Olander said. "I thought this would be amazing."
Not only that, but Marblehead became the site where the lab debuted a jaw-dropping video played for the students in an attached theater room on the trailer adjacent to the lab that streamed at 1 million pixels per second on screens that wrapped around the room.
The debut of the film, in turn, brought in Wyland himself to watch. After the introductory video, another original piece set to the music of David Bowie's "Space Oddity," displaying the biodiversity of Earth was played.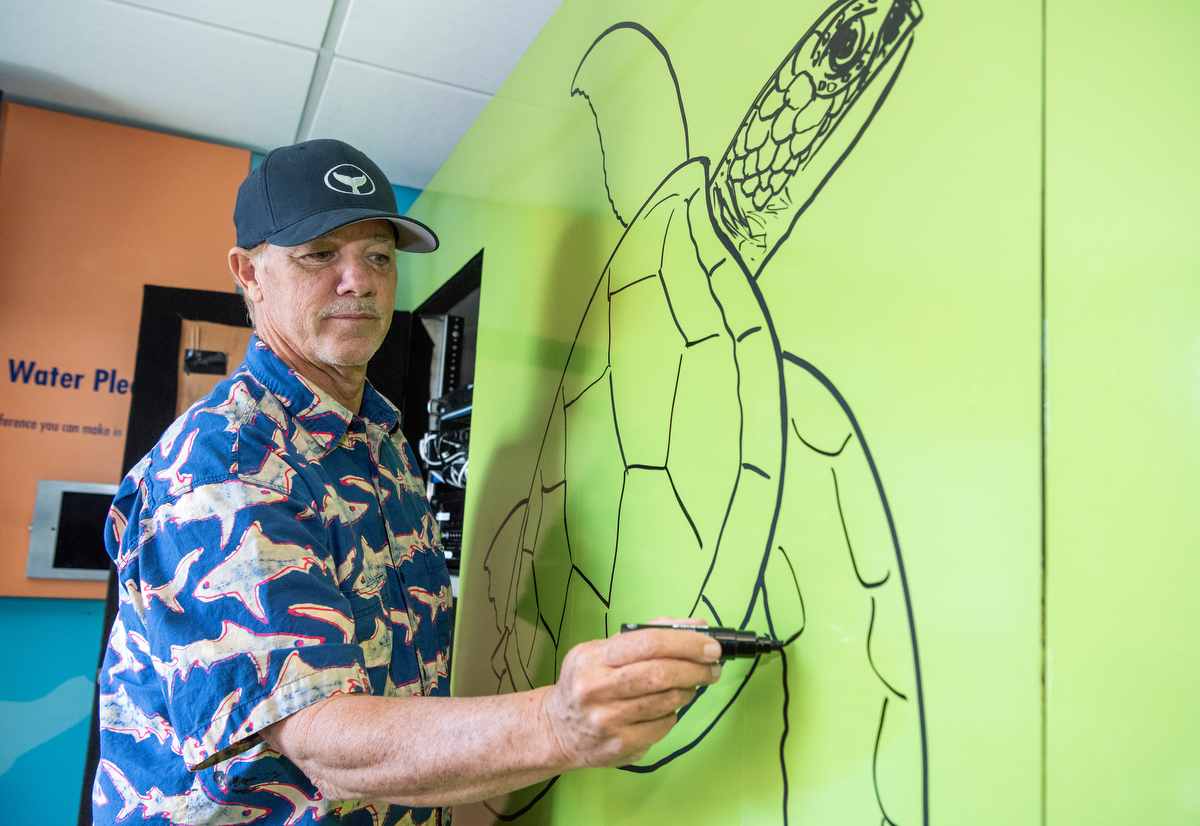 An artist runs through it
Decked out in a Hawaiian-style shirt decorated with sharks, blue jeans and a ball cap from his foundation, Wyland looked like any other parent touring the school. As he knelt among the children and watched the video, his eyes could have been those of any bedazzled fourth grader.
"I hadn't seen this, it's so cool," he said. "I'm like a kid in nature."
Wyland said it was important to see the film in person so he could talk about it in public. He added that he was "blown away" by the creativity of his team and the ability of art and music to draw people together. Wyland was particularly interested in the concentration of runoffs.
"I've been saying for 30 years you can't protect the ocean without protecting what's upstream," he said.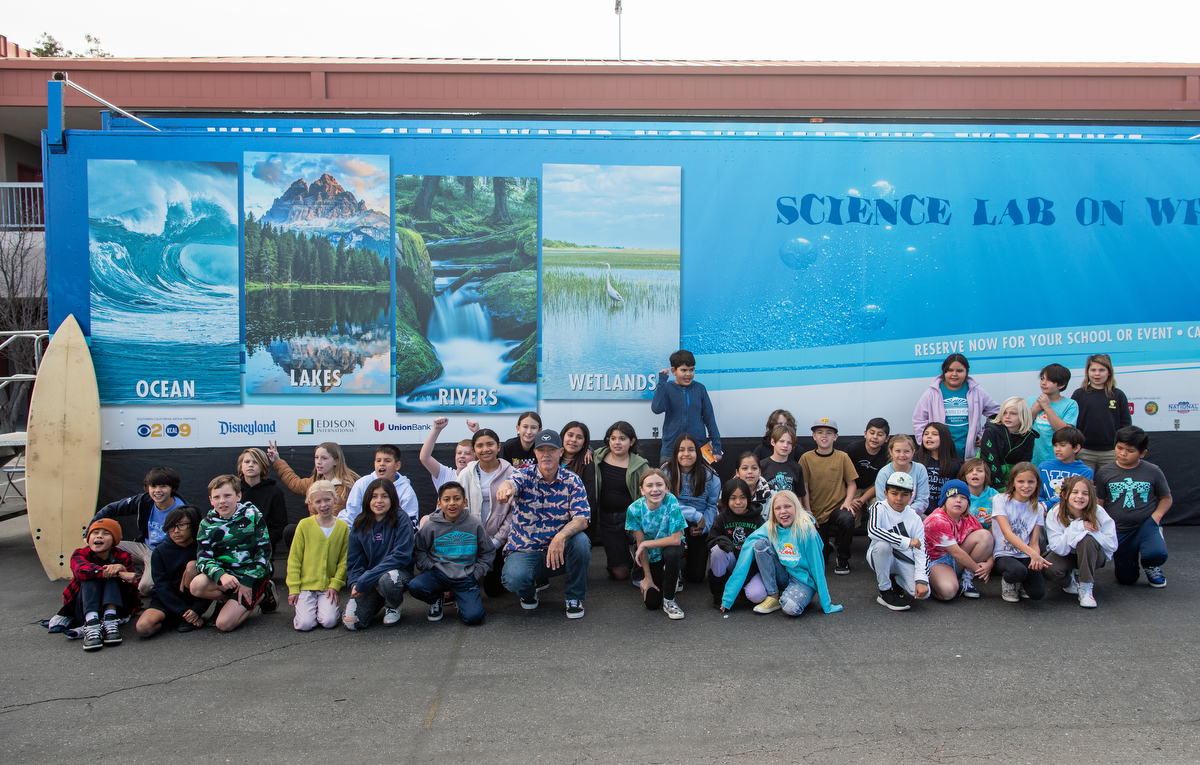 A resident of south Orange County, Wyland is an acclaimed artist and conservationist. He is perhaps best known for 100 massive Whaling Walls, or Massive Marine Murals, he painted between 1981 and 2008, from Laguna Beach to Beijing. His 1993 mural of whales encircling the Long Beach Arena in 1993 set a Guinness World Record at the time. He returned to paint the roof with a mural titled, "Blue Planet."
After watching the movie, touring the lab, and taking a few minutes to draw a tortoise on a blank wall within the lab, Wyland stepped outside to meet with parents and kids and pose for pictures. Then he spotted a nice long wall along a walkway leading down to the playground.
Ever the street artist, Wyland had several cans of paint with him and was soon sketching the outline of a dolphin, which, coincidentally, is the school's mascot.
"Watch out, guys, I like to go big," he said.
As the children gathered to watch, one asked, "Is this graffiti?" to which a classmate responded, "No, it's art."
South Orange County surfing legend Bill Stewart, a friend of Wyland's, was on hand. A San Clemente surf shop owner and inventor, as well as a talented muralist who is no stranger to a can of aerosol paint, Stewart was recruited by Wyland to add waves to the mural.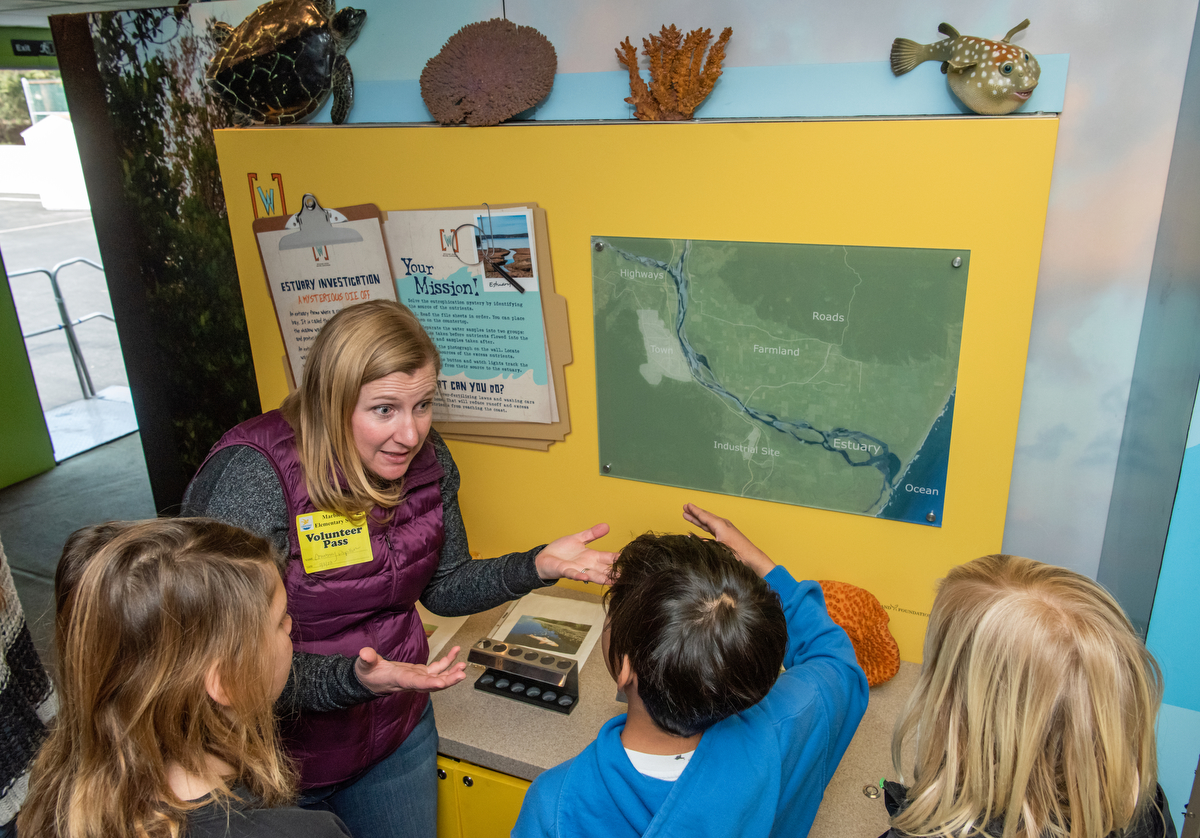 Lessons in conservation
Marblehead is one of seven elementary schools in CUSD to launch pilot magnet programs with different educational emphases.
Goodwyn oversaw the transformation of a closed elementary school in Huntington Beach into a STEAM (science, technology, engineering, arts and math) magnet school, and was hired to bring an environmental focus to Marblehead.
Landing a date with the Wyland mobile lab was a prime example. Launched in 2008, the Mobile Learning Experience has traversed the country delivering science-based exhibits to schools, community events, and cultural and conservation fairs.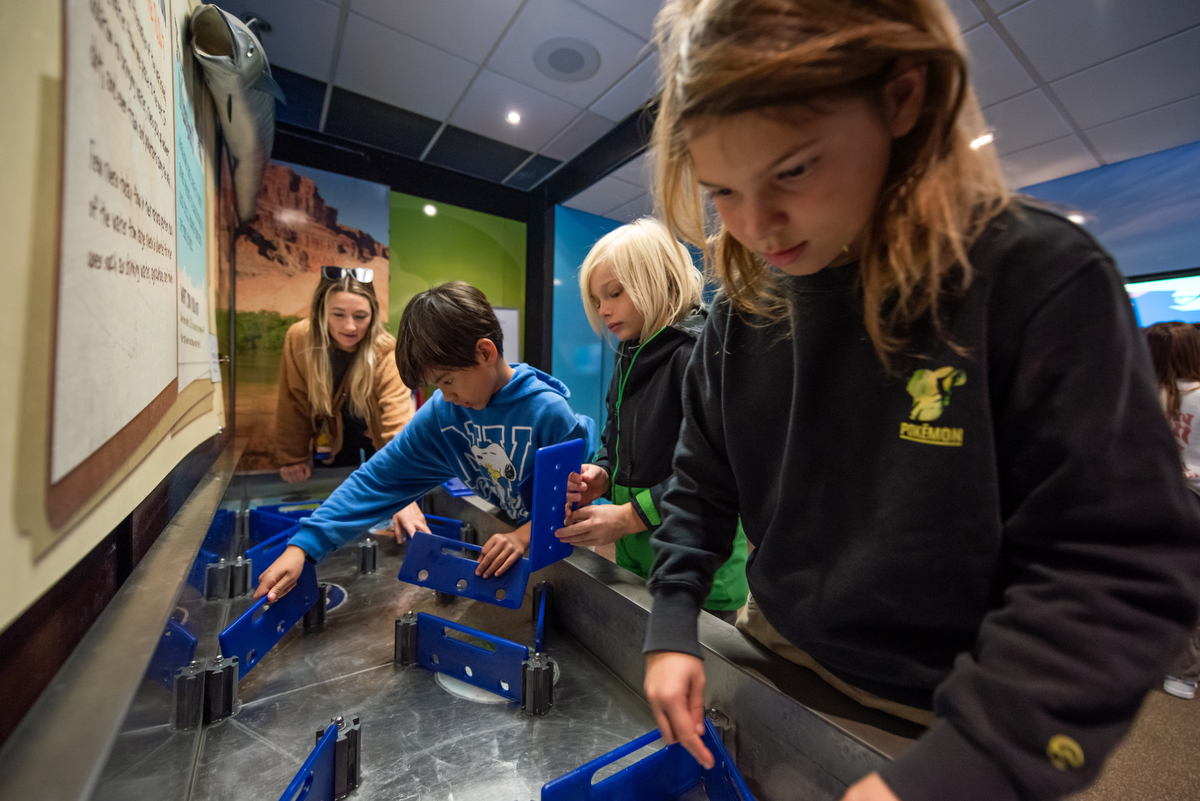 The mobile lab, which checks in at more than 80,000 pounds and 2,200 square feet when fully expanded, is booked an average of 40 weeks per year.
"We can't keep up with the demand," said Steve Creech, president of the Wyland Foundation.
Creech estimates the Foundation has invested well in excess of $1 million on the lab, not including $200,000 and two years of work into the attached theater and high-definition screens and programming.
Creech has been working with Wyland since the Foundation was formed in 1993. Since the beginning, Creech said he and Wyland have been concerned about upstream issues. What started off as a 5-year Tour for Clean Water has morphed into a multi-million dollar educational and social enterprise.
Among the Foundation's successes is the Wyland National Mayor's Challenge for Water Conservation, which endeavors to encourage residents in 3,800 cities to pledge to save more than 2 billion gallons of water.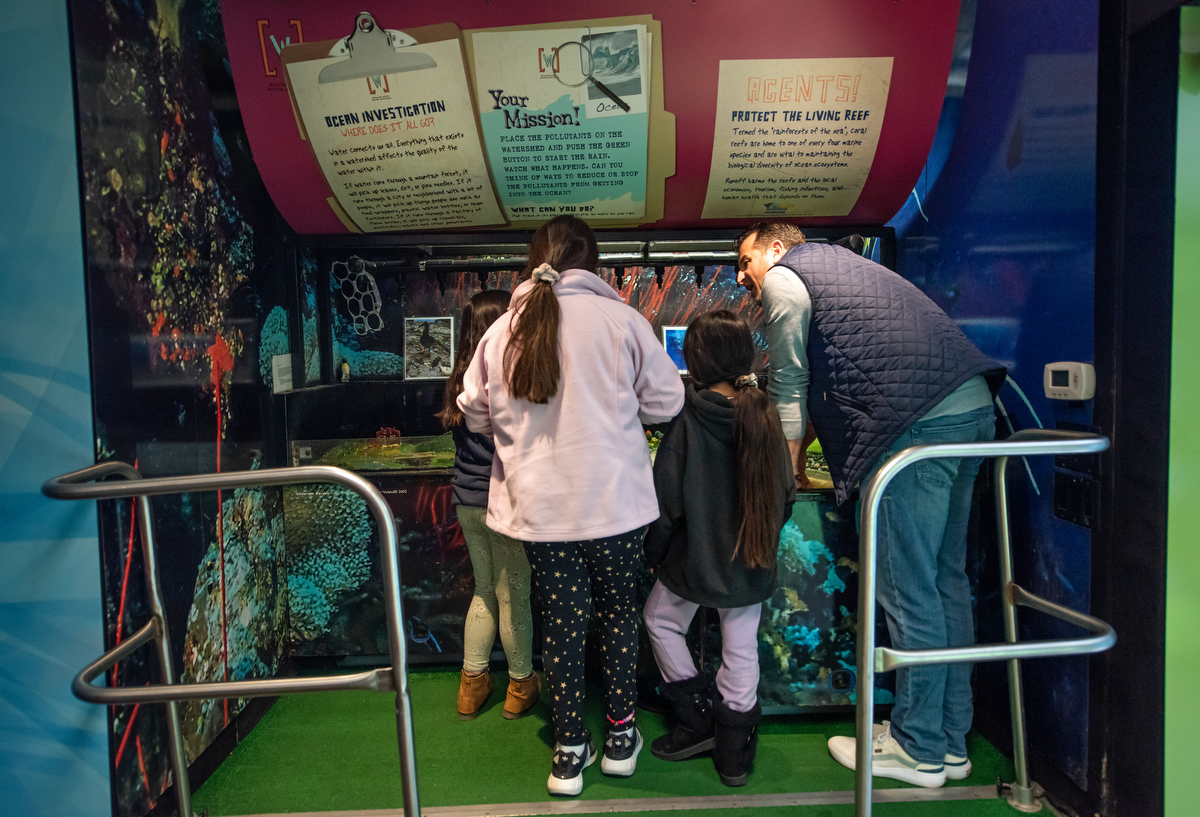 Debut screening
The premise for the video, which streamed 1 million pixels per second, was that students were visiting Earth from another planet and were on a mission to learn about the planet, its water systems, and find solutions to water pollution and other water issues.
The main focus of the exhibit is water runoff and its effect on rivers, lakes, wetlands, and, ultimately, oceans. The overriding theme, according to Program Support Coordinator Ken Laskan, is, "how we're all connected not only with water but with the flowing of water. We all live downstream from something."
After viewing the video, students were admitted into the lab, which featured six hands-on stations where they learned about subjects ranging from managing limited water resources, to estuary and wetlands health, to urban runoff. At each station, parents and volunteers who had been delivered curricular materials in advance, gave talks on their areas and answered questions.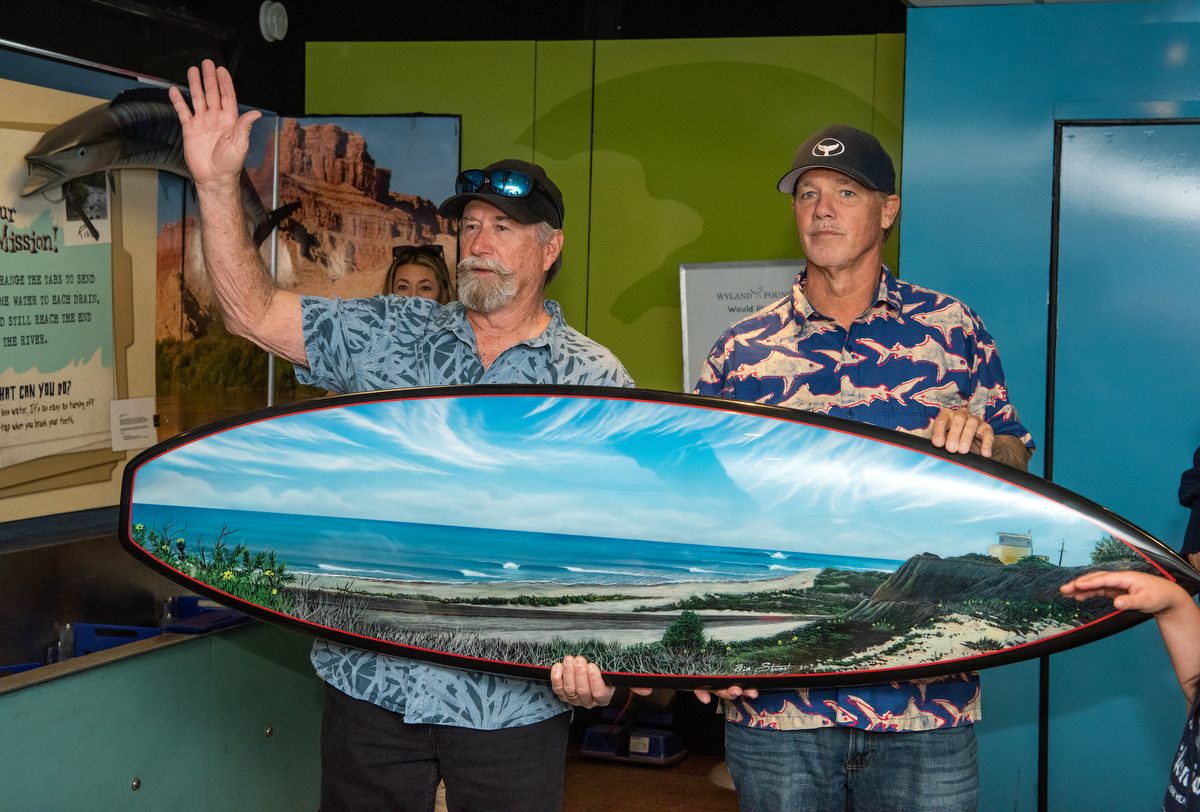 One fourth grader, Liam Ordioni, in Kelsey Mitchell's fourth grade class, quizzed a presenter about the feasibility of installing better screens in urban areas to filter water.
"I just don't want the ocean to get dirty," Ordioni said, "because I need it to drink."
Wyland said he wished he could visit an elementary school every day.
"I want them to know they're involved," he said of youth. "They can make a difference. There's nothing they can't do when they're empowered with knowledge and inspiration."
Reflecting on the day, Goodwyn was in disbelief as she looked at the brand-new, original Wyland mural.
"Here it is," she said, "at my sweet little school."