By Greg Mellen
Since she entered high school, Rosa Hernandez has aimed high. After recently being accepted to Princeton University, with a full scholarship no less, she is certainly on target.
With the help of the Advancement Via Individual Determination (AVID) Program at San Juan Hills High School and a nonprofit that connects low-income students with some of the top universities in the country, Hernandez will be New Jersey bound in the fall.
Hernandez, 17, learned via e-mail that she had been accepted to the prestigious Ivy League school, the sixth most selective university in the nation with a 4.4 percent acceptance rate for the class of 2025, according to bestcolleges.com. After receiving the exciting news, Hernandez told precisely two friends.
Her reasoning?
"I knew some people who were still waiting to hear from colleges," Hernandez said. "I didn't want to be bragging everywhere."
The next day, as word began to circulate, Hernandez shared the news with AVID teacher Janey Gidion.
"I'm pretty emotional. I screamed and yelled and jumped around," Gidion said. "She waited until everyone had left to tell me. I was, 'Holy mackerel, we need to tell the world.'"
The next day, "when she came into class, I said, 'This is worth shouting from the rooftops,'" Gidion said.
And so she did, figuratively, by alerting the high school newspaper "The Express," and CUSD Insider, a publication for the school district. Describing Hernandez as the "full package," Gidion said there are plenty of reasons why the senior is special.
"She's really a high-level critical thinker," Gidion said. "Beyond that, she's just a wonderful human being. She's always thinking beyond herself."
Hernandez credits the faculty at the school's AVID program with helping her design a curriculum and develop the academic rigor to attract a school like Princeton.
As a freshman, Hernandez was encouraged by her older brother, Aaron, to apply for AVID. A national program, AVID helps students, most of whom are minority, low-income and underrepresented, prepare for college eligibility and success.
She was accepted into the program as a freshman and has flourished. An elective course of studies, AVID teaches students about organization, time management, and other life skills, as well as walking them through college preparation essentials, such as the Free Application for Federal Student Aid (FAFSA).
The daughter of parents who immigrated to the United States as teenagers, Hernandez said neither of her parents had higher education. However, she said, both were aware of the value of an education in the United States and supported their children's academic pursuits.
"They understood college is a really big deal," Hernandez said. "They let us do our thing."
Hernandez's brother is a senior at San Diego State, where he is majoring in finance.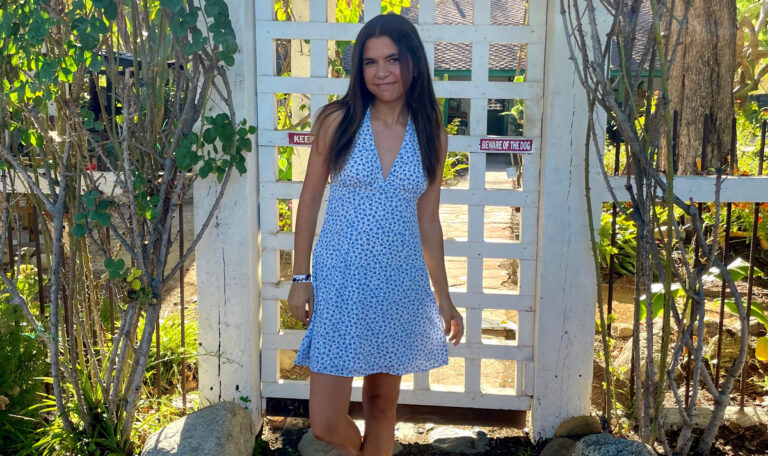 One of Hernandez's teachers, Charlie Briggs, referred Hernandez to Questbridge, a Palo Alto-based nonprofit that partners with 50 prominent universities to match them with high-achieving, low-income students. In addition to being matched with the schools, the top applicants are awarded full scholarships worth in excess of $200,000.
Briggs said for years he has been looking out for opportunities for AVID students and recommended four students, including Hernandez, for Questbridge.
"She took advantage of the opportunity, sought help from a few mentors/teachers, and put in a lot of hard work to make sure what she was turning in to be considered for the program was of the highest quality," Briggs said
As part of the application process, Hernandez was allowed to apply to as many as 15 schools. She took no chances, applying to the maximum and writing separate essays for each, beginning in October. Although she missed on her top two choices, Stanford and Yale, she hit on her No. 3 choice. Founded in 1746 as the College of New Jersey, Princeton is the fourth oldest school of higher education in the United States.
According to Questbridge's literature, last year more than 1,600 applicants were matched with universities and received early acceptance and full rides. Another 2,000 were accepted during regular admission and received academic aid packages in varying amounts.
According to Questbridge, minimum eligibility requirements include being in the top 5 to 10 percent in class, better than 1,260 SAT or 27 ACT scores, and a high GPA, usually with honors, Advanced Placement (AP), or International Baccalaureate (IB) credits. Hernandez estimates her GPA at "around 4.5." Applicants typically come from households with incomes of less than $65,000 for a family of four.
In addition to a full load of AP courses, Hernandez is also involved in theater. You might have caught her as a member of the ensemble in the school's production of "Beauty and the Beast."
Outside of school, Hernandez spends weekends helping her parents, who are launching a nursery business growing and selling trees and succulents. When not working in the soil with the plants, Hernandez has been using knowledge gained in her Economics class to help her parents with financing and their business model. At Princeton, Hernandez plans to major in economics, although she is open to change.
"I really want to connect and take classes that interest me," the San Clemente resident said.
Although she hasn't had the opportunity to visit the school, there were many attributes that appealed to her.
"I like the small, more homey feel," she said. "Also it has a really good student to faculty ratio and is known for its (economics) program."
It is also a cinch that Hernandez will be well fed, if she chooses. Princeton is renowned for its eating clubs, which include F. Scott Fitzgerald, Jimmy Stewart and David Duchovny among their alumni, and are open to upper division students.
Hernandez is just thrilled for the chance to delve into all of it.
"I look forward to having new experiences," she said. "It is across the country. It will be a breath of fresh air."