By CUSD Insider staff
It may be the offseason, but the intensity, determination and love was certainly present at Beach Blitz, a robotics competition held at Capistrano Valley High School on Nov. 5 and 6.
Teams from throughout the region came to the Mission Viejo campus, bringing their custom-made robots to battle it out in the school gym. This season, the robots were tasked with shooting balls into a basket and zooming over to some bars to pull themselves up, all in about two minutes and 30 seconds.
Picture multi-wheeled, boxy-looking robot contraptions that scoot about, spit out balls, then do pull-ups — all in a gym full of eager spectators with live commentary and live-streaming video. Students and their drive coaches control the robots with laptops and video game controllers from behind a clear plastic wall.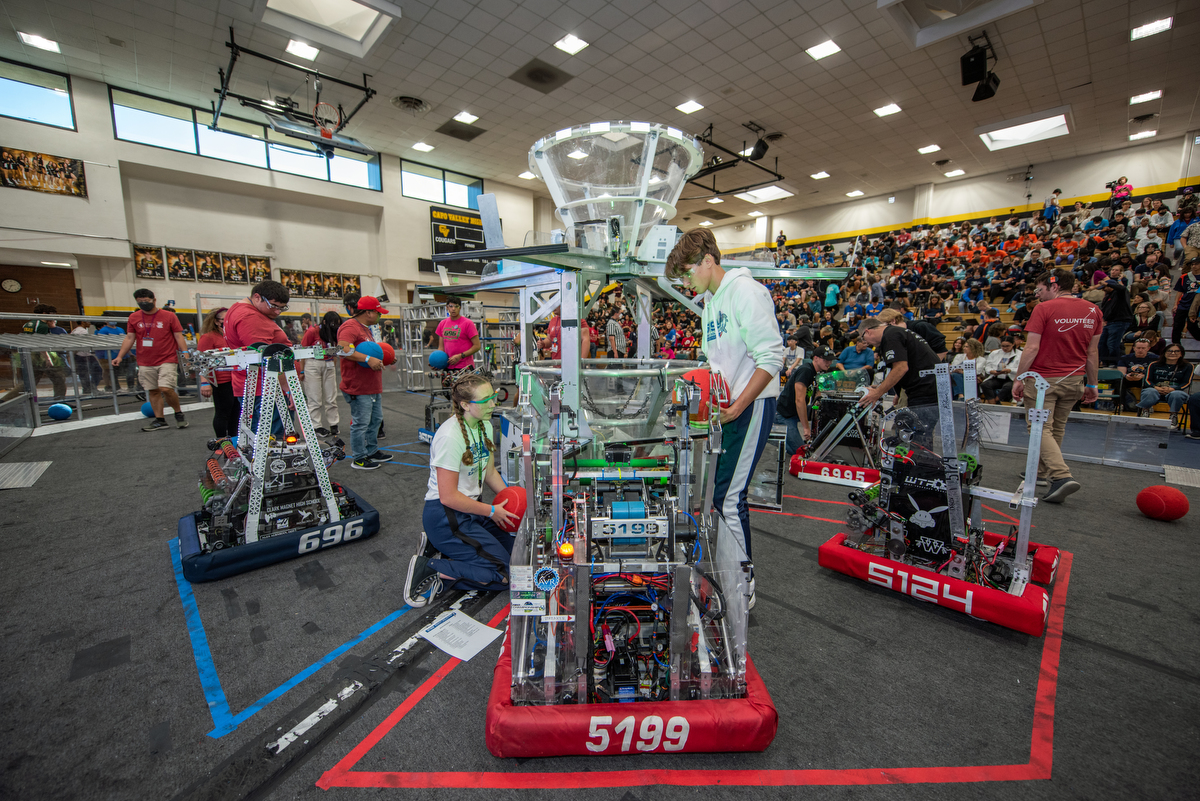 Representing the home turf at Beach Blitz was Team 5199 of CCA, covering the Capistrano Unified School District — aka "Robot Dolphins from Outer Space." The team has about 40 members from all grades split into two groups, kind of like varsity and junior varsity squads.
Their robot this year is named Hermit. They stick to marine life names, so Hermit was inspired by hermit crabs. The team's signature move is ripping off track pants when their name is called on the loudspeaker.
Richard Jung, one of the event organizers, is their head mentor with an industrial design background. Jung first got involved with the team when his son, Kevin, was a member. Kevin graduated in 2018 and is now a senior at Cal Poly San Luis Obispo, but Richard stayed on to become a CCA robotics instructor to help future generations of robot-building students.
"It takes thousands of hours," Jung said of the endeavor, which involves design, building prototypes, CAD engineering, electrical work, project management, and more. "Our shop is open every day."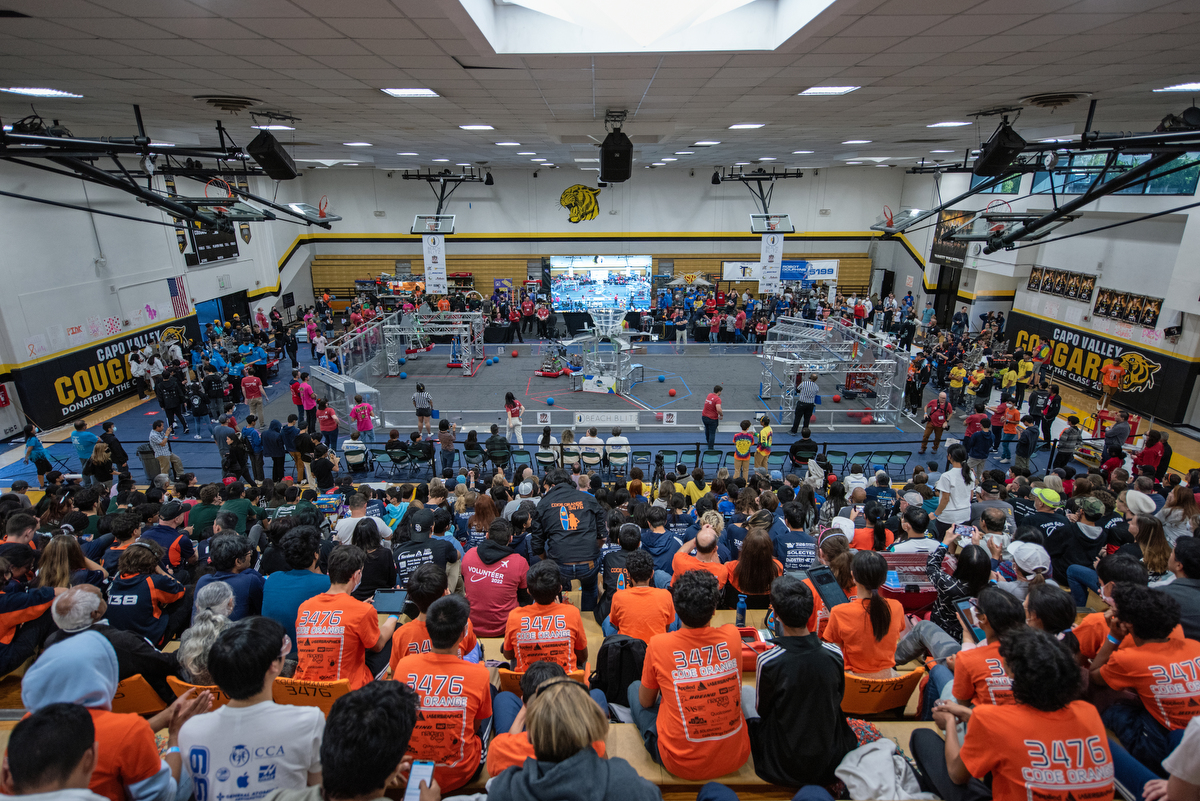 Just like their counterparts in traditional athletics, the robotics teams have regular practices and strategy sessions.
Supporting Team 5199, and other FIRST robotics teams, is an entire ecosystem involving professional mentors, grants and corporate sponsorships from companies like Boeing and Qualcomm. Students get internships while still in high school. Having robotics experience makes student resumes and college applications stand out.
Furthermore, CCA's CUSD Team 5199 is a top contender, just recently taking No. 2 in the "Battle at the Border" event in San Diego. Team 5199 alumni, many of whom continue studying in the STEM fields after graduation, have gone on to UC Irvine, UCLA, Caltech, Rice, Duke and Vanderbilt, to name a few.
Shawn Obrien heads the JV squad for Team 5199. Like Jung, he initially got involved through his son's involvement. Conor Obrien, who graduated in 2020, is now at Irvine Valley College and recently did filming for the "BattleBots" TV show.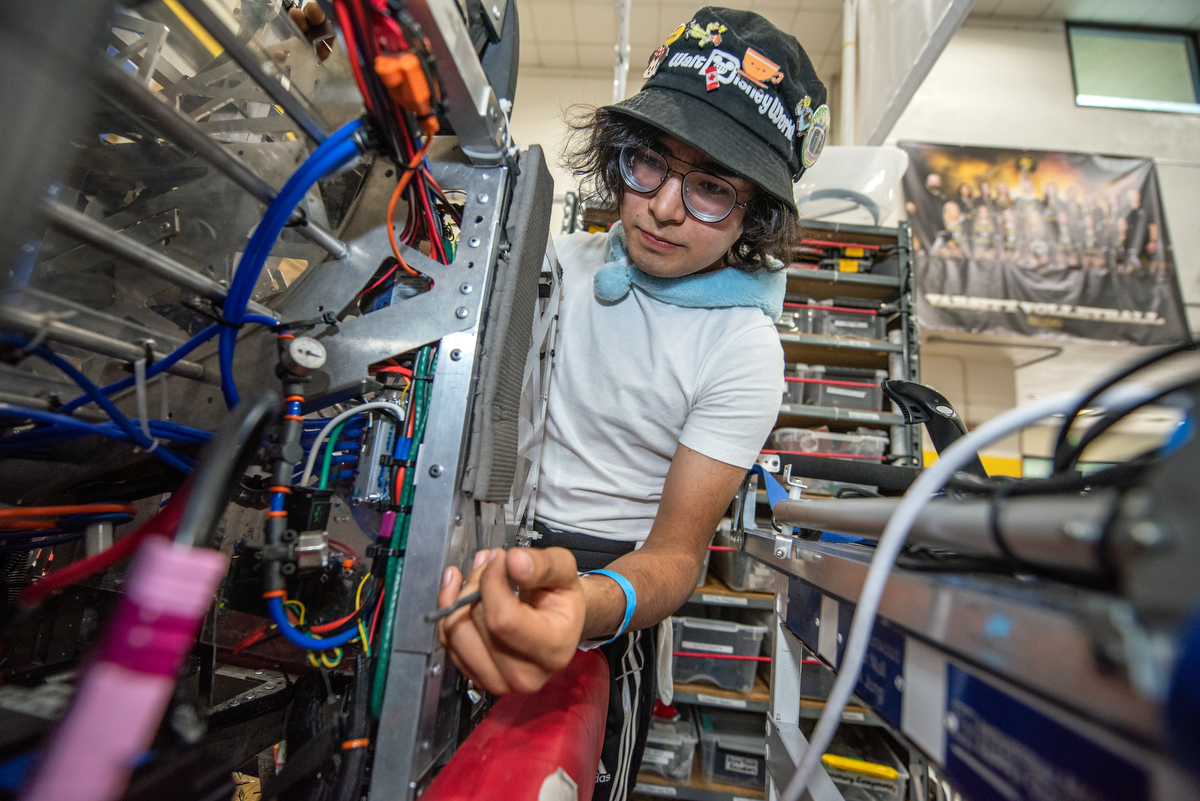 Now, Obrien is more than a parent volunteer. He teaches robotics at Capistrano Valley High School, applying his software professional background to the subject.
"I love the diversity," he said. "It's not just design, not just electronics and programming. It's tying all systems together, making them do whatever task it is."
Roux Lake, 17, is president of Team 5199 and an operator. He does a lot of paperwork, emailing and making sure the team stays organized. The senior has been involved in the robotics team since his freshman year and wants to continue studying engineering in college.
"I love the environment," Roux said. "It's really fun. Everyone is super nice. You get an adrenaline rush from the speed of everything."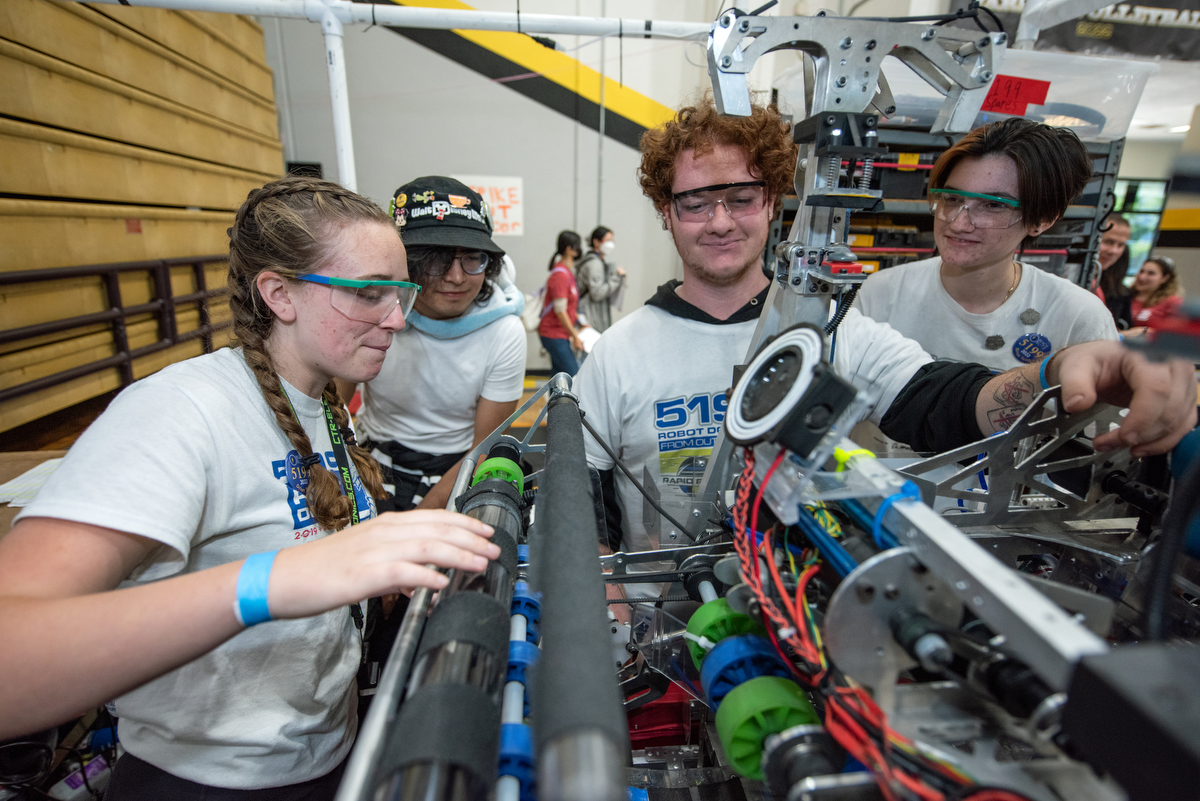 Senior Kylee Sullivan, 17, is an electrical lead. That role can include the ever-important task of making sure Hermit turns on when it's supposed to.
"I like organizing it," she said. "It makes everything run. It ties together all the parts of the robot."
Kylee is applying to colleges and weighing her options, but is eying UCLA.
Joshua Duncan, 15, is a sophomore and team driver. He also does mechanics.
"I've been playing video games all my life," he said. "Now I get to do it with something real, an actual application."
In the end, Team 5199 of CUSD, the Robot Dolphins from Outer Space, did well at the Beach Blitz. They made baskets. They played offense and defense, and did their robot pull-ups. Consequently, they ranked second out of 42 teams competing, ultimately getting to the semifinals before being eliminated.
Hermit and his controllers had some good arms, too. He was one of the best climbing robots in the endgame.