By Greg Mellen
When Valli Gideons shared an epiphany with her then 10-year-old daughter, she got the fourth-grade version of an eye roll.
"I kind of thought it was dumb," said Harper Gideons, now a 13-year-old seventh grader. "Whatever."
The thunderclap idea of Valli Gideons, a journalist and blogger, was to collaborate with her daughter on a book about the girl's life. The journey of a girl living and dealing with hearing loss. A kid's-eye view of both struggles and empowerment.
"I thought only authors can do that," Harper said of her first reaction.
Three years later, after Harper begrudgingly agreed, the mother-daughter team are real authors, with the publishing of "Now Hear This: Harper Soars with her Magic Ears!" The 1,200-word book is intended for kids, but also for parents, and tells the tale of Harper's childhood journey thus far.
In addition to receiving positive reviews, Valli said Amazon told her the self-published book, released Feb. 18, was a No. 1 new release in its category.
"Now Hear This" is available on Amazon and at Barnes and Noble.
The Gideonses won't know how that translates into actual sales until later, but Valli said, "we're super excited."
Mom and daughter are working on a limited book tour, which kicked off in February at Marblehead Elementary in San Clemente, Harper's alma mater. Plans to visit other schools in the area have been postponed to the fall, Valli said, though some teachers are reading the book to their students via virtual classrooms.
As for the once recalcitrant daughter, she now says, "It's still kind of surreal."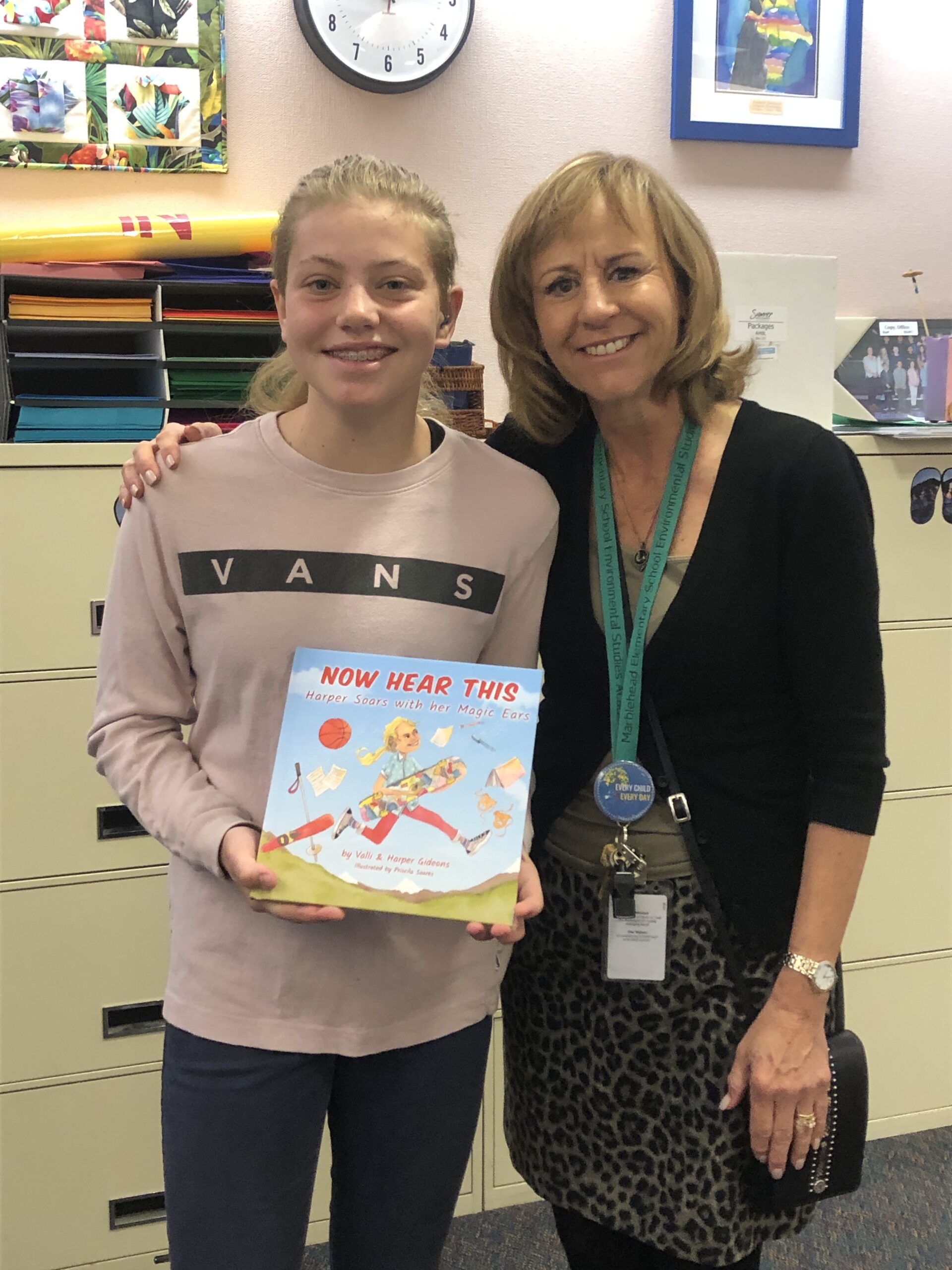 How it all began
Although Valli Gideons was active on social media, writing and blogging about being a military wife with two kids with hearing loss (her older son, Battle, 15, also has it), for some reason she hadn't thought through how to build on that.
"Like most writers, I had people telling me 'Why don't you write a book?'" Valli said.
Then one day, Harper came home and did the old backpack dump and flop.
As Valli looked at her daughter's papers, "I started reading an essay on 'What Makes You Unique,' and that was the lightbulb moment."
Valli was educated and published as a journalist and blogger. She has spent years building online followers and subscribers across multiple sites and writes about raising kids and awareness about hearing loss on her website, mybattlecall.com.
Valli realized it wasn't enough for her to write about her daughter. Harper needed to be involved. Harper's story needed Harper's voice.
For example, Harper writes early in the book, "My mom and dad had this weird gene thing that caused a part of the inside of my ear to be enlarged—by the size of a hair. The size of a hair isn't much, you might think. But when it comes to that part of the ear, believe me, it matters."
Harper's 'aha' moment
As the mother and daughter began work on the book, progress was slow until Harper had her own lightbulb moment soon after she and her mom met with artist Priscila Soares, who also has hearing loss.
"She did the illustrations and it all came together," Harper said. "I thought, 'Wow, this might really happen.'"
Vall joked that once her daughter became engaged, "She became really opinionated."
On a more serious note, Valli added, "She wanted this not to be dumbed down. She wanted it to be for readers."
Harper's viewpoint had changed.
"I kind of do care what's being put out," she said. "This is going out to kids who don't have a lot of people around who know what they're going through. I wanted this to resonate and be relatable and funny at the same time."
Yes, humor is a part of the book to which readers relate. Not wanting to give too much away, Valli said a scene with a gorilla at a zoo causes kids to fall out. And then there's the part where a teacher with a microphone to help Harper hear forgets to turn the device off when, um, nature calls. You can guess the rest.
Although the book had potential, Valli said months of querying and sending out a rough draft drew no interest from publishers.
Valli went back to the manuscript, cleaned it up and decided to self publish.
She has also recently completed an e-book called "Navigating Your Child's Hearing Loss," a resource guide for parents of children with hearing loss.
Valli and Harper are contemplating collaborating on a second book, aimed at young teen readers. The book would be a sequel about the further adventures of the Harper character.
"There are not a lot of books for middle schoolers (on hearing loss)," Valli said. "We said, 'Why not change that?'"
Serious business
Although "Now Hear This" can be lighthearted, hearing loss is no small matter.
Valli and her husband, Chris, a Marine colonel in his fourth tour at Camp Pendleton, don't suffer from hearing loss and knew of no history in their families.
However, both carried a gene that causes a disorder called Pendred syndrome that results in hearing loss in children. In later life, Pendred syndrome can also cause swelling of the thyroid gland in the neck and possibly balance problems.
The couple learned their son had hearing loss after his first hearing test as an infant.
When Valli was expecting her daughter, genetic testing showed Harper would also have the syndrome.
The effects of Pendred syndrome are characterized by fluctuations in hearing, often becoming progressively worse.
Battle, now 15, was fitted with hearing aids as an infant and later with cochlear implants, which include a device surgically placed inside the ear and an external device behind the ear. Battle had his first implant at 14 months of age and another at 5 years old. Harper had an implant at 18 months in one ear and may need a second at a later date.
However, the implant has done nothing to slow down Harper, who is an avid skate- and snowboarder and is part of an eighth-grade open division club basketball team.
In the book, Harper writes, "The first time my new implant was turned on, my eyes got wide as saucers. Before, the world sounded a little bit muted, but after the implant was turned on, everything sounded so clear and awesome."
For parents, raising kids with hearing loss has its challenges. But in the book dedications, Valli writes about the rewards.
"Being their advocate has been the greatest honor of my life. What I didn't know all those years ago when we began this hearing loss journey is what being their momma would teach me about strength, resiliency and love. Because of them, I have discovered the deepest kind of love, the type of love you can only imagine in your dreams."