By Greg Mellen
Talk about just in the nick of time. Capistrano Unified School District fourth and fifth grade music block teacher Bill Cox is being recognized for his tenure and strength as a top educator as one of the winners of the Orange County Department of Education's 2023 Orange County Music and Arts Awards.
Cox recently announced he is retiring at the end of the school year after 29 years teaching at CUSD. To say Cox was surprised by the award is an understatement.
"I didn't even know I was nominated," he said.
When he got a message from a colleague, he said, "I thought that maybe they sent it to the wrong person."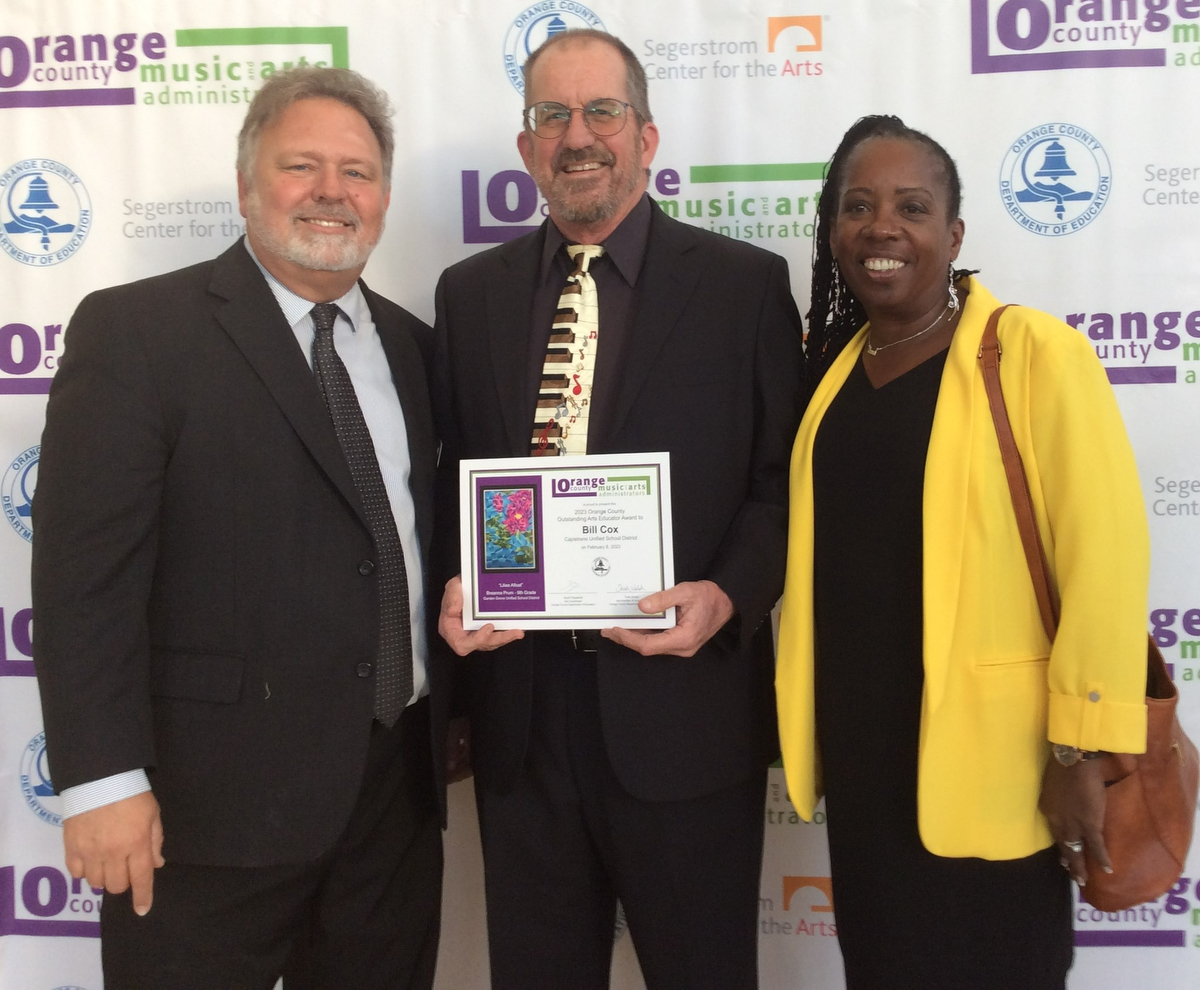 Coincidentally, Cox is also being feted as the CUSD Elementary Music Teacher of the Year for kindergarten through fifth grade.
Winners of the OCDE awards were chosen from more than 80 nominees as the top arts teachers, administrators, and advocates from across the arts spectrum, including music, theater, dance and visual arts. The OC Music and Arts Administrators represent 28 school districts in kindergarten through 12th grade.
The teachers were celebrated Wednesday, Feb. 8 at a ceremony at the Samueli Theater at the Segerstrom Center for the Arts.
Cox is part of a team of teachers in CUSD's Block Music Program for fourth and fifth graders. With the rest of the team, Cox visits seven elementary schools in the district, teaching two 40-minute lessons per week in each school. Cox mainly teaches general music and vocals/choir, along with some band and orchestra.
Cox joined CUSD in 1994, after two years in the Newport-Mesa Unified School District. Known for his easy-going teaching style and demeanor, Cox connects well with children and colleagues, and is the ultimate team player.
"I don't have a boisterous personality," he said. "I do get compliments from staff."
He has also transferred between teams a number of times over the years to help fellow teachers, leading to an even more peripatetic career than those of the already nomadic music teachers.
"As a result, I've worked in 29 elementary schools in the district, including several that closed," he said.
"We're lucky to have him," said Arts Administrator Nathan Howe, himself a Music and Arts Award winner. Cox is always ready to step up when needed, Howe said.
"He's the first to volunteer," Howe said.
When tensions and emotions run high, Cox helps bring down the heat.
"He's calm, cool, and collected. He's an equalizer," Howe said. "He has a mellow way of being, but he's very supportive."
Cox said he enjoys the variety of working with fourth graders in the general music class where students do a lot of singing, learn about composers and how to read notes before advancing to playing the recorder.
He also enjoys teaching choir, particularly when all the laborious work of singing scales and harmonizing pays off.
"The joy of it is when they perform in concert and you get to see the result of all that," Cox said. "When they do the concert and hear the applause."
Although this is his first year in the winner's circle of awards, Cox was actually at the forefront of getting teachers recognized and creating the district award for music teachers. As a group, because of the traveling nature of their work, music teachers were often overlooked when teaching awards were handed out.
During his stint as a union representative, Cox pointed out that with more than 30 teachers, the music department faculty was larger than teaching staffs on most campuses and deserving of recognition. Due to Cox's advocacy, the district created the Elementary School Music Teacher of the Year award, which has been given out annually since 2007.
A former trumpet and tuba player, Cox also sings with Saddleback Church. He also plays guitar and dabbles on the piano. In college, he thought he had left music behind as he majored in liberal studies at Cal State San Bernardino. However, a professor steered him into music education, for which Cox is forever grateful.
Although he could teach several more years, Cox decided he would coordinate his retirement with that of his wife, Dee, a special education teacher in the Saddleback Valley Unified School District.
"I've enjoyed everything," he said. "I've enjoyed it all along."