By Greg Mellen
The first day of the 2022-2023 school year, Shannon Halbert wasn't sure how or even if she would get through it. She wondered if she could continue in her career.
Her grief was still so fresh.
Just three months earlier, Halbert, a school counselor at Union High in San Juan Capistrano for the past 15 years, was celebrating the start of summer vacation. She was bragging about Paige, her derring-do daughter, who had been accepted for a dream job as a commercial pilot with Horizon Airlines. Paige was spending the summer ferrying skydivers and learning to jump before moving into her aviation career.
"It was the day after graduation," Halbert recalled. "It was a Friday. I was telling everyone she was skydiving. I was super proud of her."
Halbert couldn't know it, but at the same time she was gathering with fellow teachers, doctors were feverishly trying to save Paige, who died after the plane she was flying in crashed in an open field.
The Halbert family would find out three hours later. It was three days before Paige's 25th birthday.
The news was devastating.
"The whole summer I was processing how I felt. I didn't know if I could still be a good counselor," Halbert said.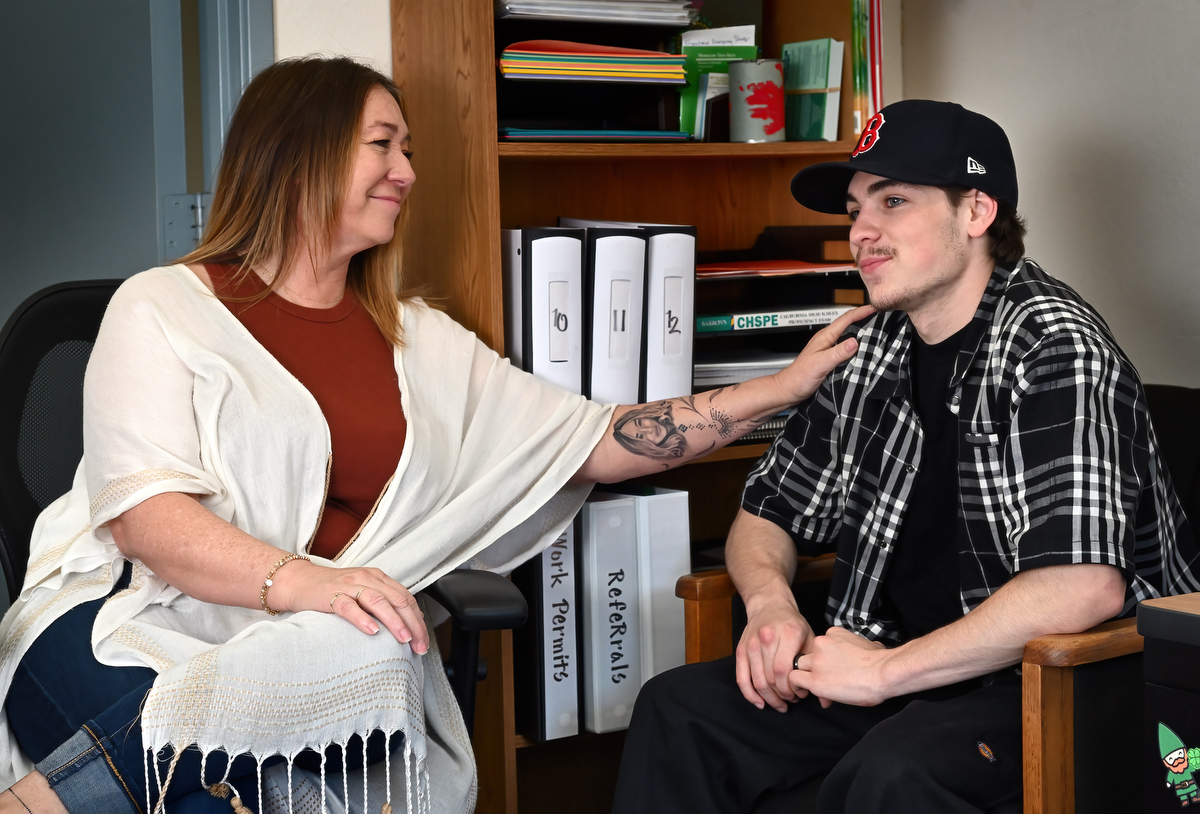 On her first day back in class Halbert, still swimming in her emotions, saw Adam Krueger, a cheerful senior at the school. Krueger came bopping down the hall with his girlfriend, Avery Neria.
"He comes up with his happy self," Halbert recalled.
Krueger immediately sensed something was wrong. Halbert told the student what had happened.
"I remember getting clammy. I didn't know what to say," Krueger recalls. "The first thing that came to my mind is that she's always taken care of us."
So he said that, adding, "Now it's our turn to take care of you."
It turned out to be the perfect thing at the right time. Throughout the day, staffers and students offered similar sentiments, rallying to lift the counselor who so often has buoyed them in low times.
"I try hard every day to find the beauty around me," Halbert said as she sat in her office with Krueger, who recently graduated. "Thank you for reminding me that there's beauty."
Krueger, Neria, and others became an emotional rescue net. They became her sounding board.
Brittany Casey, principal at the school, was touched by the outpouring of support.
"It was so beautiful to see that human side (from everyone)," she said. "Our school is small and we were all on the same page. Whatever she needed, we'd be there."
"After that he'd make sure he checked up on me," Halbert said of Krueger and others. These weren't just courtesy, "Hi, how are you doing?" visits, according to the counselor. Instead, they would take the time to listen, to hear.
"They would come to my door," Halbert recalls. "They would listen to my answer. I could feel that it mattered to them how I responded."
Perhaps that's part of what differentiates Halbert and her relationships with students at Union. Halbert is unafraid to wear her emotions on her sleeve, open her heart, and share with others.
Earlier this year, Halbert was honored as her school's Teacher of the Year before a packed house at San Juan Hills High. As part of the ceremony, emcees read short narratives provided by the winners. Halbert shared some of the story of her loss and the response of students. When the emcee read the story, the room went absolutely silent.
Casey said there was a similar instance when the award was announced at Union. A lunch-time assembly was held and students lined the halls of the school, sharing flowers and hugs before gathering in the outdoor quad. When the bell rang to return to class, Casey said, everyone froze. It was as if the students and staff wanted to linger in the collective moment.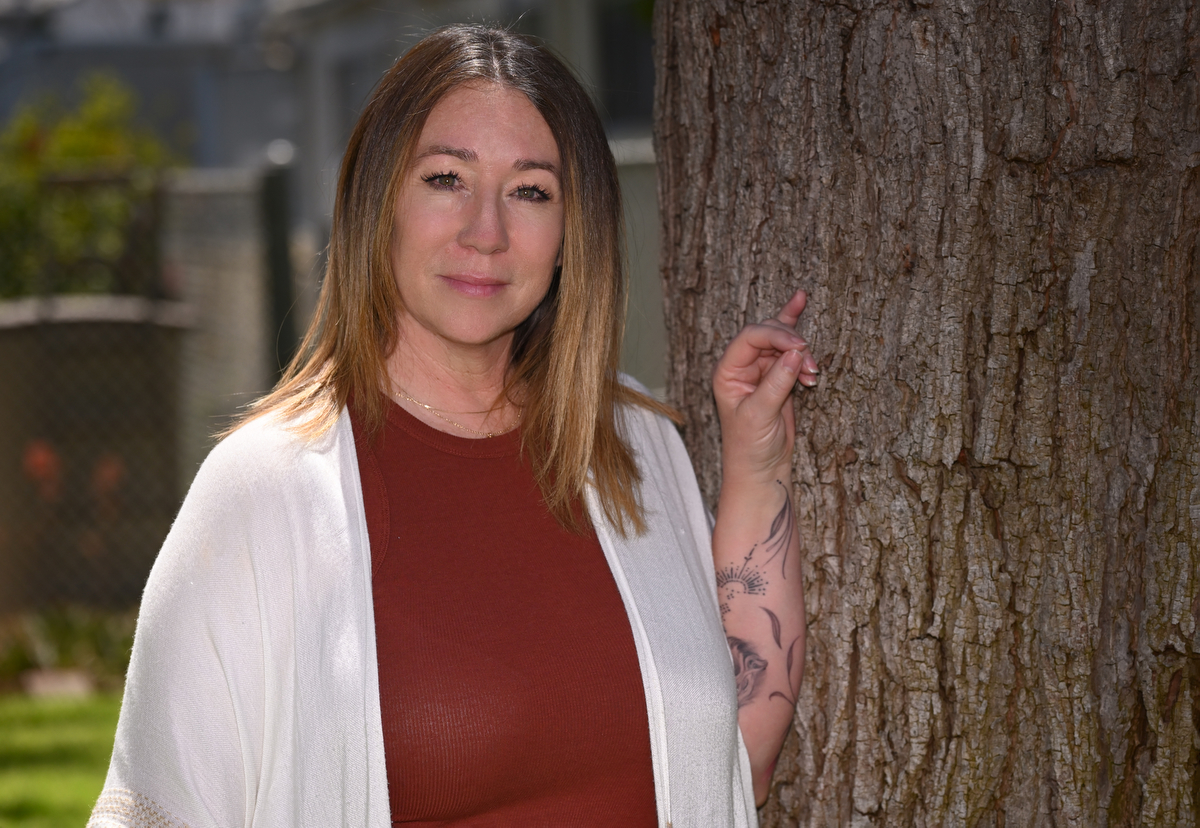 A two-way street
Counselors are often expected to be dispensers of wisdom and providers of emotional support in a one-way relationship.
At Union High there is a different model.
"She's always helped us with work, school, family," said Krueger, who began attending Union High, the continuation school for the Capistrano Unified School District, after he fell hopelessly behind in his classes at Dana Hills High.
"We're family," Krueger said, adding that when one person falls or falters, the rest pick him or her up. "I lucked out coming here."
Unlike with counselors elsewhere, "I've been vulnerable with her," Krueger said of Halbert. And it goes both ways.
"When they're vulnerable and give their heart, I give it back," Halbert said. "Some of them have been through really hard problems. They need someone to like them, and I really like them."
"She's a gift," said Casey, adding that because of the openness she shares with students, Halbert is tuned to "the pulse of the school."
Krueger said Halbert has been invaluable in his life, helping him sort through his relationships with his girlfriend, his parents, and all the emotional baggage that comes with being a teenager.
"Something about your presence made me feel better," Krueger said. "It evens out my emotions."
When students meet with Halbert, Casey said, "Students feel they can share their grief and have these huge emotions and struggles and work through them with her."
"She goes beyond the role of a counselor. She really does change their lives," Casey said.
Sitting in Halbert's office, Krueger turned toward Halbert and said, "You're special to me and to others, and to the whole world, honestly."
In June, Halbert, her husband, and her son will hold a memorial at their home in remembrance of Paige. She invited Krueger and Neria to attend.
"We'll be there," Kruger said.
"You and (Avery) are my special people," Halbert said.