Food & Nutrition Services collaborated with the Earth-Based Club at Aliso Niguel High School to pilot three new plant-based offerings at lunch! The new offerings include:
Hummburger: hummus on whole grain flatbread.

Kickin' Salad w/ Vegan Nuggets, Tortilla Chips, Fresh Greens, Veggies and Asian dressing.

Vegan Chick'n Parmless Hoagie: whole grain hoagie roll with vegan kickin' nuggets and marinara sauce.
The Hummburger is also being piloted at other high schools in our district. We can't wait to hear what our high schoolers think about adding more plant-based items on school menus.
Mac and cheese will be back for a limited time at middle schools. Middle school students can find macaroni and cheese for lunch on Mondays starting March 27!
Elementary students had Housemade Beef Chili Nachos on the lunch menu March 21. We modified our house-made Chili Con Carne recipe from January's menu and removed the black beans based on student feedback. The new and improved chili is now served with stone ground tortilla chips and a delicious refried bean and cheese dip on the side. Plenty of green veggies and kiwi were added to the elementary menu to celebrate the color green this March. Veggie offerings included celery, cucumber, zucchini, green salad, and broccoli. The kiwi and zucchini were grown locally! How many green fruits and veggies did your student try this month?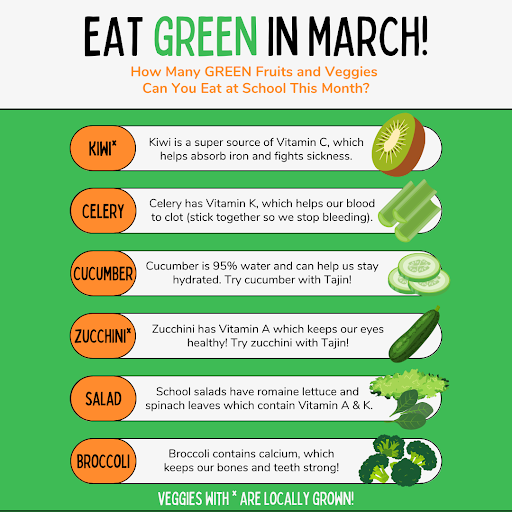 CUSD is rebuilding our District Wellness Council. The Wellness Council includes students, food service employees, physical education teachers, school health professionals, school administrators and members of the public to participate in the development, implementation, and periodic review and update of the district's student wellness policy. If you would like to join our council or learn more, please email Shannon Illingworth at [email protected]