By Greg Mellen
August 15 was the first day of school for 42,000 CUSD students, nearly 200 new employees and the District's new superintendent, Dr. Christopher Brown.
The new superintendent at the Capistrano Unified School District joined students, families and employees at two elementary schools, a middle school, and a high school as CUSD schools opened their doors for the 2023-2024 school year.
Brown said it was important for him and for all the district's administrators to get into the field to show support and solidarity with educators, students, and families.
"One of the things I asked all my administrators was to be at sites and help with traffic or whatever's needed," Brown said. "I want all the principals to know that we support them."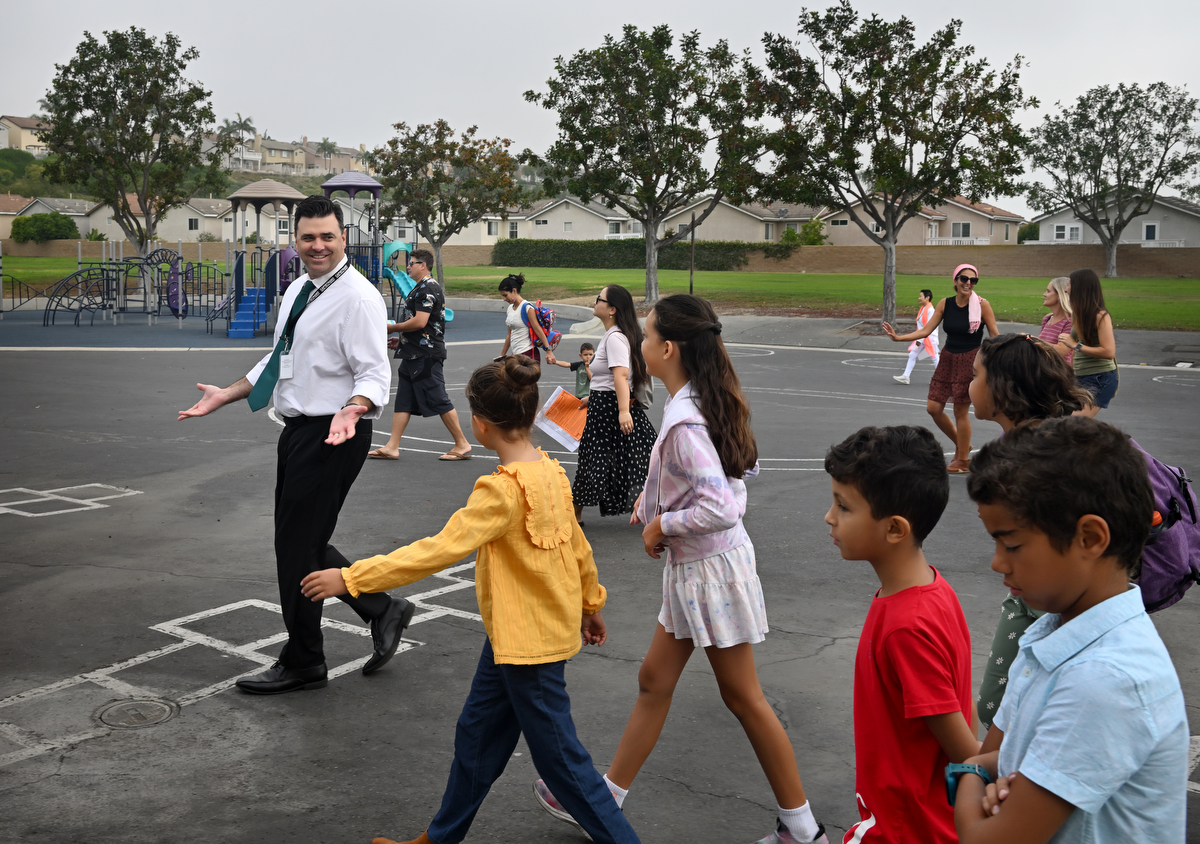 Luckily for Brown, traffic flowed smoothly at each school he visited.
Brown took the reins as CUSD's ninth superintendent on July 1.
"I've been here for a month, but this is the day you feel you're back to work," he said, watching the flow of students and family members at Oak Grove Elementary in Aliso Viejo.
Brown was appointed superintendent of CUSD over the summer, following a unanimous vote of the Board of Trustees. He comes to CUSD after working as the Assistant Superintendent for Research, Assessment, and School Improvement in the Long Beach Unified School District.
As an administrator in Long Beach, Brown also made it a practice to get out to schools on the first day of the school year.
"There's nothing happening at the district office," he said. "This is where the action is."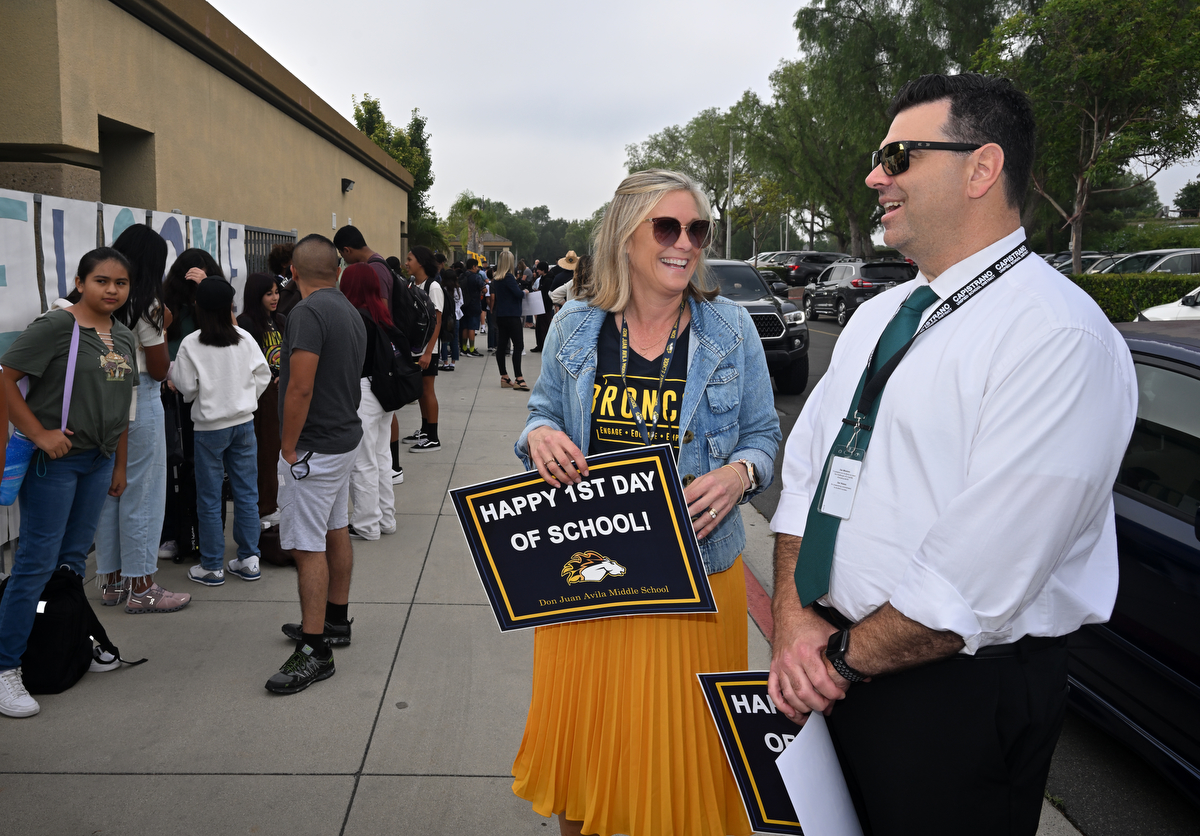 Brown started the first day of classes for CUSD at Oak Grove, where Principal Dr. Emma Robles was celebrating her first back to school day at the TK-5 campus.
Part of the reason Brown started his day at Oak Grove was to support Robles as she embarked on the new job. Robles was a former principal in Anaheim.
"We can be new together," Brown said.
"I hope he feels the sense of community we have," Robles said of Brown.
Oak Grove was decorated for the students on their first day with chalk drawings out front with messages such as "2023-2024 Let's Go!"
Brown was first met by Office Manager Montse Gray and her companion, Benissa, a friendly lab puppy Gray is training to become a Guide Dog for the Blind.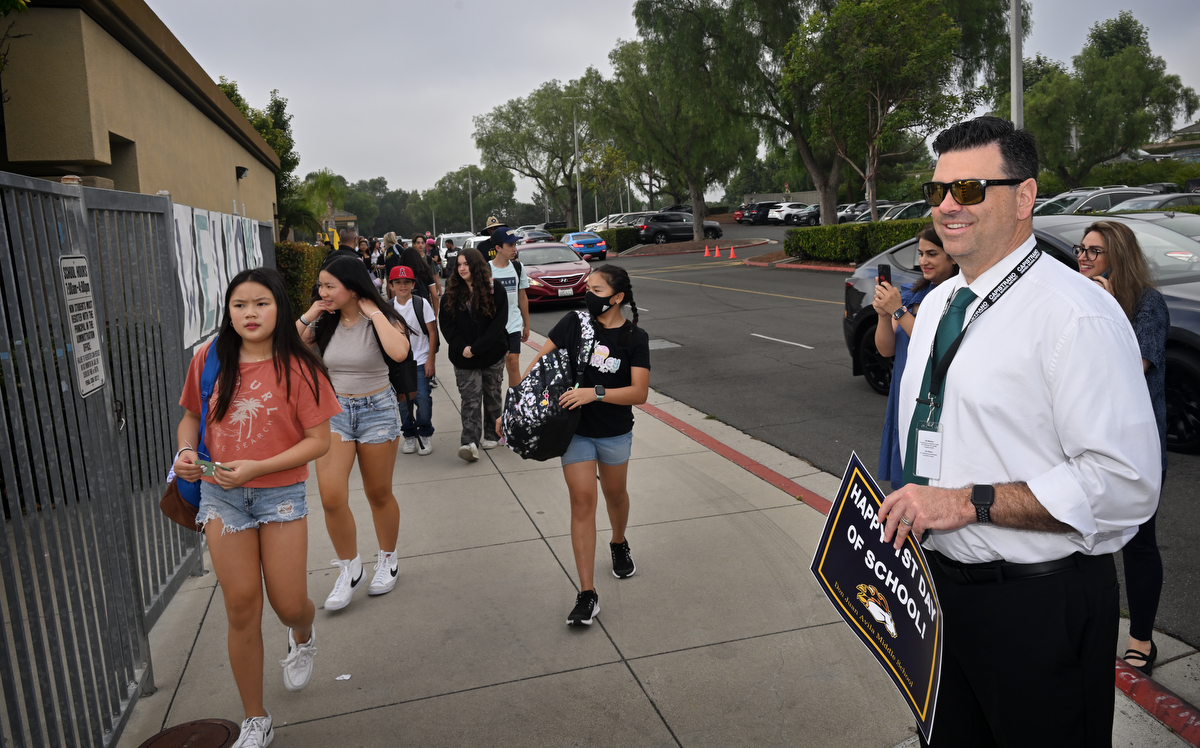 After connecting with Robles, Brown walked to the back of the school where about 500 students lined up behind chairs with the names of their teachers. An overflow crowd of parents and family members gathered nearby for the school's flag ceremony.
"It's so nice, everyone's ready to go," Brown said. "Everyone is happy and ready to be back at school."
Don Juan Avila in the middle
As the children broke up to head into class, Brown was off to his next stop just down the street at Don Juan Avila Middle School.
Upon his arrival, Brown was given a placard that read "Happy 1st Day of School."
Unlike the elementary school, where many children were attending school for the first time and parents were allowed on campus to meet their children's teachers, at the middle school, parents could not venture beyond the front gate.
Brown joined a line of DJAMS staffers with similar signs greeting kids arriving, many by cars that proceeded smoothly through the transition. A number of parents whose kids were starting their first year at the grades 6-8 school of 900, posed their children for photographs before the kids disappeared behind the gates.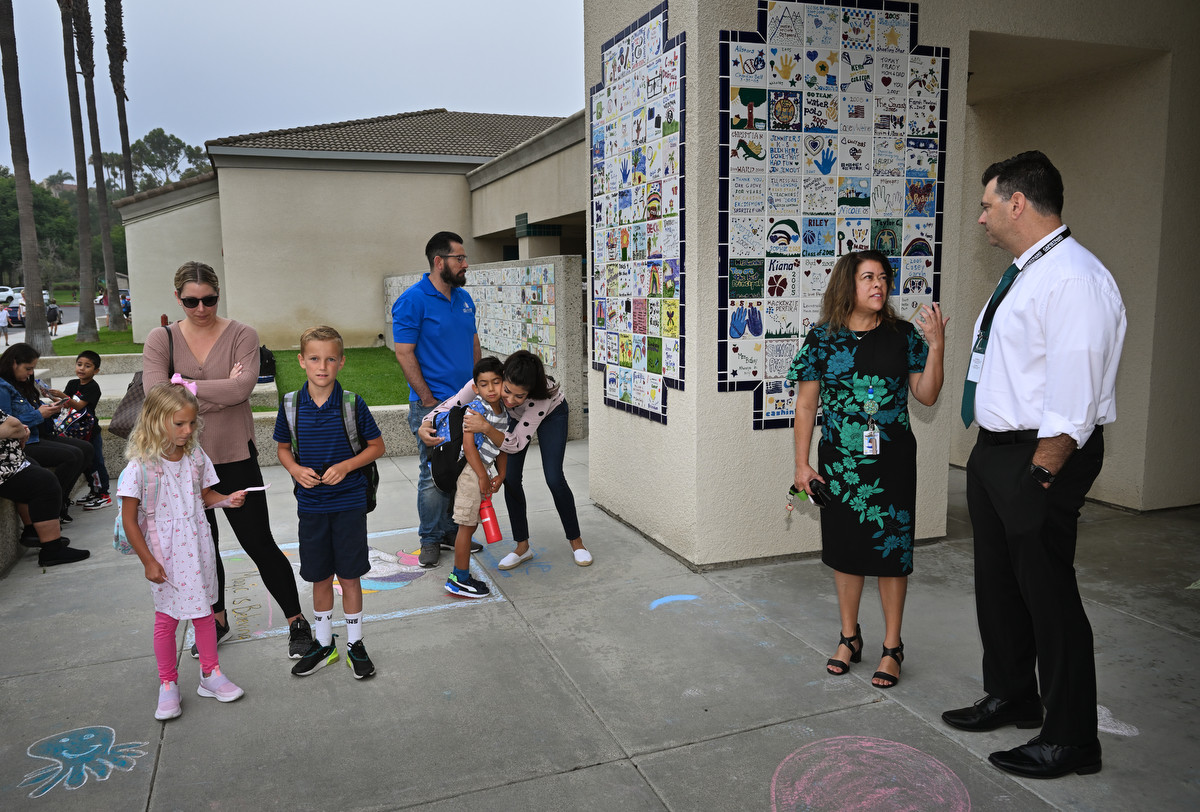 Principal Amy Varricchio positioned herself by the front gate so she could see each of the students as they entered.
"This one of the first openings to feel normal since the pandemic," said Varricchio, in her fourth year as principal.
Varricchio turned to speak to a father dropping off his daughter for the first time at the school, then led the girl to the lists that guide students to their classrooms.
School Counselor Justin Morrison greeted kids at the gates saying, "You've got all year to crush it."
He was happy to see Brown and other administrators at the school.
"It just sets the tone for the school culture and lets us know we are supported," he said.
As he watched the line of parents efficiently dropping kids off from their cars, Brown said, "You're a well oiled-machine."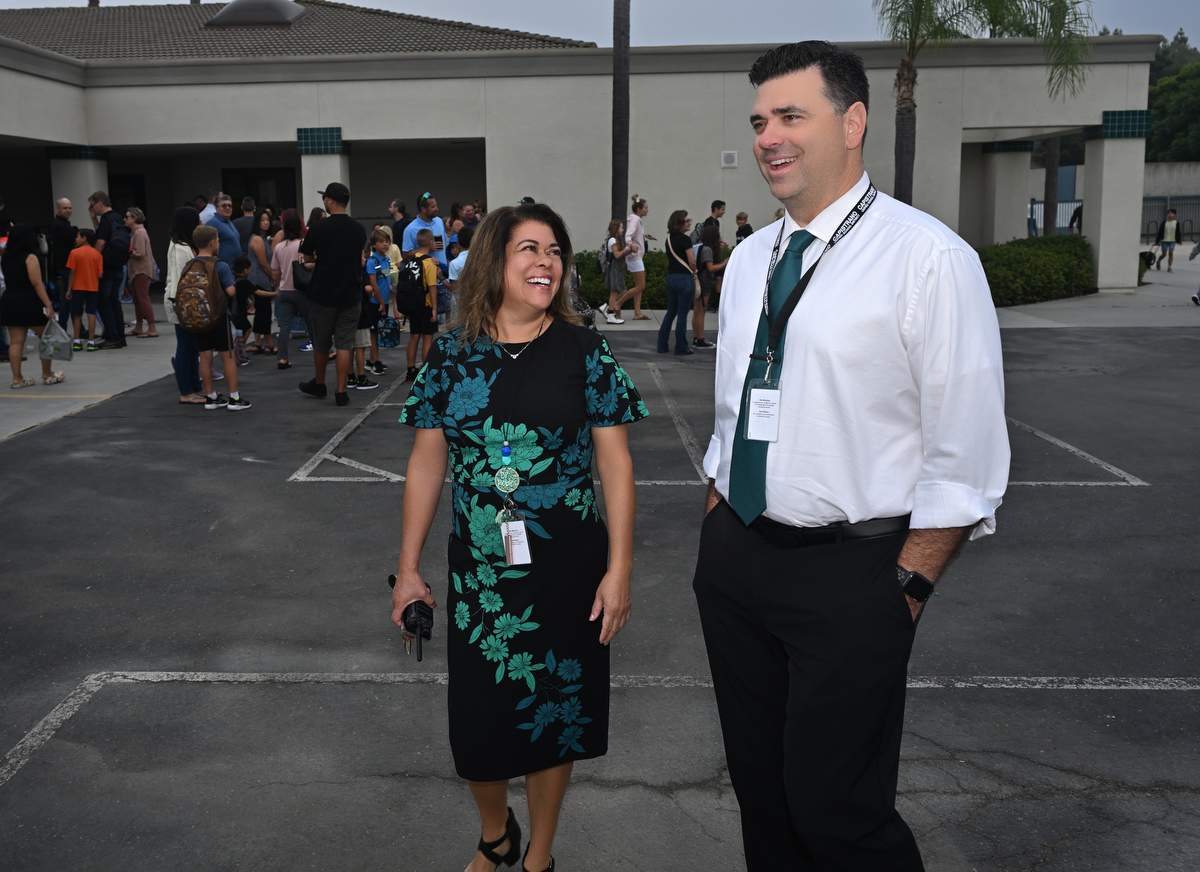 Varricchio quipped that Brown was welcome to come to the school any time and she would gladly give him a radio with which to patrol.
Meanwhile, next door to Don Juan Avila Middle School, students at the elementary school were gathered in groups where they were being given the campus low-down, such as the difference between the cement walk areas and the black top, where they could run.
"Repeat after me, 'White is for walking,'" a teacher said.
High school wrap up
At Aliso Niguel High, Brown was met by Principal Michael Hatcher and a team of assistant principals and the school's activities director.
Hatcher's team of administrators, along with other administrative teams, were making the rounds to every class on opening day.
"The whole team is going to be saying 'Hi' to everyone," Hatcher said.
Hatcher said visiting every class was meant to show that, "our administrative team has made a commitment to every student."
In between classes, Hatcher was approached by numerous students asking for directions to their next class.
"If you're an adult and you're standing around, they'll come and ask," Hatcher said.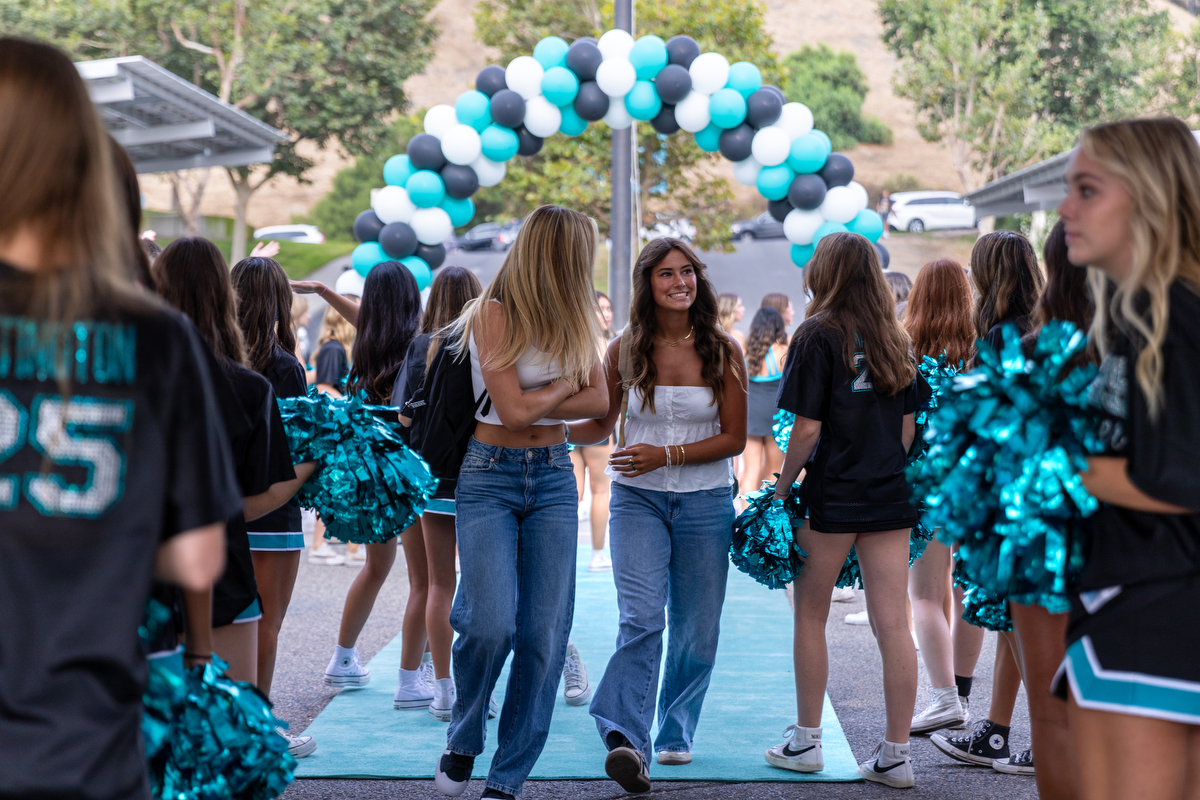 Brown also received a number of queries that he passed on to Hatcher. During Brown's tour, he visited two biology classes, a European history class, and AP American government. At each class, Brown was introduced.
"I hope to see all of you involved in athletic events, clubs and all of the ways to be involved on campus," said Brown after his introduction.
Hatcher said he was excited to have the Superintendent visit, saying, "It gives us a chance to show off."
When Brown took the helm at CUSD, he said he would "spend time in schools, meeting with teachers, staff and administrators, and establishing meaningful relationships with all stakeholders," according to the district.
It was the first day of school and he was already making good on the promise.