By CUSD Insider Staff
A new addition at Dana Hills High School, even during its brief tenure, has thirsty students and staff excited: the addition of a SodaStream Professional.
But don't let the name fool you. This machine isn't dispensing sugary sodas. Rather, it's electronically pouring nano-filtered water. What's more, SodaStream does so in a 21st-century fashion: with an easy-to-use digital interface that can be tied to an app and QR codes.
Erika Berg, Dana Hills' assistant principal, told CUSD Insider that her campus is the first high school in the world to pilot the machine, which is manufactured by PepsiCo.
The SodaStream unit provides metrics regarding bottles saved, CO2 emissions reduced, water saved, and trees planted. The sustainability metrics after about 12 business days showed that 1,767 bottles have been saved (74 cases of 16-ounce bottles), 137 CO2 emissions avoided, three trees saved, and 18,447 ounces of water saved.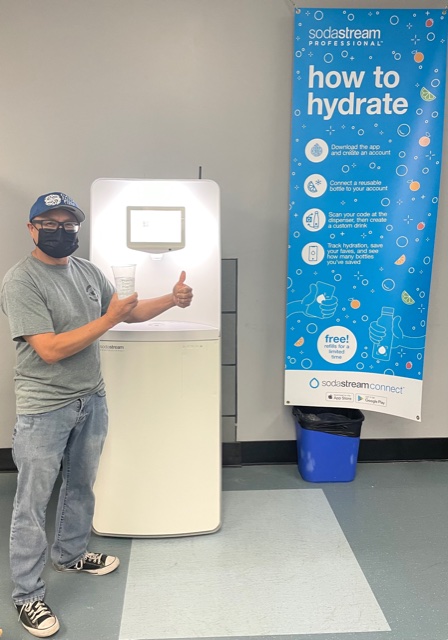 Dana Hills received its SodaStream Professional on May 24, not long before the school year ended for summer break. School officials placed the fancy water-dispensing gadget in a prominent spot at the main entrance to the campus.
Everyone could see it. Everyone could drink from it for free.
"The kids and staff were lined up in the hallways, they were so excited," Berg said.
Aside from its clear flavor and hydration benefits — the SodaStream waters are sodium-free, sugarless and have no artificial sweeteners — the machine is also teaching some small sustainability lessons.
The neat thing about this partnership with SodaStream is that it could reduce consumption of single-use plastic bottles.
"We're hopeful this will encourage students to make use of reusable bottles," Berg said.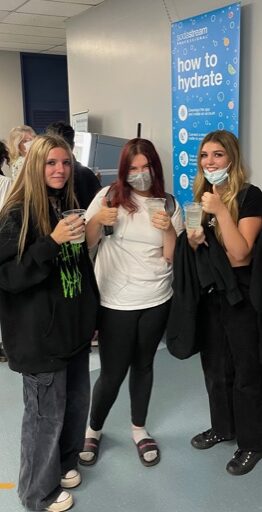 PepsiCo provided staff with bottles that have a special QR code that encourages data tracking. Those without a SodaStream bottle can use a smartphone app with a QR code that helps the SodaStream Professional remember preferences and usage, such as how much they've consumed and how many single-use plastic bottles they've avoided using.
Customization is another fundamental bonus of the machine. Drinks come in either still or sparkling water. Six flavors are available: strawberry, orange grapefruit, lemon mint, lime, peach and raspberry lime.
The machine even lets users determine a drink's final temperature, level of carbonation, and flavor intensity. According to PepsiCo, the machine is not designed to ever dispense its sodas, Aquafina and Bubly sparkling water brand.
Berg said a more formal ceremony is in the works. The school and PepsiCo's design team may even beautify the area around the machine.
When Dana Hills High students return to school in the fall, their SodaStream machine "will be a nice welcome back," Berg added.