In celebration of National School Lunch Hero Day (May 5), CUSD Insider is showcasing profiles of some of the super food & nutrition services employees we have throughout the District.
Today, we are highlighting Jennifer Lantz, Lead Food Service Professional, San Juan Hills High School.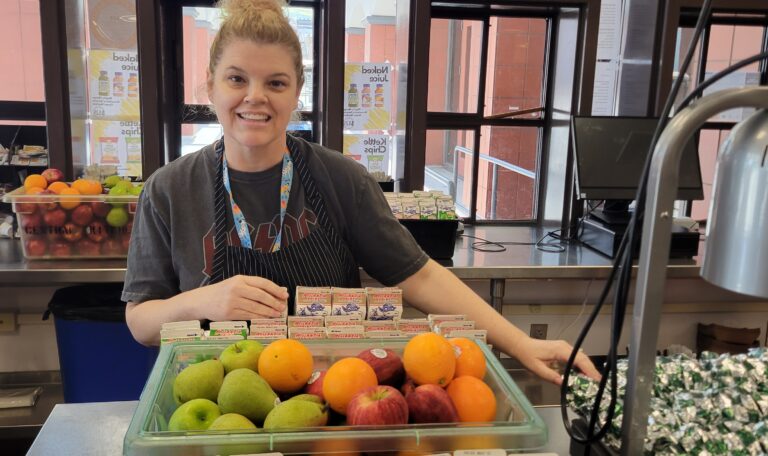 Q: How long have you worked for CUSD?
A: 16 years (April 2007-Present)
Q: Describe your role in Food & Nutrition Services
A: I oversee the day-to-day operations of the kitchen at San Juan Hills High School, as well as the day-to-day operation of Union High School, OCASA Charter School, and ATP/Bridges.
Q: What is the most rewarding part of your job?
A: The most rewarding part of my job is knowing that I come into work each day and am able to help students be successful today and hopefully for years to come by providing them with well balanced, nutritious meals. Each student deserves the opportunity to be successful, and I think this all starts with nutrition.
Q: Why is it important for students to have nutritious, filling meals everyday?
A: Students who eat a well balanced, nutritious meal are more likely to develop life long healthy eating habits. A nutritious meal helps students to focus in class, which will lead to better grades. Better nutrition all around helps them stay healthy and decreases the chances of them being sick in general. A well-nourished student will most likely to achieve greater success in the classroom and in their everyday life.
Q: What was your favorite school lunch when you were a student?
A: Pizza
Q: What is your favorite meal to cook at home?
A: Spaghetti
Q: If you could have lunch with one famous person from any time, who would it be and why?
A: If I could have lunch with one famous person from any time I would pick Walt Disney. Walt has taught me that whatever I do, I need to do it well. He once said, "Our greatest natural resource is the minds of our children." Walt has given people worldwide the opportunity to dream. His mind was incredible and just to be able to ask him about his thought process on this would be incredible.
"All our dreams can come true, if we have the courage to pursue them." – Walt Disney