Patricia Garcia
Aliso Viejo, School Bus Driver
Known for her work ethic, smile and positive attitude, Patricia Garcia has served CUSD for nearly 30 years as a school bus driver. She cares deeply for the students and coworkers she transports, valuing their safety and spreading joy. Garcia's great attendance record and her eagerness to help train new employees and welcome them to the community reflect her professionalism and heart. Garcia is always is the first person willing to step up and contribute in whatever ways she can. Beyond CUSD, she is incredibly involved in her community. She works as a substitute teacher at the Mission Basilica School, serves as a member of the Community Emergency Response Team (CERT) for the city of San Juan Capistrano and volunteers at Casa De Ama with autistic adults.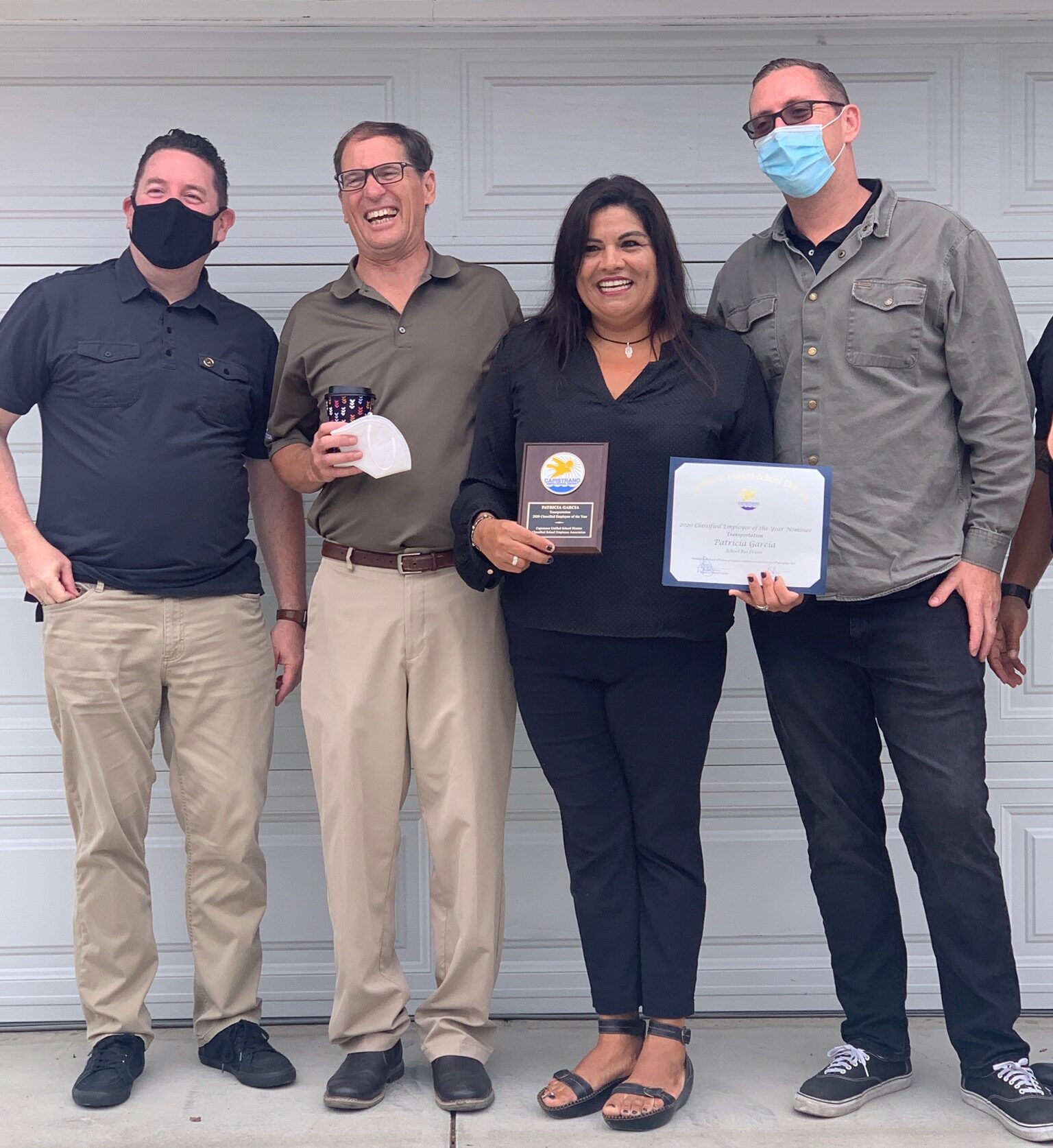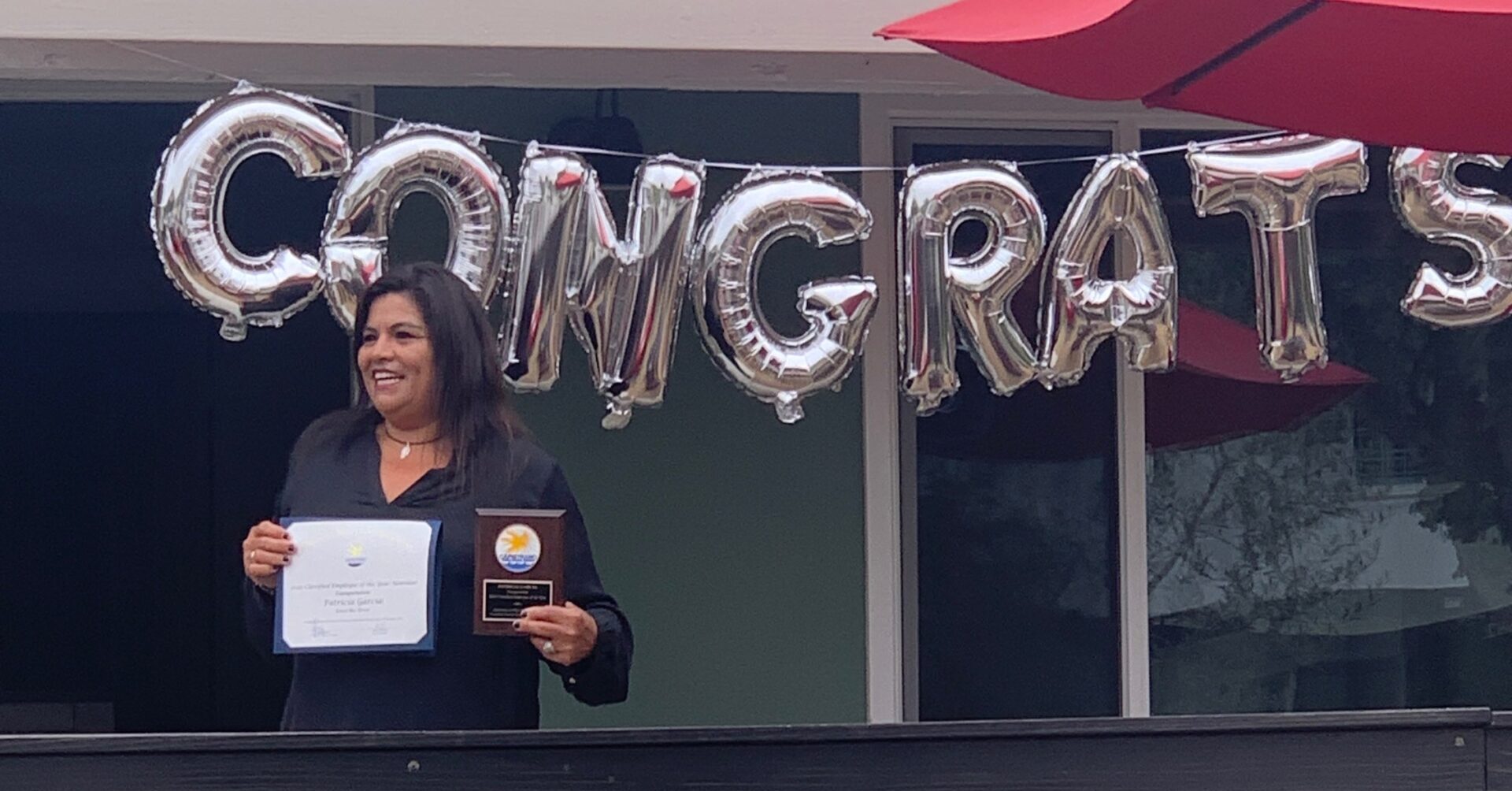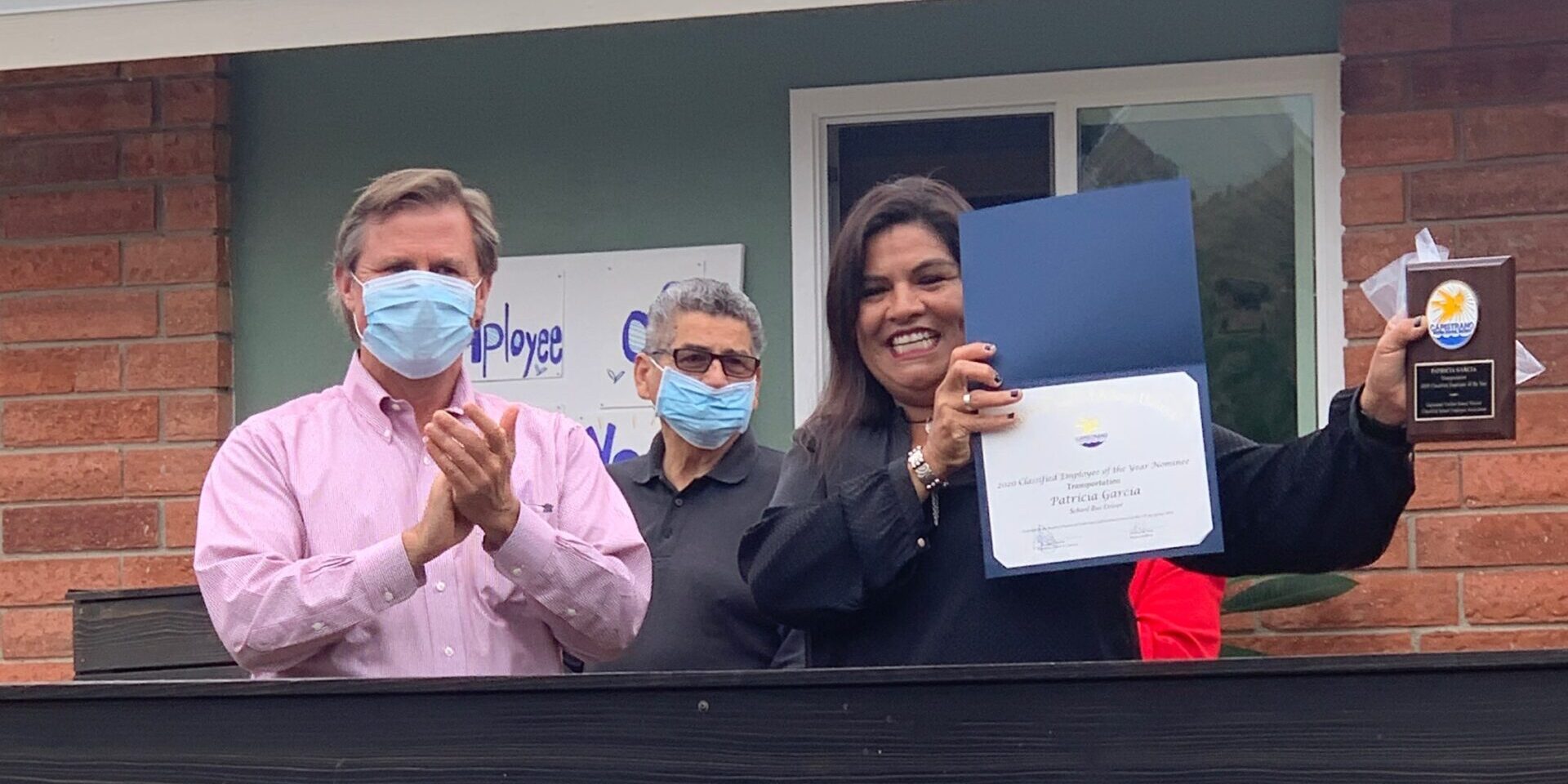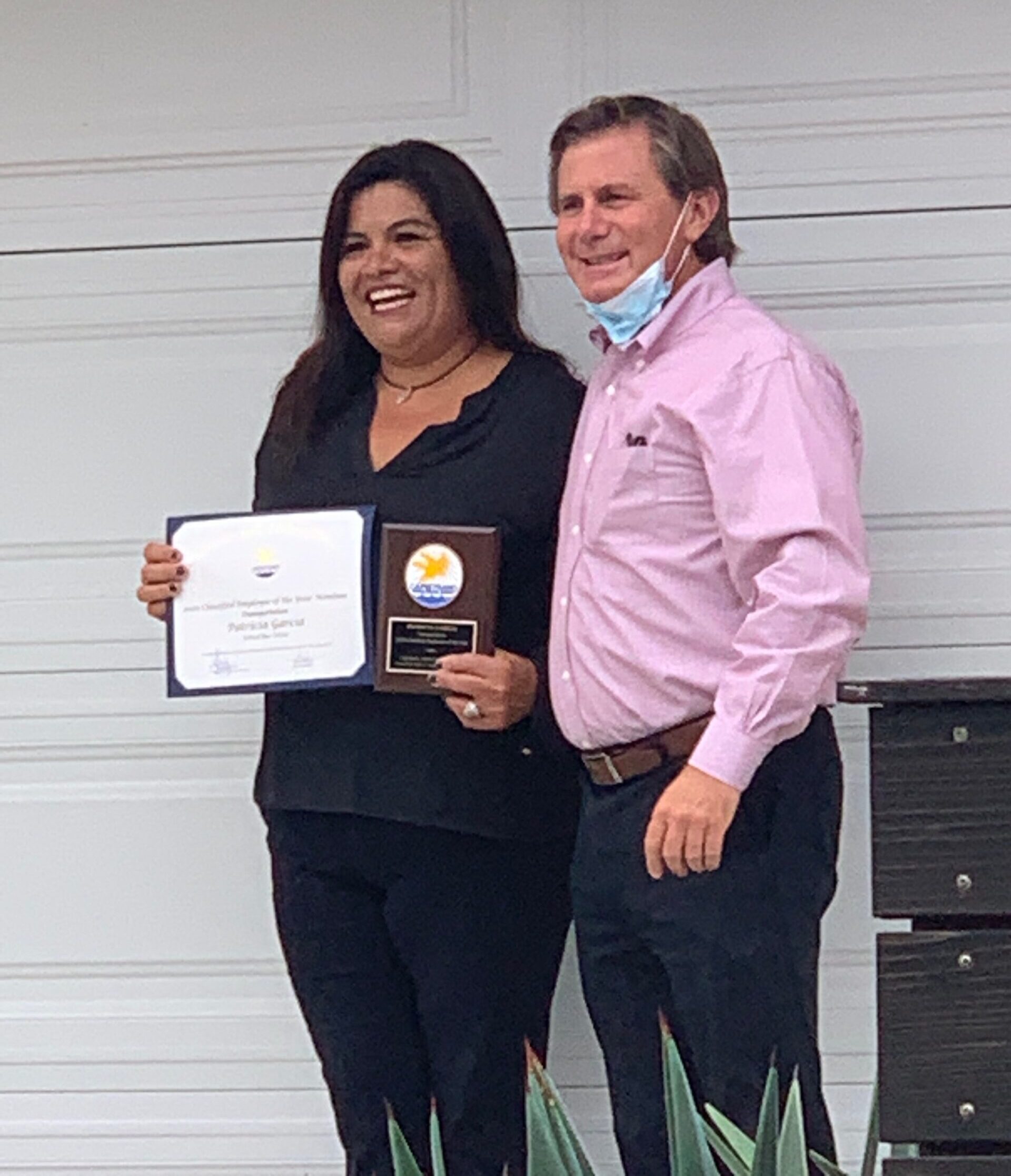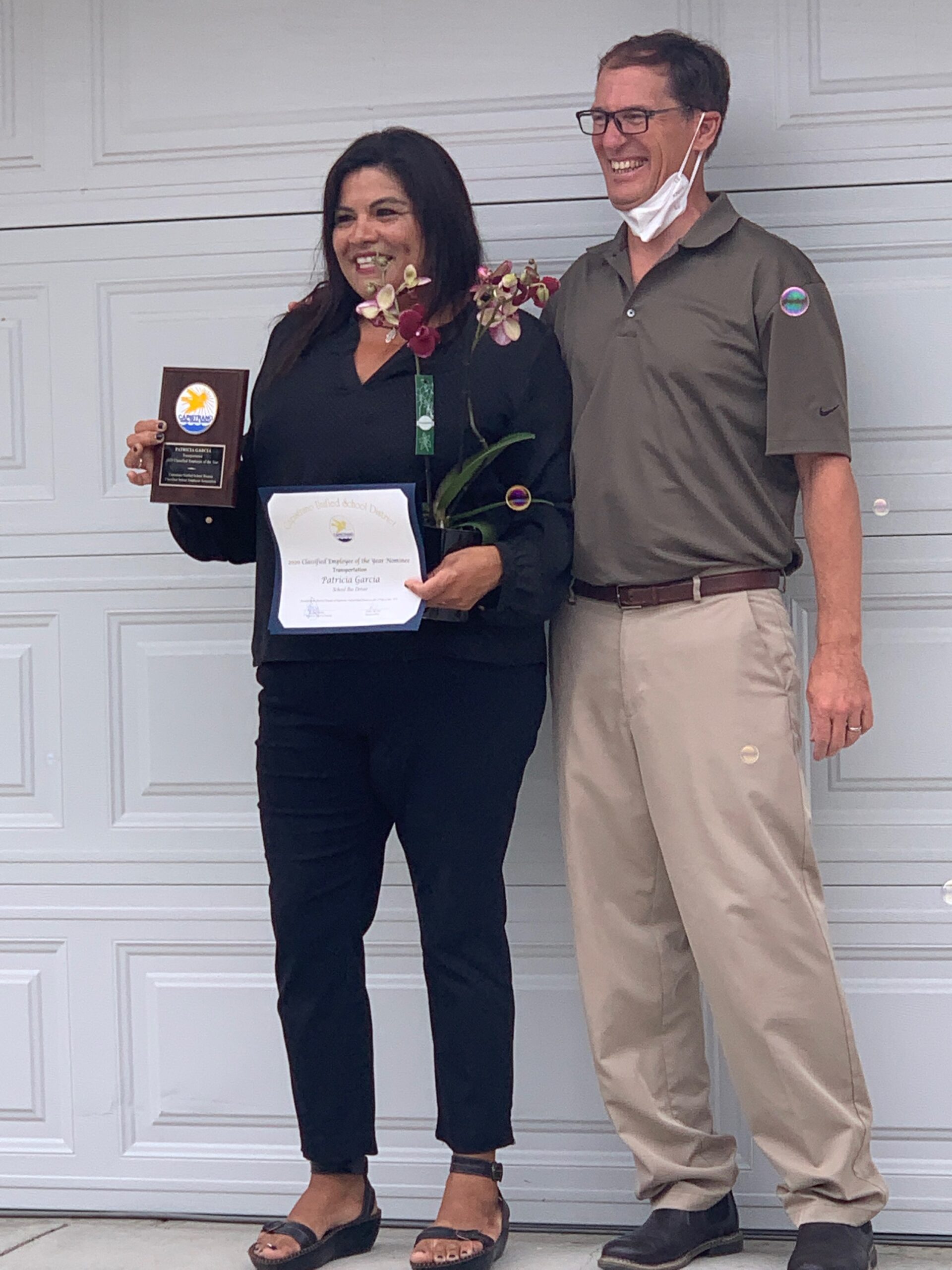 Yolanda Gascon
San Clemente, Office Clerk
Yolanda Gascon is the first face most families see when entering the Las Palmas Elementary front office. Bilingual and a former Las Palmas parent, Gascon is an understanding and essential resource to the community and her kind, calm demeanor creates a welcoming environment. Going above and beyond, Gascon orchestrates a seamless flow in school function. Gascon efficiently organizes field trips, coordinates events for over 900 students, and fills in for other staff members when necessary. With a compassionate heart and complete commitment, Gascon's knowledge and initiative are a huge asset for Capistrano Unified. After hours, Gascon serves as a tutor to Las Palmas students who need extra practice with their Spanish reading.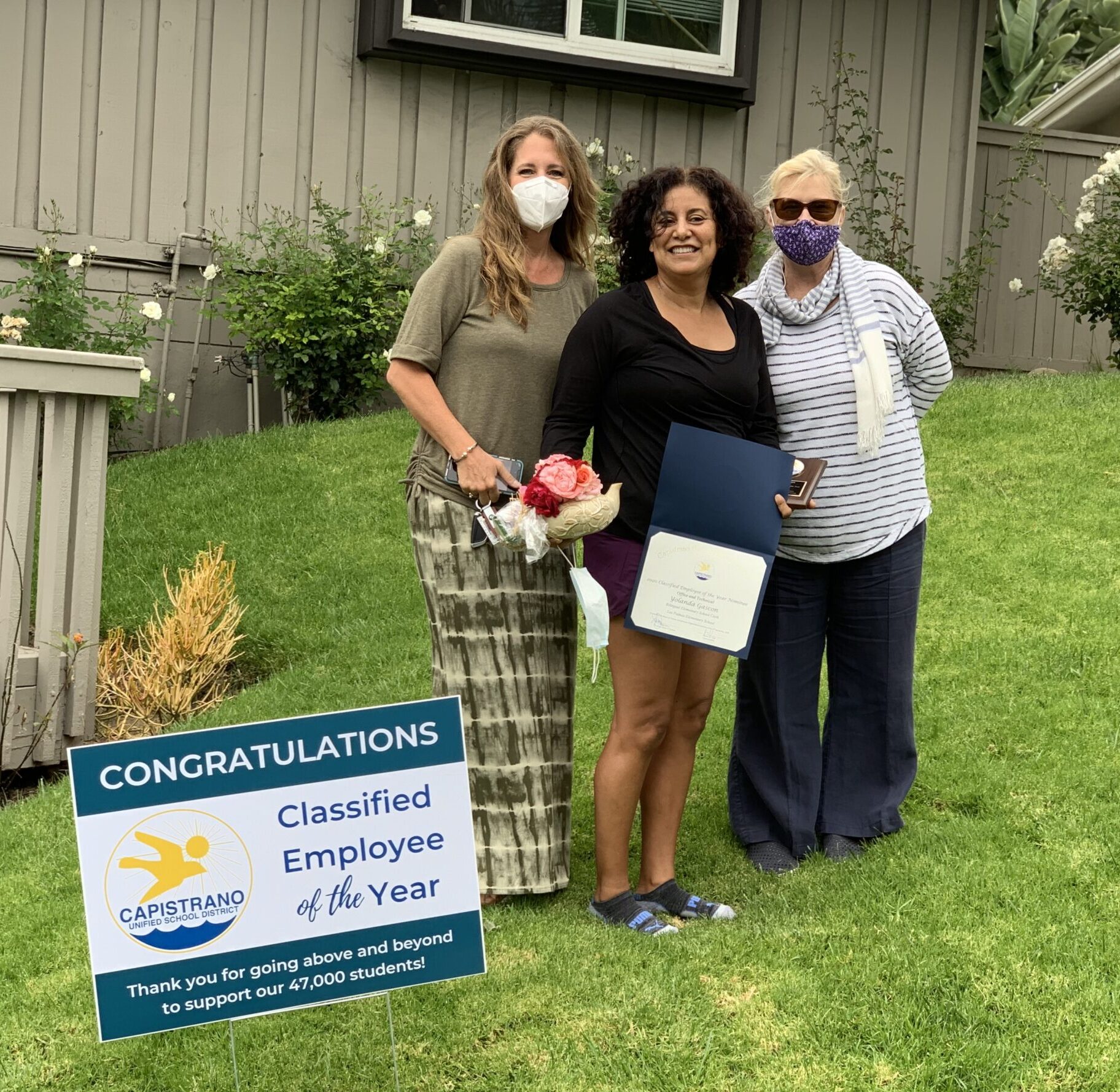 Safia Hoquq
Dana Hills, Independence Facilitator
For 20 years, Safia Hoquq has shown immense initiative and heart in her work with CUSD students with social, physical and mental disabilities. Hoquq often works with the most challenging students due to her skills as an observer and her commitment to knowing everything about her students. Typically, after working with Hoquq, students experience increased involvement with their peers and decreased behavioral issues. Hoquq is always on top of her work and always a step ahead, anticipating needs and addressing issues before being asked. The first to arrive and the last to leave, Hoquq is an unsung hero serving her students and coworkers while never seeking the spotlight. Working with her students in the community, Hoquq always aims to give back and set a positive example for those around her. On top of her work and lightening the load for those around her, Hoquq's diligent work and giving heart make her a standout.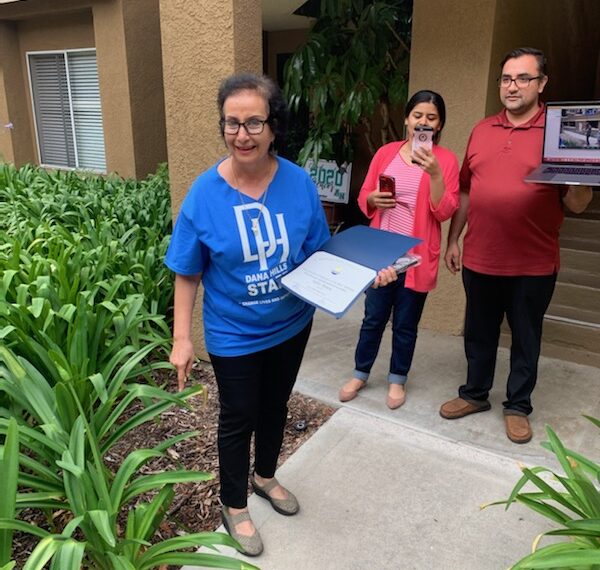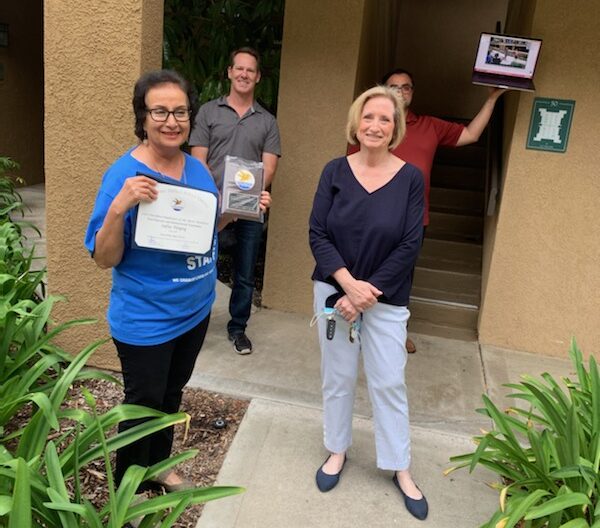 Carrie Koch
San Juan Capistrano, Lead Food Service Professional
Articulate, creative and professional, Carrie Koch is a leader within Food and Nutrition Services and strives to innovate. Her out-of-the-box thinking and ability to run with new ideas has helped grow the department and has cultivated elementary school breakfast startups and catering for special school functions like classroom parties. Koch imagines new goals and effectively accomplishes them through thorough and compassionate leadership. Taking the time to get to know others and energizing those around her, Koch empowers her team and leads with grace. She trains new workers patiently and methodically, and allows space for growth. The staff respects and appreciates Koch's compassion and fresh ideas. Over the last five years Koch has dedicated her time and resources to raising money for a local family in need.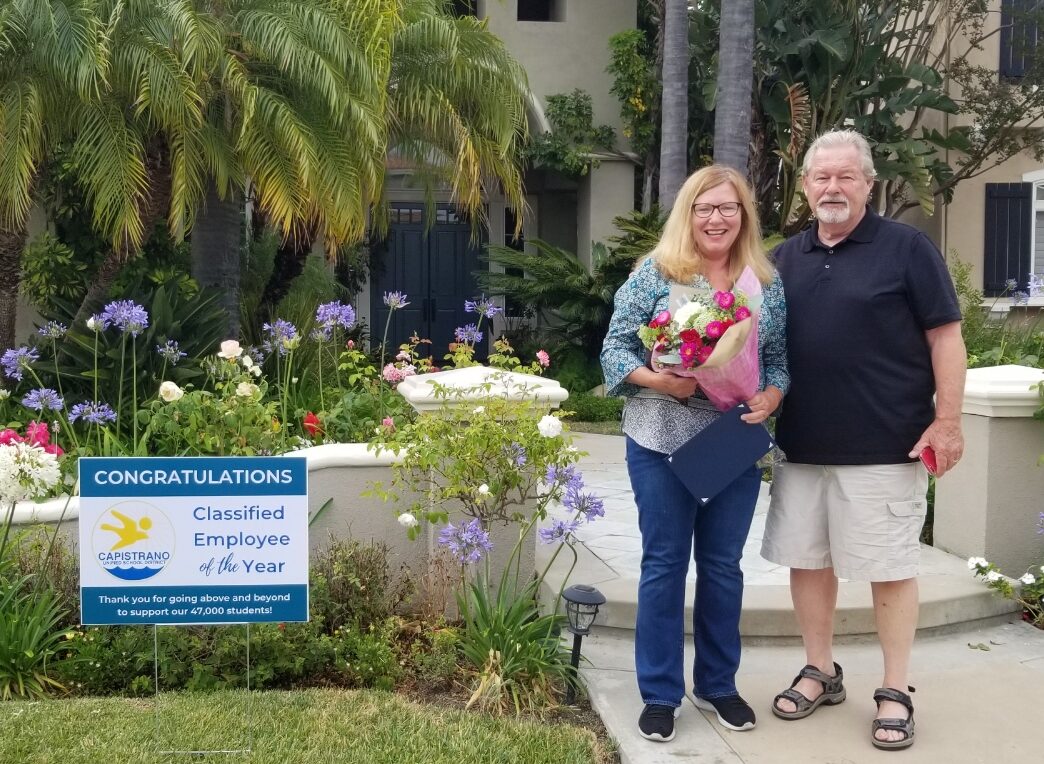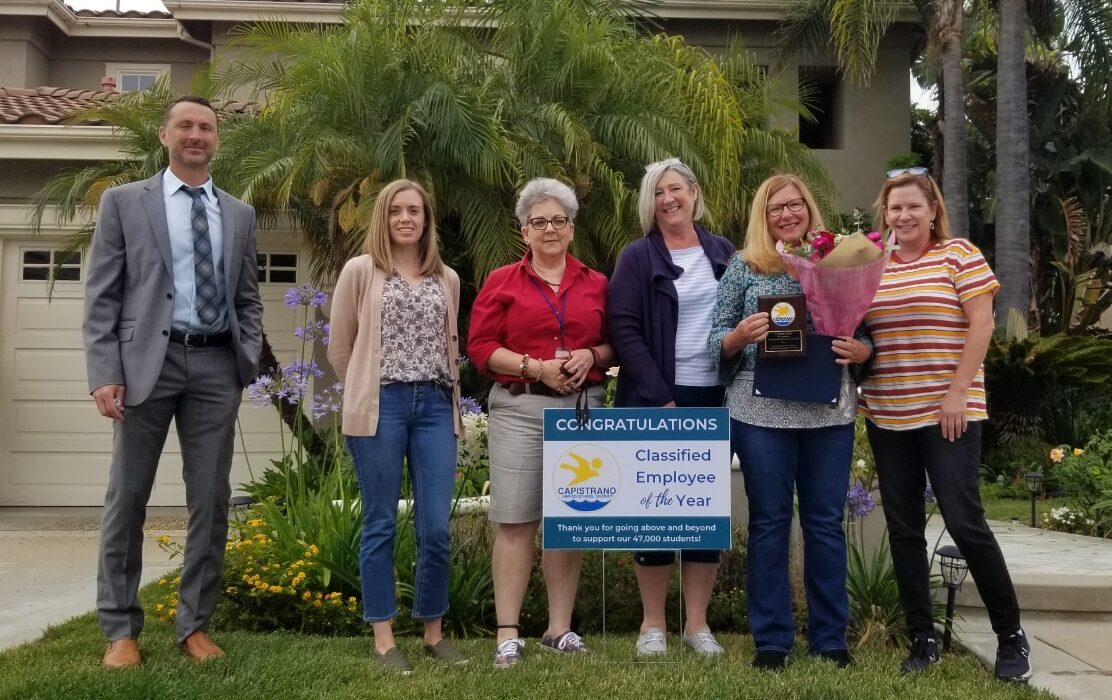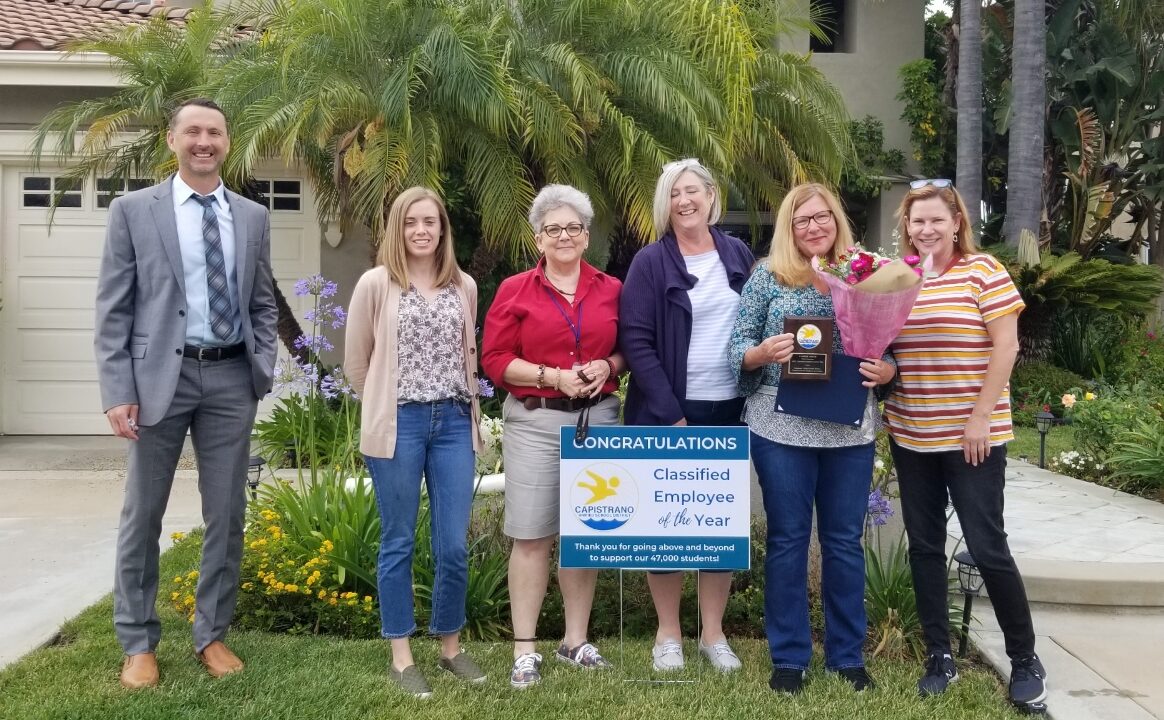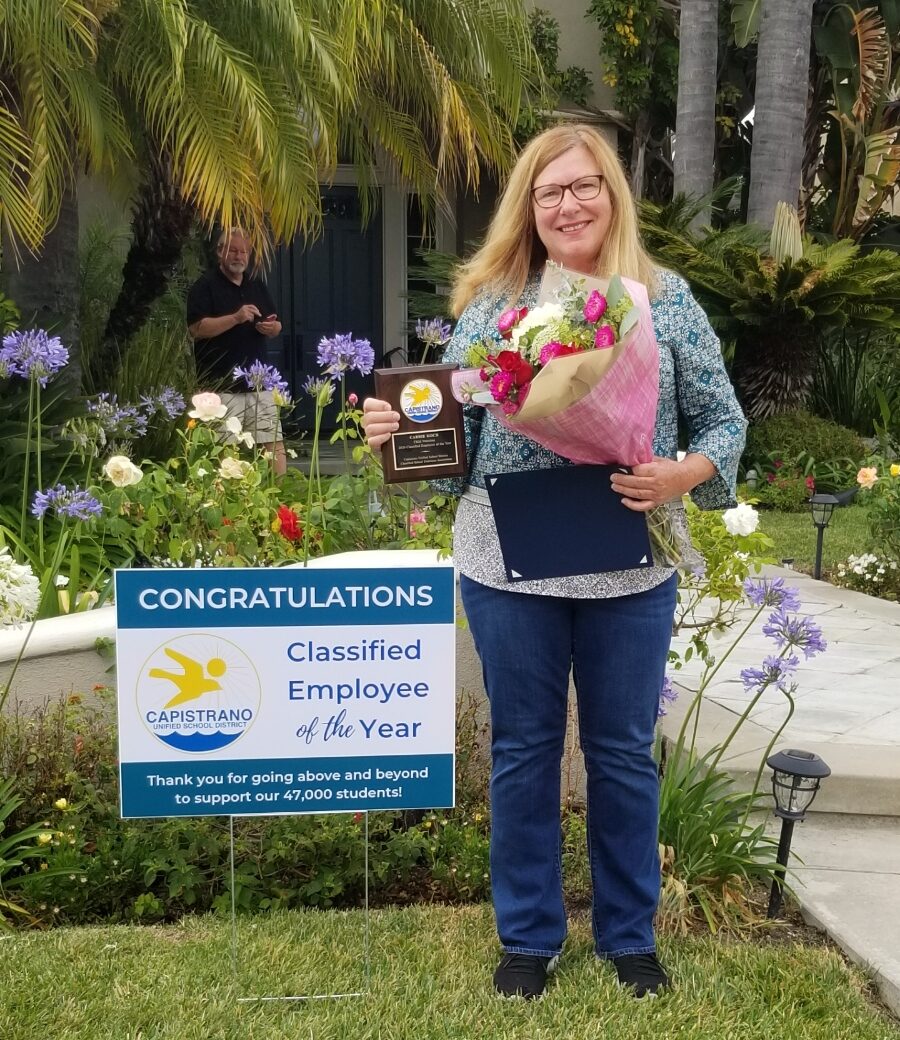 Arnie Smith
Vista del Mar, Custodian
A beloved member of the Vista del Mar community, Arnie Smith has served CUSD for 30 years, establishing himself as a legacy custodian. Smith single-handedly maintains a clean and safe campus for 1,600 students and 150 employees as Vista del Mar's only daytime custodian. Committed and hardworking, Smith's "I can" attitude and eagerness to address problems and help his community make him an essential part of the Vista del Mar community. Smith participates in school events frequently and students covet the annual opportunity drawing to be "Arnie for the Day." Smith has trained five of the current lead custodians now working on other CUSD campuses and his work has been integral in shaping the future of the district. Smith embodies the core values of Vista del Mar — respect, responsible, and ready — consistently leading by example for students and coworkers. Retiring this year, Smith will be deeply missed and leaves behind a legacy.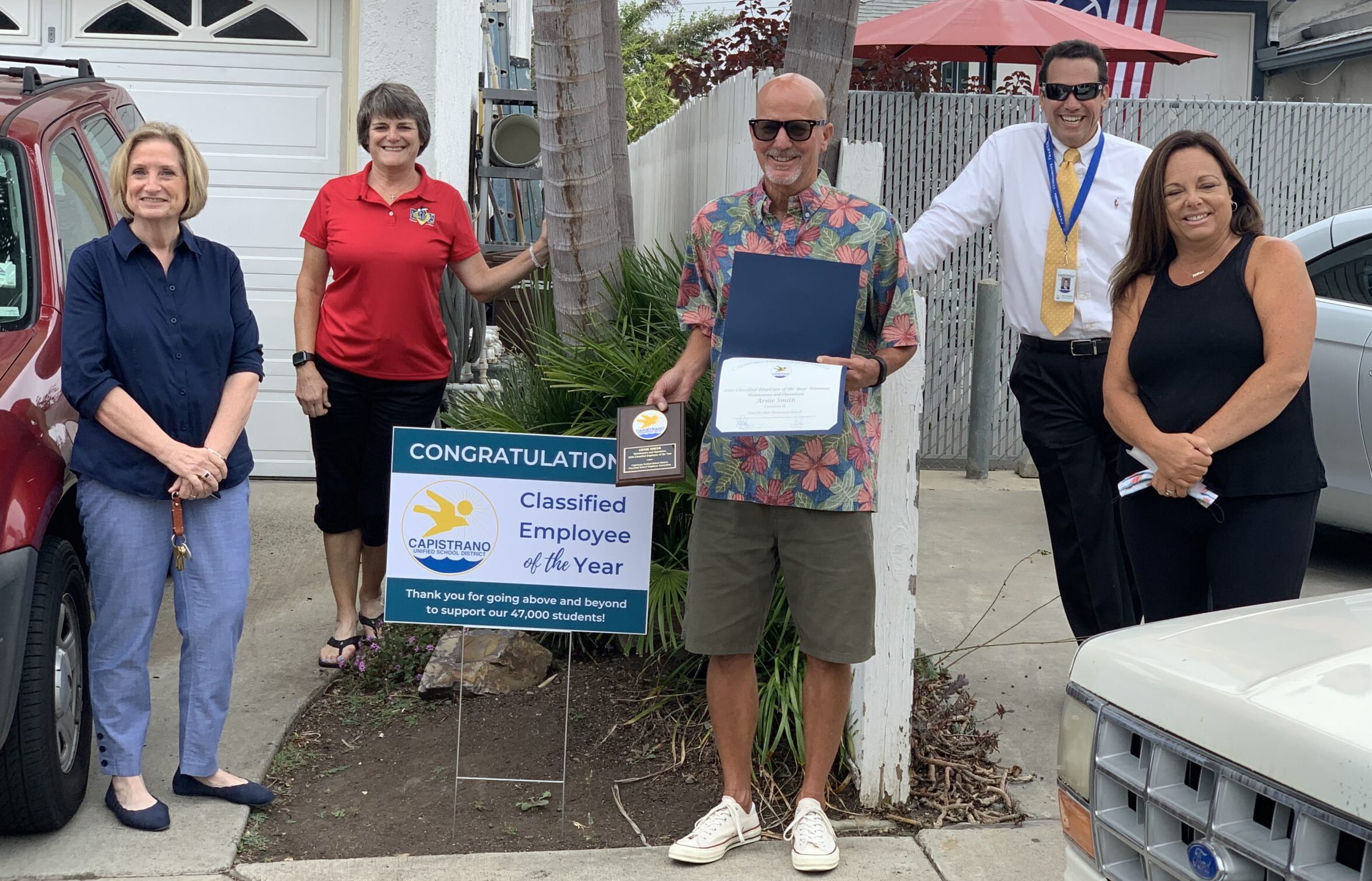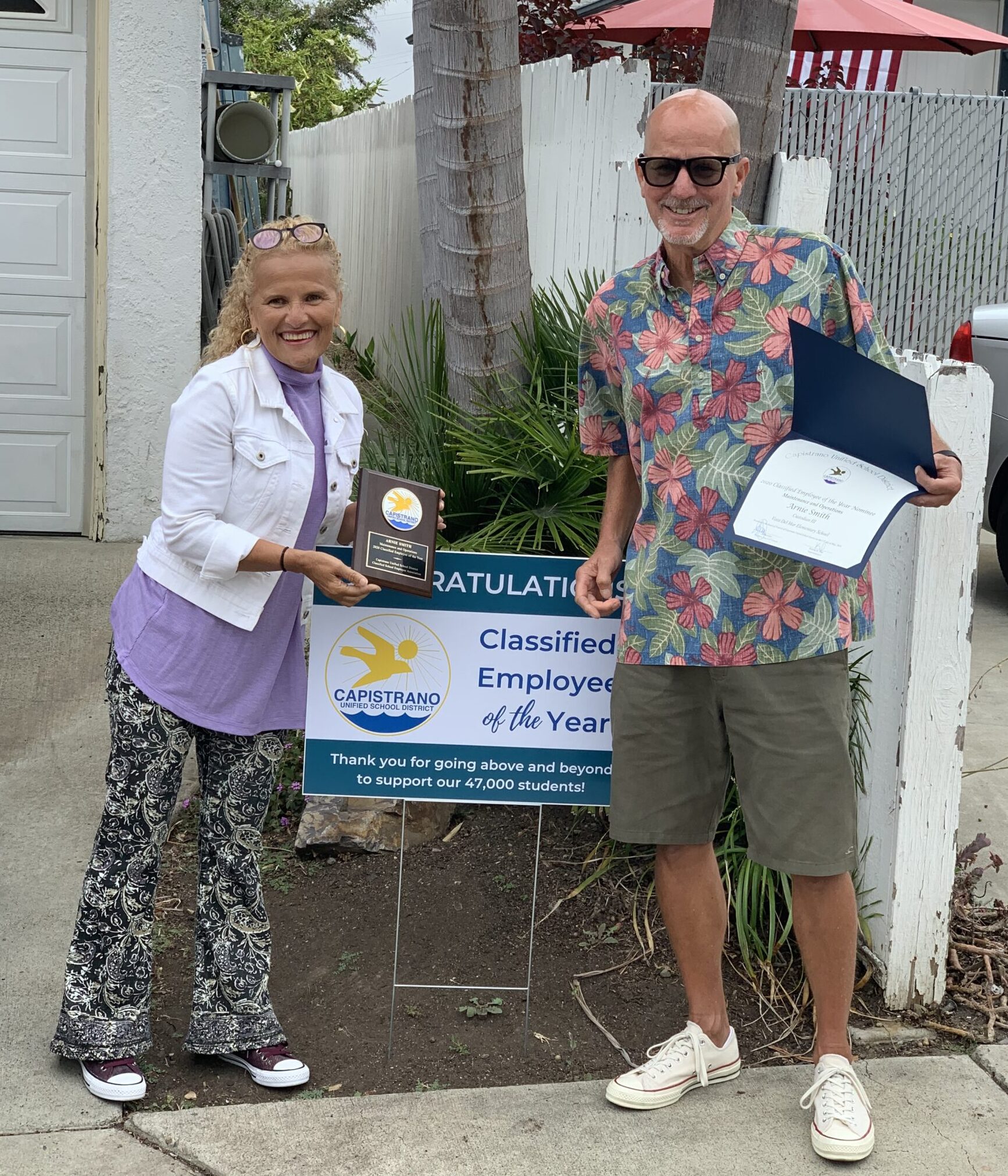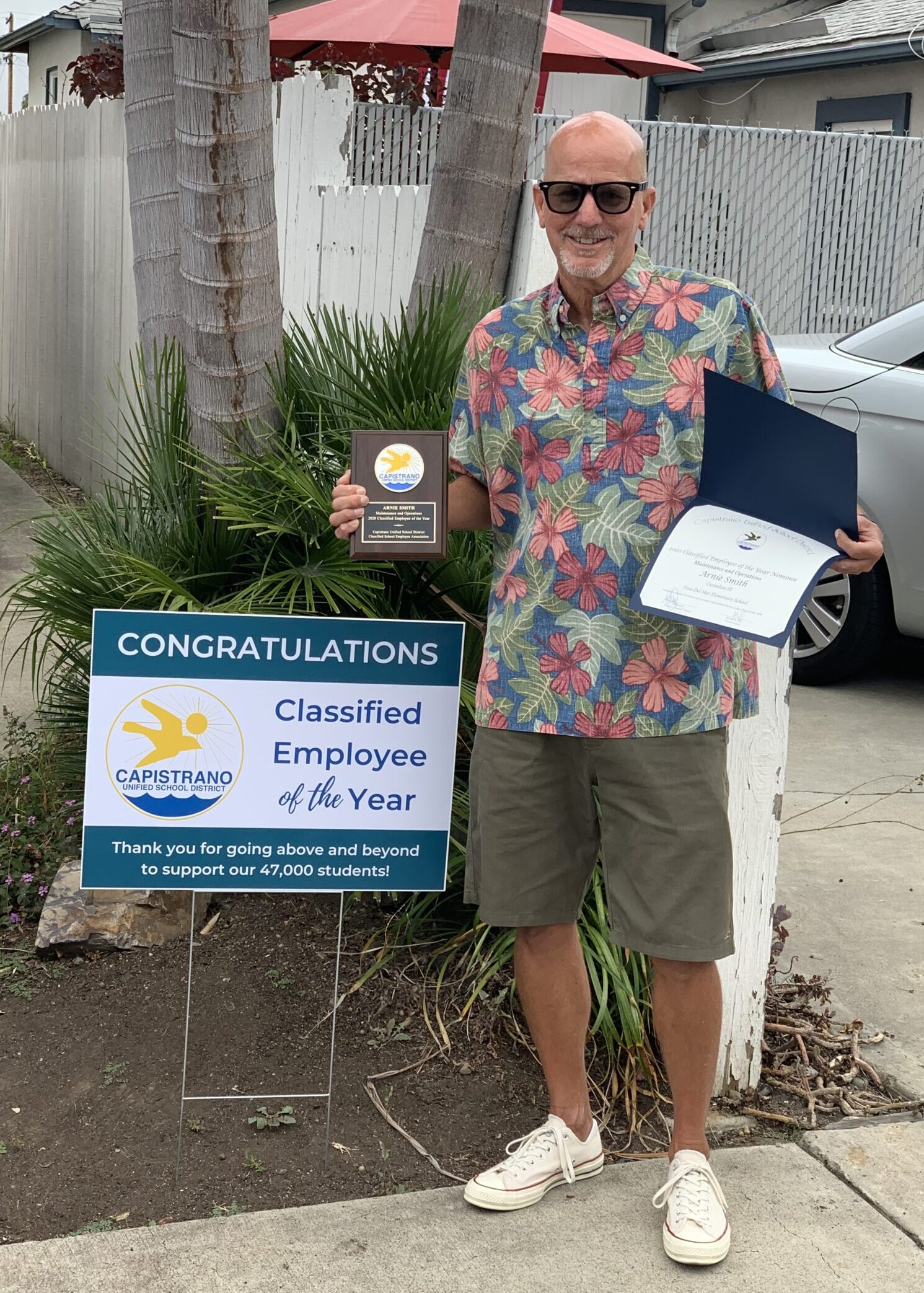 Tracy Vargas
Mission Viejo, Licensed Vocational Nurse
Tracy Vargas is masterful in prioritizing the health and well-being of students at Castille Elementary. As a licensed vocational nurse (LVN), Vargas works in the health office, providing professional care and showing empathy for students. Over her five and a half years at Castille, Vargas has developed an intricate understanding of each child's needs. Her attention and dedication are best exemplified through her work with Castille's special needs community. Vargas knows each student and advocates on their behalf. Always calm, Vargas soothes and reassures students. Parents have come to trust her judgement and recognize that she genuinely cares for their children. A valued member of the Castille community, Vargas participates in school functions and helps create a warm, welcoming atmosphere. Vargas is always looking to enhance operations in the health office and has advocated for new technology and critical improvements. Bilingual, Vargas serves as a bridge for Spanish-speaking students and families.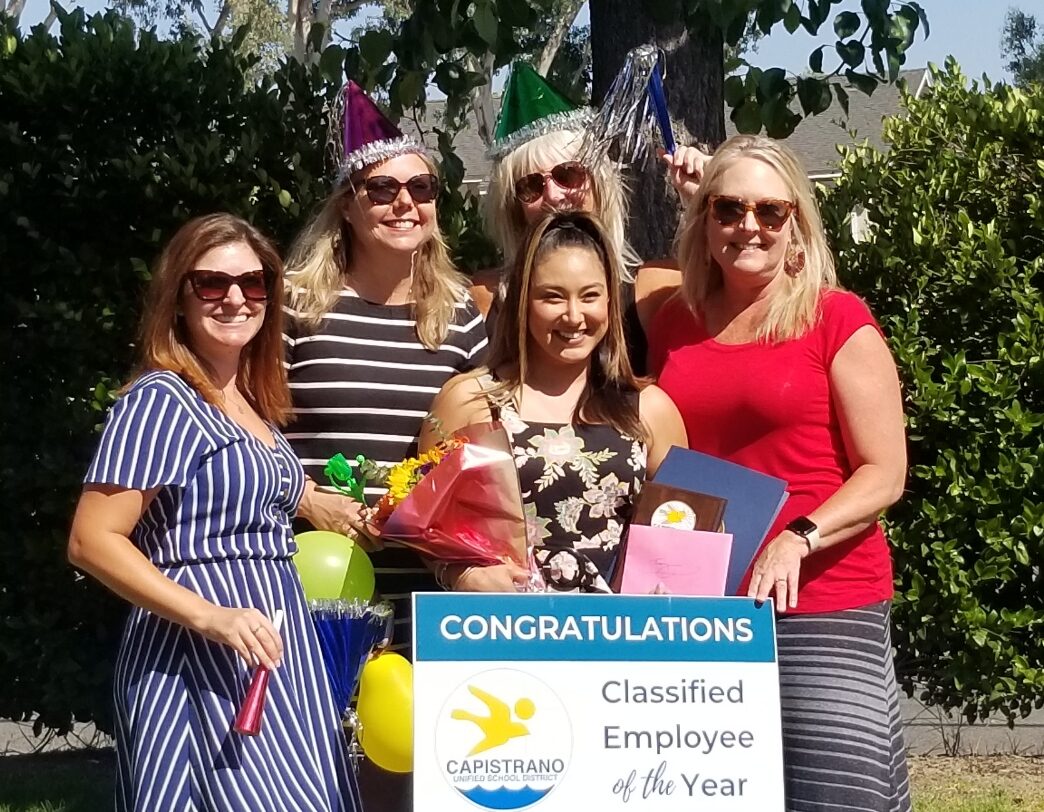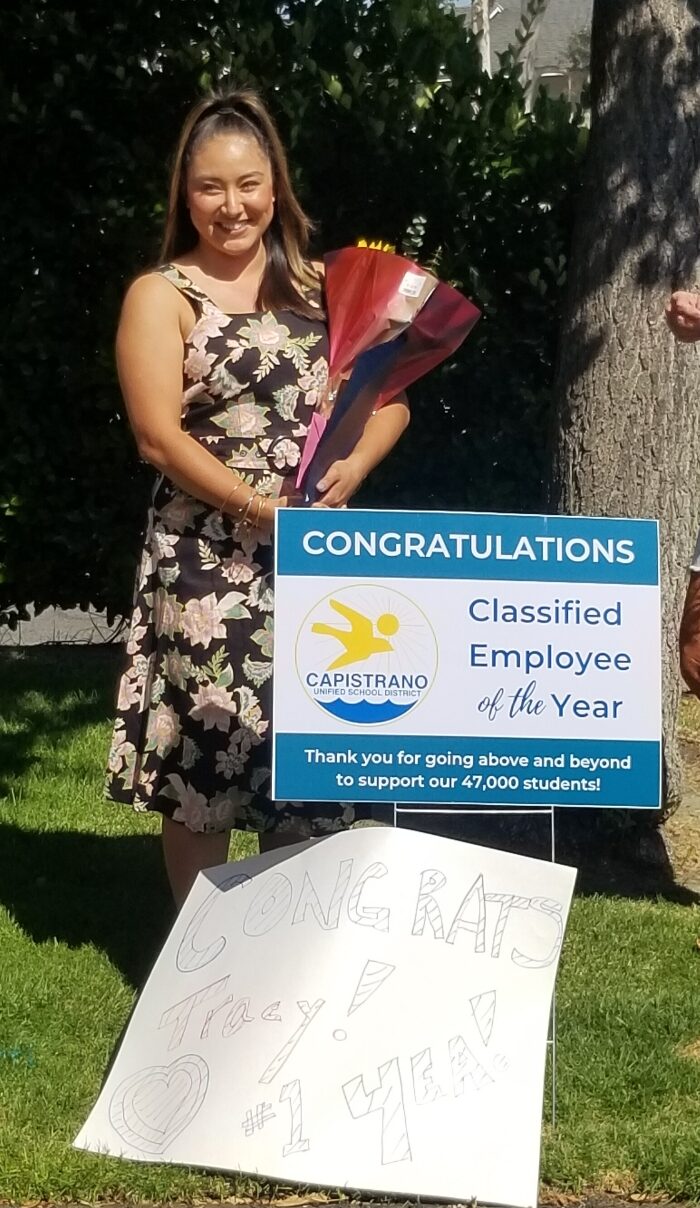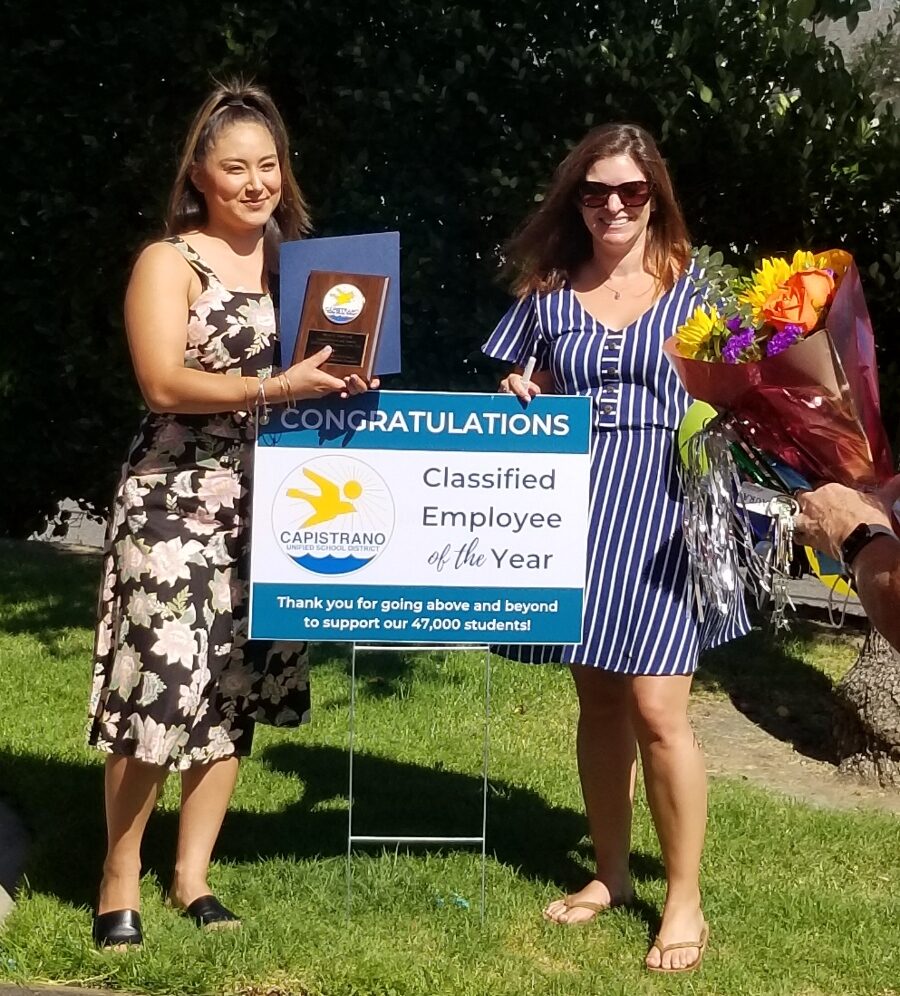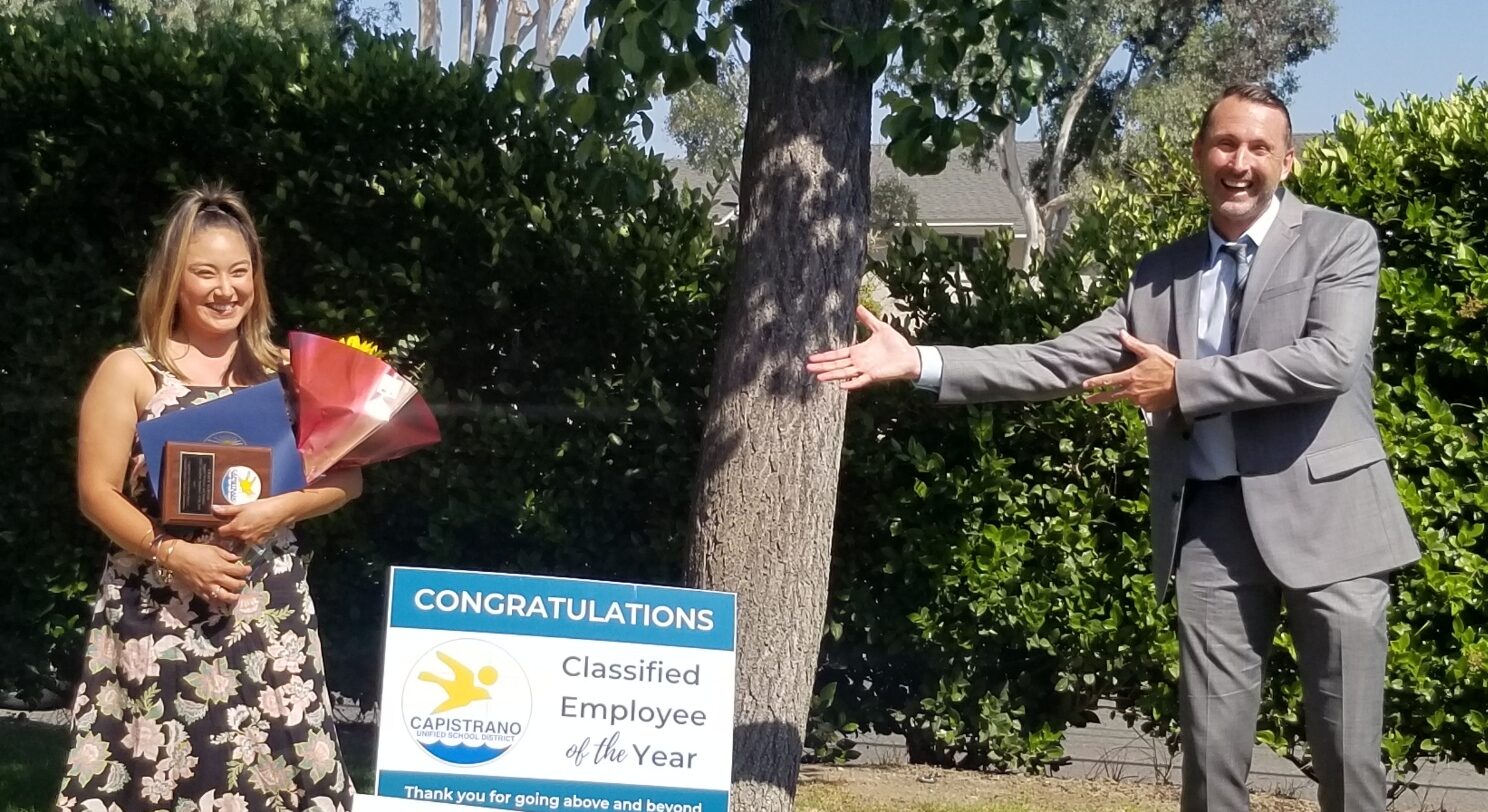 The nominees for the 2020 Classified Employee of the Year are:
Child Nutrition
Jorge Enciso, Food Service Worker, District Office, 15 years of service
Rachelle Flores, Food Service Worker, Central Worker, 4 years of service
Lyla Haralson, Food Service Worker, Aliso Viejo Middle School, 15 years of service
Wendy Justesen, Food Service Worker, District Office, 11 years of service
Carrie Koch, Lead Food Service Professional, Central Worker, 12 years of service
Lorenzo Romero-Mendoza, Storekeeper/Delivery Driver, Central Worker, 8 years of service
Maintenance and Operations
Kevin Marron, Custodian I, Dana Hills High School, 2 years of service
Osvaldo Florentino, Custodian III, Don Juan Avila Middle School, 6 years of service
Rigoberto Umana-Choto, Custodian I, Capistrano valley High School, 18 years of service
Gerardo Escobedo, Custodian I, Tesoro High School 15 years of service
Rafael Guitierrez, Custodian I, Shorecliffs Middle School, 6 years of service
Jose Muratalla, Irrigation Specialist, District Office, 18 years of service
Jonathan Portillo Quintanar, Custodian III, Esencia K-8, 5 years of service
Norma Rodriguez, Custodian I, Del Obispo Elementary School, 4 years of service
Arnie Smith, Custodian III, Vista Del Mar Elementary School, 29 years of service
Jerry Valencia, Custodian I, John Malcom Elementary School, 4 years of service
Victor Garcia, Custodian II, Moulton Elementary School, 21 years of service
Rafael Roman, Locksmith, District Office, 32 years of service
Jesus Jose Garcia, Jr., HVAC and Refrigeration Technician, District Office, 15 years of service
Juan Carillo, Custodian III, Aliso Niguel High School, 25 years of service
Office and Technical
Yolanda Gascon, Bilingual Elementary School Clerk, Las Palmas Elementary School, 9 years of service
Kathryn Havard, Office Manager, Bernice Ayer Middle School, 5 years of service
Kelly Hart, School Secretary II, Dana Hills High School, 12 years of service
Kelley Thomas, Office Manager, Las Flores Elementary School, 19 years of service
Sandra Wilbur, School Secretary I, Capistrano Home/Virtual School, 21 years of service
Denice Summers, Office Manager, Fred Newhart Middle School, 6 years of service
Fernando Martinez, Technology Support Specialist I, District Office, 8 years of service
Cathy Boon, School Clerk Elementary, Wagon Wheel Elementary, 11 years of service
Kathy Douglas, School Secretary II, Las Flores Middle School, 6 years of service
Felix Hernandez, Academic Advisor, Serra High School, 19 years of service
Lynne Bell, Academic Advisor, Capistrano valley High School, 19 years of service
Laurie Adams, Elementary School Clerk, Hidden Hills Elementary School, 18 years of service
Terri Boardman, School Secretary II, Tesoro High School, 22 years of service
Guadalupe Brady, School Clerk II, Niguel Hills Middle School, 17 years of service
Stephanie Brizeno, Head Academic Advisor, San Clemente High School, 5 years of service
Wendy Buhrmaster, Office Manager, Moulton Elementary School, 5 years of service
Lisa Cassarino, Academic Advisor, San Juan Hills High School, 13 years of service
Michele Del Toro, Elementary School Clerk, Don Juan Avila Elementary School, 4 years of service
Nathan Dwyer, Technology Support Specialist II, District Office, 1 years of service
Jane Egertson, Office Manager, Bathgate Elementary School, 17 years of service
Rosalva Flores, Elementary School Clerk, George White Elementary School, 7 years of service
Jennifer Fojas, Elementary School Clerk, Arroyo Vista K-8, 5 years of service
Sharon Gibby, Office Manager, Dana Hills High School, 16 years of service
Douglas Hanson, Technology Support Specialist I, District Office 1, years of service
Marie Huffman, Activities Accounts Clerk, Capistrano Valley High School, 6 years of service
Lori Kosky, School Clerk II, Tesoro High School, 17 years of service
Kerri Maxwell, School Secretary II, Arroyo Vista K-8, 14 years of service
Deborah Miller, Academic Advisor, Las Flores Middle School, 7 years of service
Nancy Neyra-Reyes, Bilingual Community Services Liaison, Marblehead Elementary School, 9 years of service
Amanda Stayberg, Office Manager, Vista Del Mar Elementary School, 20 years of service
Sheryl Williams, Office Manager, Arroyo Vista K-8, 5 years of service
Travis Wyatt, Technology Support Specialist III, District Office, 3 years of service
Sian Young, Staff Secretary, Human Resource Services, 21 years of service
Tammy Wilson, Account Clerk II, Transportation, 18 years of service
Stephanie Monarrez, Bilingual Staff Secretary, Transportation, 4 years of service
Linda Dearinger, Senior Staff Secretary, Safety and Student Services, 7 years of service
Patti Grant, Office Manager, Palisades Elementary School, 7 years of service
Rebecca Evenson, Senior Staff Secretary, Human Resource Services, 5 years of service
Dan Kim, Programmer/Analyst, District Office, 3 years of service
Judy Ester, Information Systems Specialist III, District Office, 22 years of service
Para-Educator and Instructional Assistance
Jody Bridwell, Paraeducator, R.H. Dana, ENF, 20 years of service
Emily Engelson, Senior IBI Tutor, Las Flores Elementary School, 10 years of service
Suzanne Hart, Paraeducator, John Malcom Elementary School, 15 years of service
Melinda Harwood, Paraeducator, Vista Del Mar Middle School, 23 years of service
Jana Hertz, Braille Transcriber, George White Elementary School, 29 years of service
Safia Hoqoq, Paraeducator IV, Dana Hills High School, 19 years of service
Judy Anthony, Independence Facilitator, Las Flores Middle School, 13 years of service
Rachael Miranda, Paraeducator, Wagon Wheel Elementary, 14 years of service
Connie Norland, Paraeducator, Vista Del Mar Elementary School, 7 years of service
Jodi Appelgate, Independent Facilitator, Del Obispo Elementary School, 29 years of service
Salina Ayers, Independence Facilitator, Palisades Elementary School, 9 years of service
Mary Beck, Paraeducator, R.H. Dana ENF, 15 years of service
Sandra Lynn Berg, Paraeducator, Wagon Wheel Elementary, 18 years of service
Cindy Goodrich, SLPA, Oso Grande Elementary School, 9 years of service
Angela Jent, Paraeducator, Adult Transition Program, 23 years of service
Karen Keyte, Paraeducator, R.H. Dana ENF, 39 years of service
Kendra Mebus, Paraeducator, Las Flores Middle School, 5 years of service
Bridget Monge, Paraeducator IV, Lobo Elementary School, 5 years of service
Bharti Patel, Paraeducator, Aliso Viejo Middle School, 19 years of service
Amie Pekarek, Paraeducator, San Clemente High School, 3 years of service
Susan Smith, Paraeducator, Adult Transition Program, 22 years of service
Pamela Soltis, IBI Assistant Tutor, Castille Elementary School, 24 years of service
Kimberly Velasquez, Paraeducator, Marco Forster Middle School, 20 years of service
Jamie Warth, Paraeducator, John Malcom Elementary School, 6 years of service
Patricia Wirtz, Paraeducator, Dana Hills High School, 11 years of service
Debra Woolwine, Paraeducator, Adult Transition Program, 14 years of service
Kimberly Doering, Independence Facilitator, Transportation, 16 years of service
Mitravinda Burns, Paraeducator, Transportation, 17 years of service
Tammy Moore, Paraeducator Adult Transition Program, 13 years of service
Susan Korby, Paraeducator, Laguna Niguel Elementary School, 5 years of service
Sonja Slye, Paraeducator, Phillip Reilly Elementary School, 19 years of service
Gabrielle Keyte, Paraeducator IV, R. H. Dana ENF, 11 years of service
Support Services and Security
Rebecca Mejia, Bilingual Community Liaison, District Office, 25 years of service
Tanya Enslen, Library Media Technician, Multiple Sites/Oak Grove Elementary School, 3 years of service
Cynthia Handajani, Campus Supervisor, Arroyo Vista K-8, 4 years of service
Claudia Infante, Bilingual Community Services Liaison, San Juan Hills Elementary School, 9 years of service
Tracey Morris, Library Media Technician, Tesoro High School, 10 years of service
Patricia Novobilski, Campus Supervisor, Arroyo Vista K-8, 12 years of service
Christine Rooth, LVN, Adult Transition Program, 3 years of service
Carmen Tavernetti, Bilingual Community Liaison, Kinoshita Elementary School, 10 years of service
Olivia Vannatta, Student Supervisor, Viejo Elementary School, 13 years of service
Tracy Vargas, LVN, Castille Elementary School, 6 years of service
Amy Wilson, Campus Supervisor, Arroyo Vista K-8, 6 years of service
Transportation
Rhonda Corona, School Bus Driver, Transportation, 19 years of service
Patricia Garcia, School Bus Driver, Transportation, 29 years of service
Lisa Paris, School Bus Driver, Transportation, 4 years of service
James Conti, School Bus Driver, Transportation, 19 years of service
Janice Scott, School Bus Driver, Transportation, 4 years of service
Ira Lewitter, State Certified Instructor, Transportation, 5 years of service
Kathleen Hanley, School Bus Driver, Transportation, 3 years of service
Lima Omar, Dispatcher, Transportation, 22 years of service
Elizabeth Gustafson, School Bus Driver, Transportation, 5 years of service
Pamela Devinci, School Bus Driver, Transportation, 23 years of service
Brian Fultz, School Bus Driver Transportation, 23 years of service
Nader Michael, Route Specialist, Transportation, 21 years of service
Molly Thoman, Route Planner, Transportation, 17 years of service
Bonnie Brandom, School Bus Driver, Transportation, 2 years of service