By Greg Mellen
When Makenna Quinn prepared to attend first grade at Chaparral Elementary after a year of distance learning, she became anxious and terrified — so much so that she developed an anxiety disorder called selective mutism, in which a child is unable to speak and communicate in certain social settings, such as school.
Although her child was bright, already able to read and write, Makenna's mother, Tiffany Quinn, feared her daughter's issues would overwhelm her educational advancement.
Makenna's first grade teacher, Rebecca Metodiev, helped Makenna break the shackles of fear and silence and blossom into the popular, verbal second grader she is today.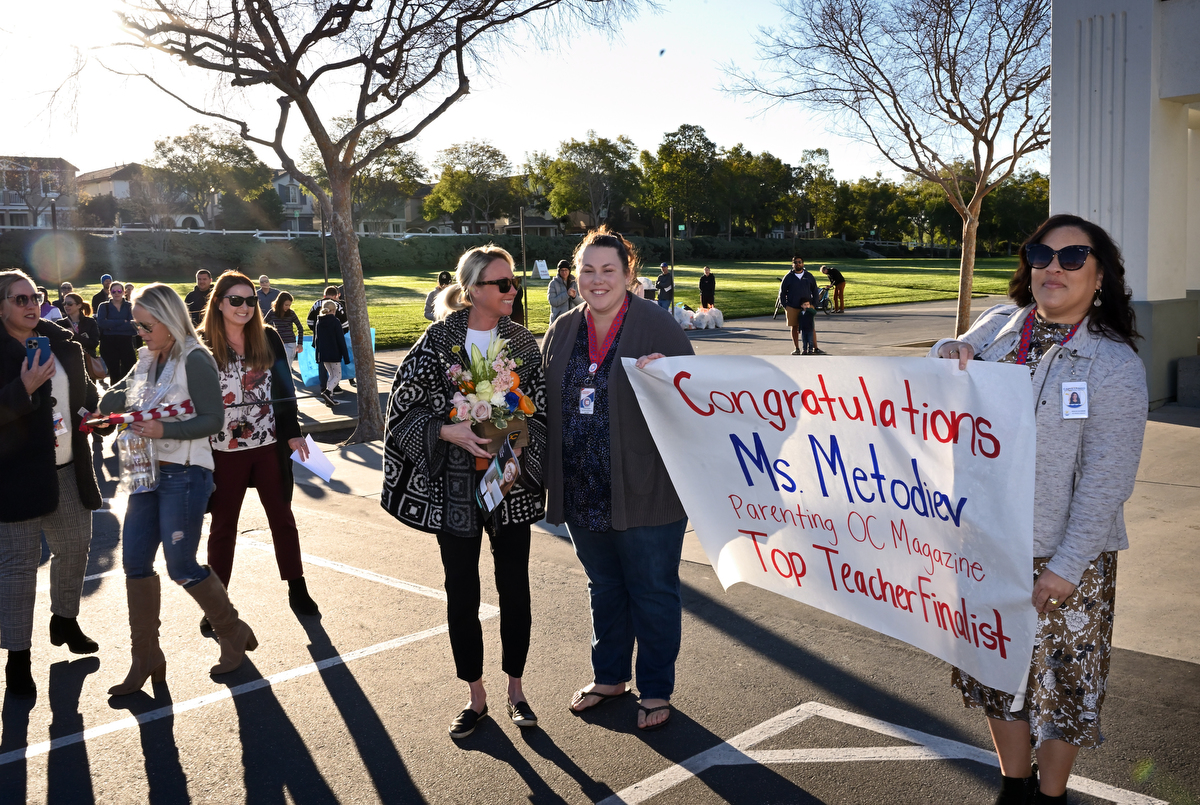 Quinn expressed her gratitude by nominating Metodiev for Parenting OC Magazine's 10th annual School Heroes awards. In nominating Metodiev, Quinn wrote, "Rebecca Metodiev is more than a teacher. Mrs. Metodiev changed my daughter's life in the most amazing way."
On Jan. 25, Metodiev was surprised at the school's flag salute with a banner, a bouquet and bundt cake, and by Quinn and Principal Melissa Schaefer who made the announcement to the student body. Metodiev said she was caught completely off guard.
"I maybe would have prepared a little bit," she said, had she known.
Schaefer praised Metodiev as a "team player."
"She wants to get to know each student," Schaefer said.
Quinn said the teacher took that to the next level.
Making school fun and safe
"She not only nurtured (Makenna), she took the time to work with her," Quinn said. "She helped me with an education plan. She was completely supportive."
Metodiev said coming out of the pandemic many younger children had not built the social and emotional confidence to form peer relationships. In Makenna's case, it was taken to an extreme.
"It was so extreme, she couldn't be in class," Quinn said. "She had daily panic attacks. She would try to run away."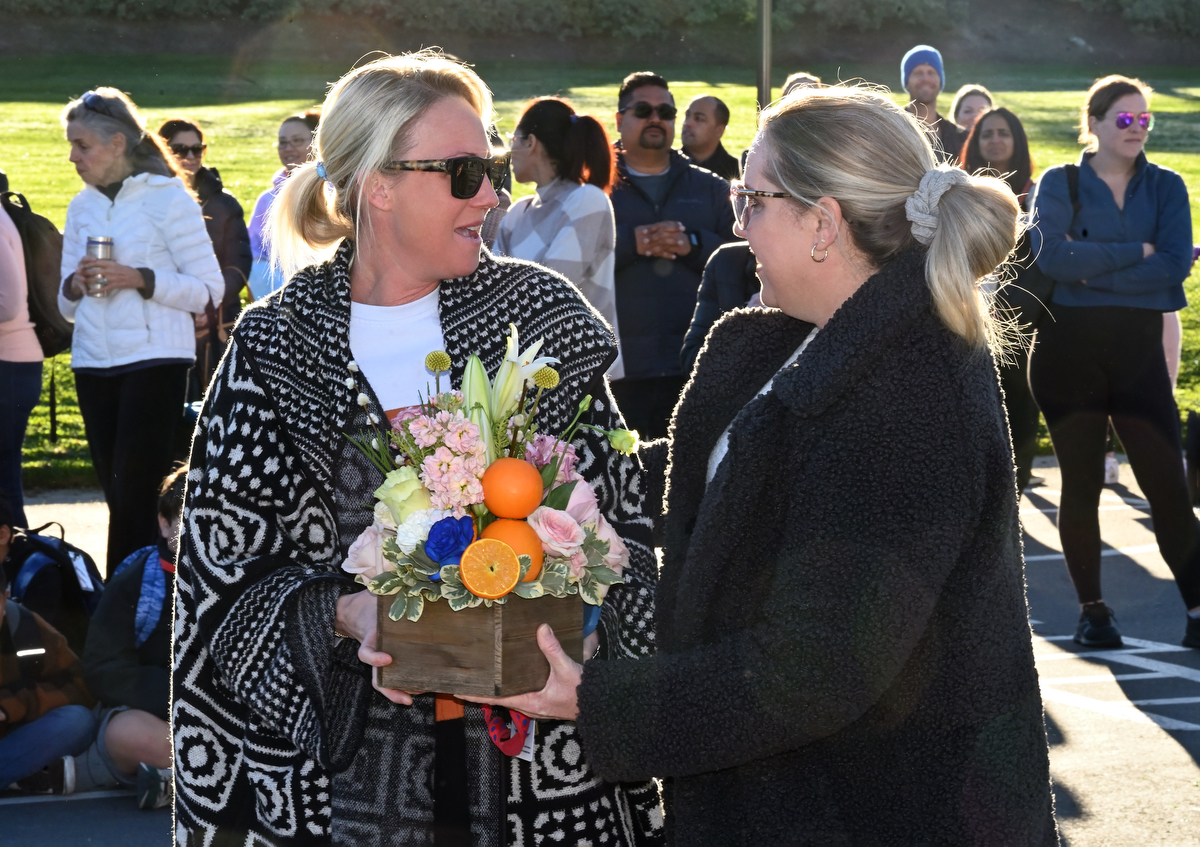 At home, Makenna was bright and communicative.
"Academically she was fine," Quinn said. "She was just paralyzed (in public)."
After her daughter was diagnosed, Quinn credits Metodiev with diving in, reading books and articles and taking extra time to bond.
Selective mutism is believed to affect about 2 percent of children, with girls more affected than boys. The disorder often begins during preschool years. Children with selective mutism often speak well in familiar situations such as home but do not speak to people in public situations.
Makenna had one friend in whom she confided, but very quietly, and only when they were alone.
Metodiev began spending recess and break time with Makenna. Together they created a special journal as a way to communicate by passing notes back and forth. Slowly, Makenna came out of her shell and her anxiety abated. Quinn says by spring her daughter uttered her first words to her teacher.
"(Metodiev) made school a place (Makenna) loves," Quinn said.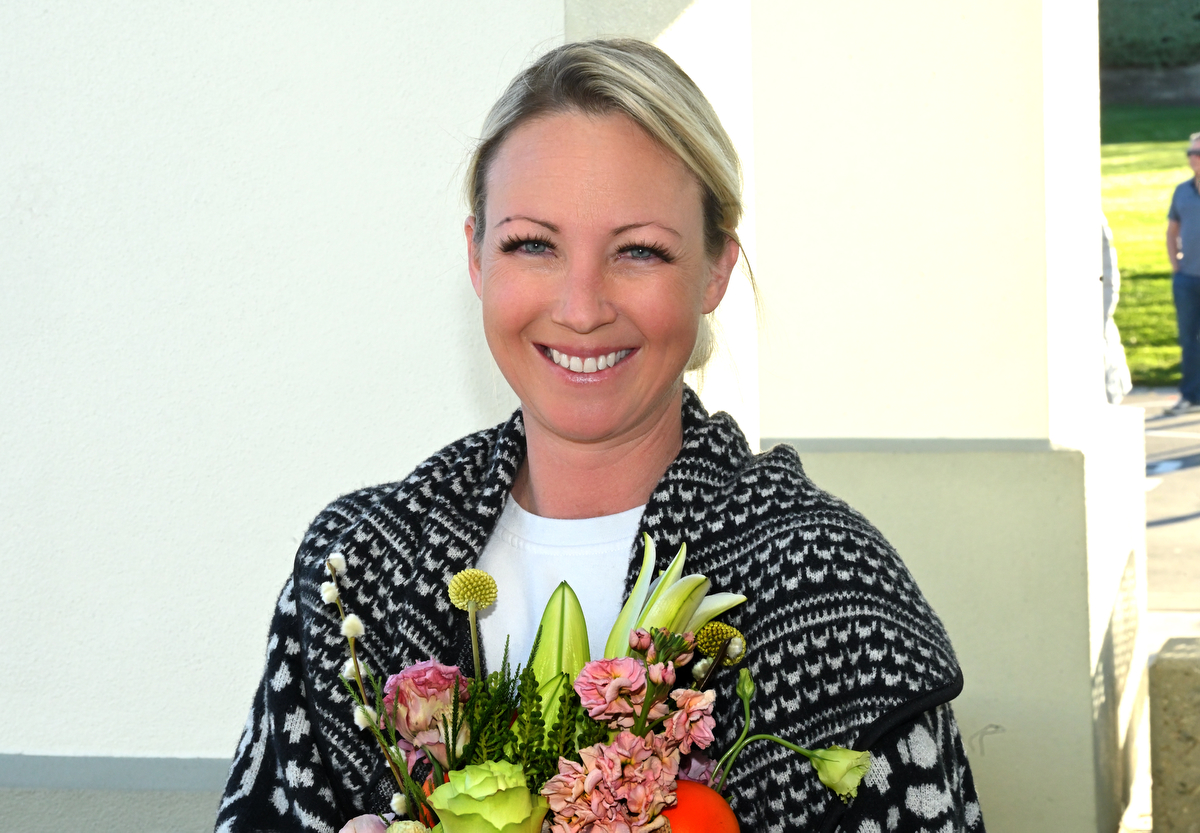 Schaefer said Makenna is the first student she knew of with selective mutism and said the turnaround in the girl is nothing short of amazing.
Parenting OC received more than 200 nominations this year. According to Parenting OC's literature the magazine sought "those educators, employees, and administrators that consistently go above and beyond the call of duty. Those who innovate, dare to make a change at their schools. Those who inspire students and other staff members to reach their full potential. Those who meet education challenges head-on."
Winners will be honored in the magazine's Our School Heroes issue in March.
Metodiev, who has been teaching first grade at Chaparral for eight years, still gets excited to work with young learners.
"I love how curious they are and excited to learn," she said. "To see their eyes sparkle."
And every so often, a teacher has the chance to have a profound effect on a child, like Makenna.
Quinn sees that daily in her child.
"She adores her," Quinn said of her daughter's relationship with Metodiev. "She makes sure to see her everyday. She still sleeps next to their special notebook."