By Elysse James
Capistrano Unified surprised its three districtwide Teachers of the Year on Thursday, Feb. 6, as a caravan of district officials, colleagues, friends and family arrived en mass to announce the 2020 Districtwide Teachers of the Year: Steve Lopinto of Laguna Niguel Elementary School, Lindsey Behm of Marco Forster Middle School, and Christy Curtis of Capistrano Valley High School.
The winning educators were selected as their school's Teacher of the Year before advancing as candidates for the District's 2020 Teacher of the Year honor. They now advance to the Orange County Teacher of the Year competition later this year.
Steve Lopinto, Laguna Niguel Elementary School
Laguna Niguel Elementary School teachers and students gathered outside to cheer Lopinto on Thursday morning.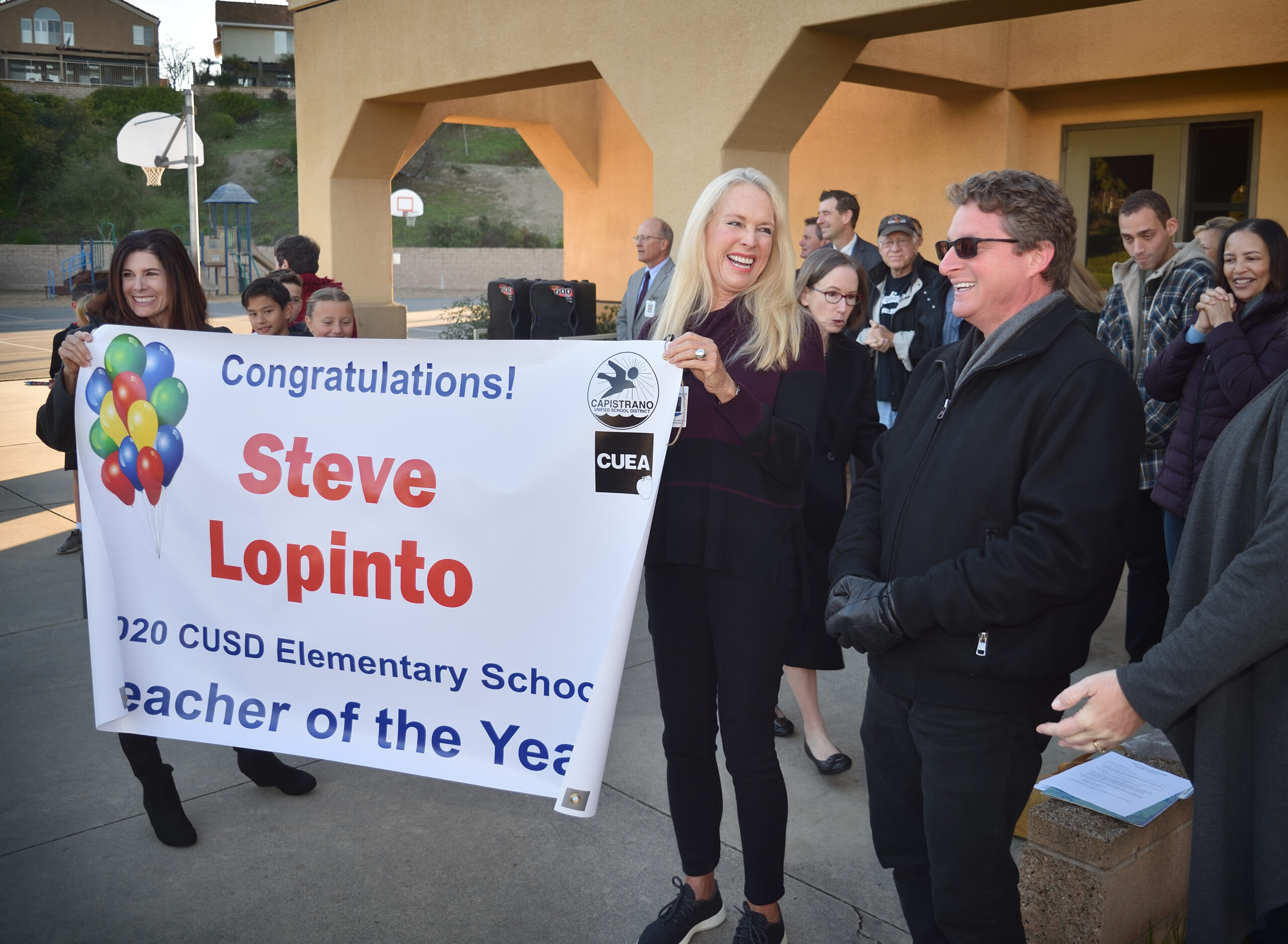 Lopinto is a fourth-grade teacher and has been teaching in Capistrano Unified for more than 20 years. He's a mentor to other teachers and has served on the school's leadership team.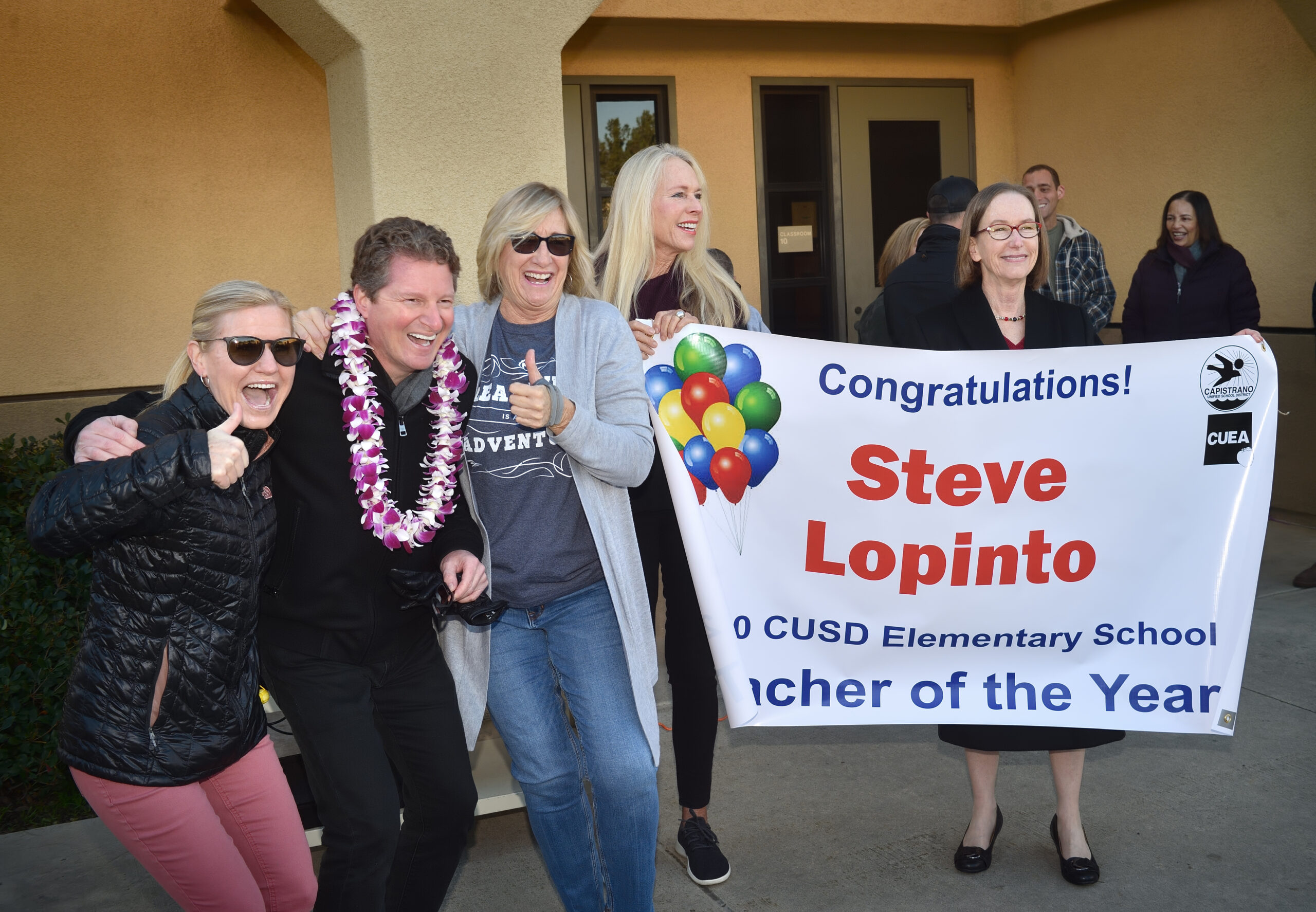 Lopinto says his goal is to create a positive, risk-free learning environment and instill a growth mindset in those he teaches.
"I feel that by setting the correct tone and mindset in the classroom was my greatest achievement, and ensured the overall success for my students," he wrote. "The key for them to believe in themselves, and to help others."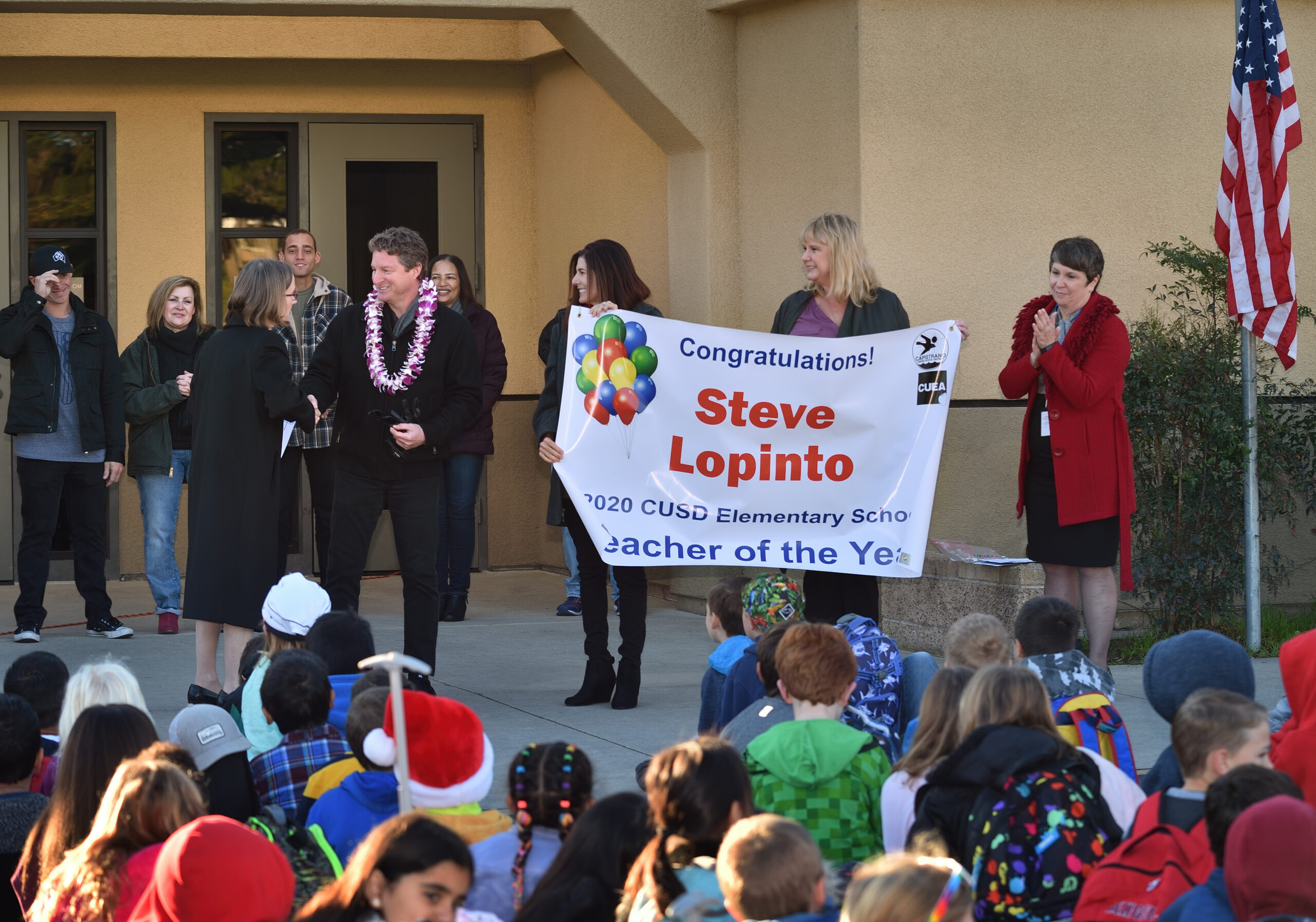 He is also part of The Jester and Pharley Phund reading program fundraiser and has raised money for Children's Hospital of Orange County and the Ronald McDonald House through the program.
Former students have said Lopinto is kind and caring, took an interest in them as individuals, did magic tricks during class, and made learning fun.

A colleague wrote, "We feel exceptionally fortunate to have this Teacher of the Year as a member of our school family. He is a natural born teacher who has mastered the science and art of teaching."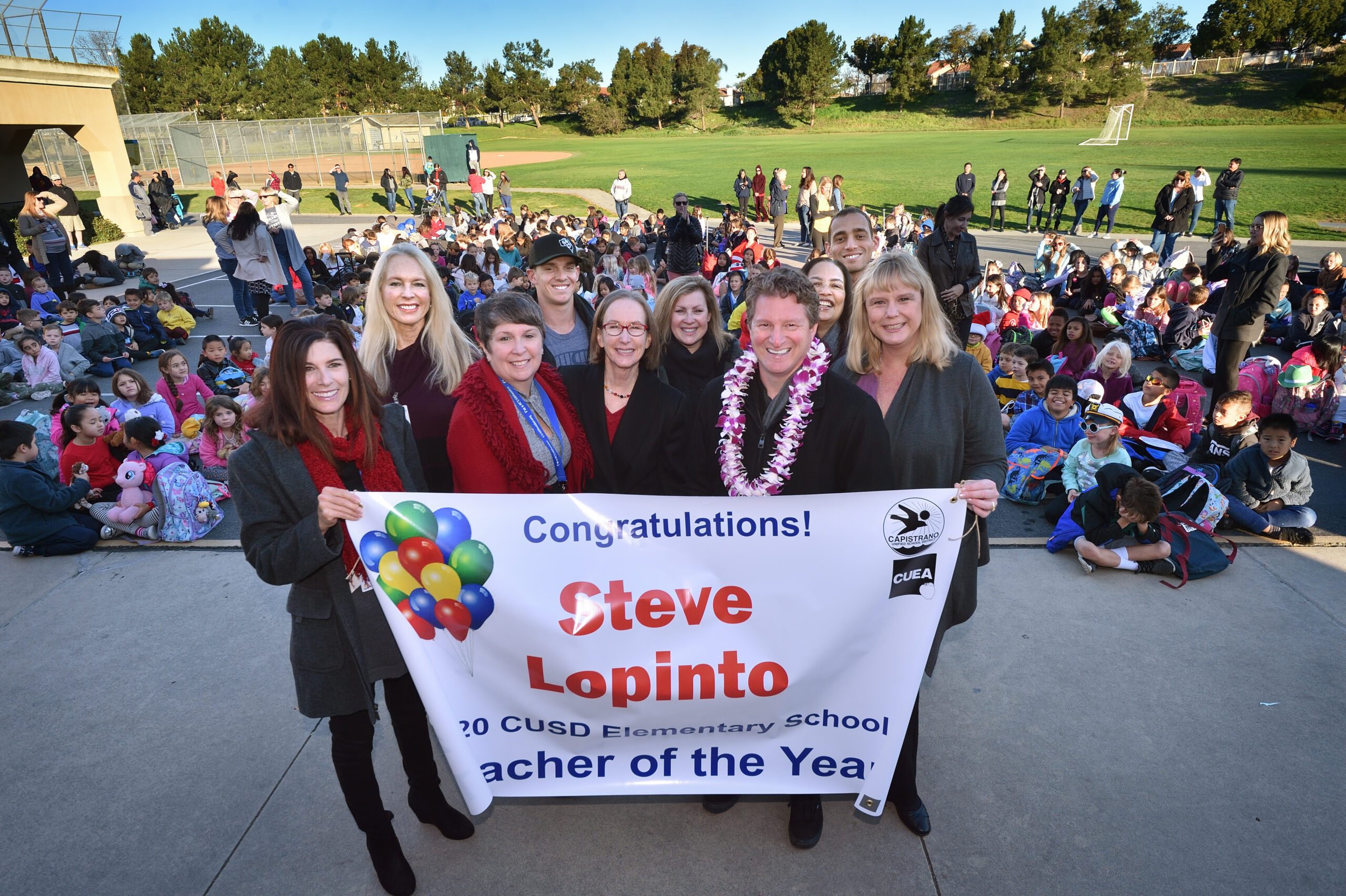 Lindsey Behm, Marco Forster Middle School
Lindsey Behm was surprised in her Marco Forster Middle School classroom. Her students cheered and clapped as they learned their teacher is one of this year's Teachers of the Year.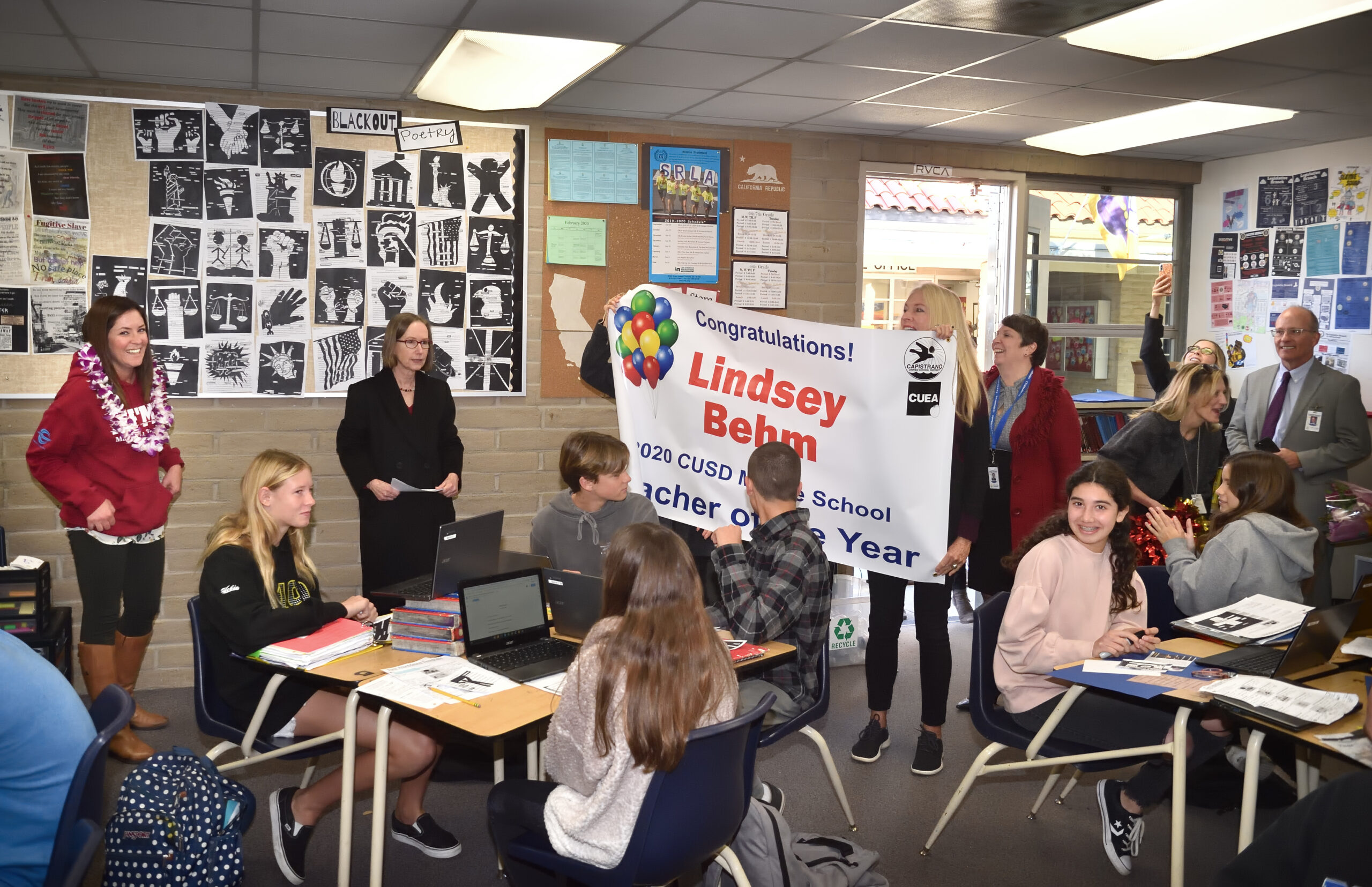 The eighth-grade social studies teacher, leadership team department chair, and mock trial coach has taught at Marco Forster Middle School since 2009.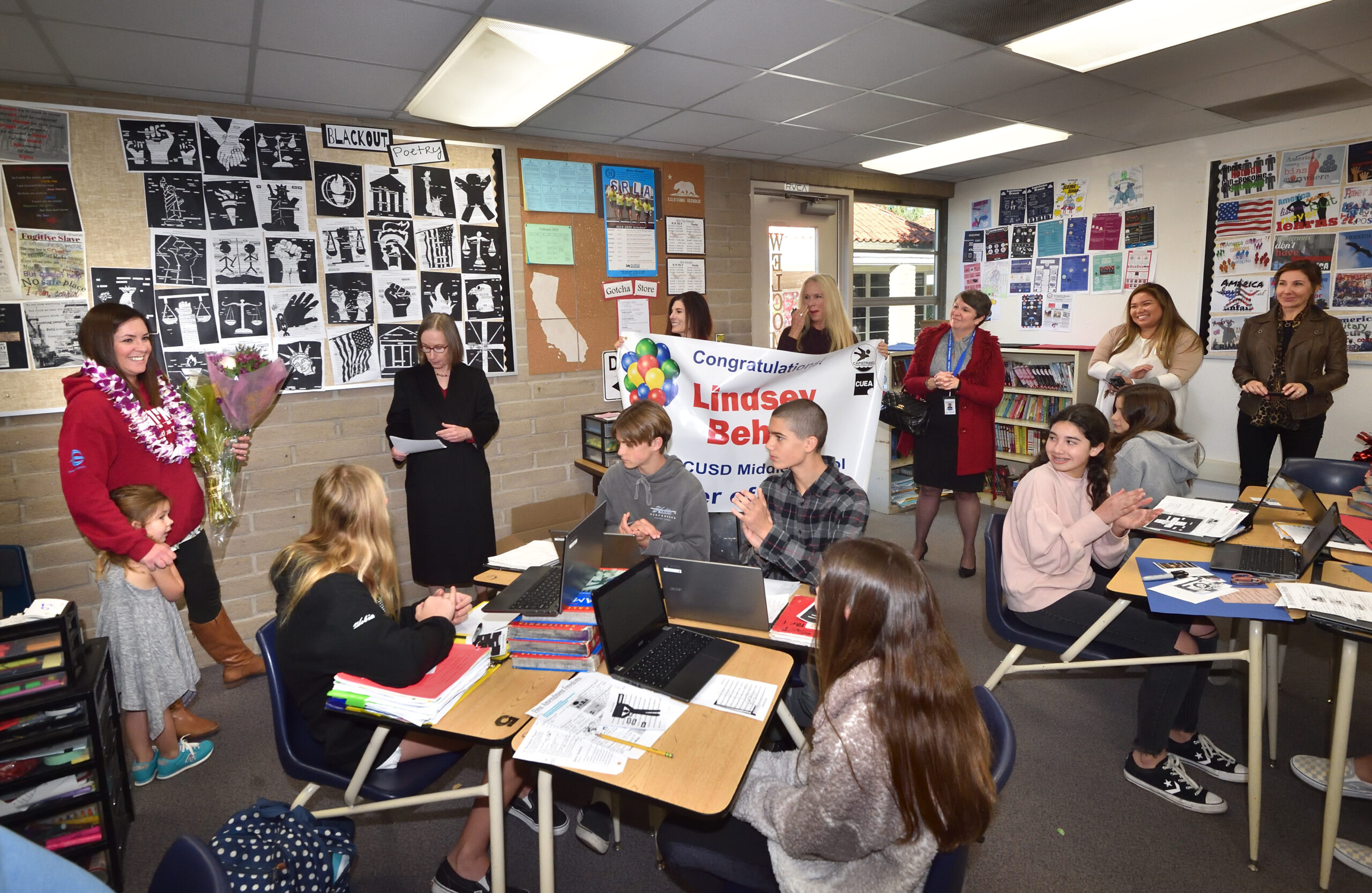 Behm, who has 11 years of teaching experience, works hard to know all her students well so she can give them the proper level of support and engage every student in her classroom. She believes in creating learning communities built on trust and respect.
"The time and effort she puts into planning each day is evidenced by the well thought out lessons presented to her students," a colleague wrote. "She reflects continuously on her practice and is never satisfied with the status quo. She works diligently to bring her content to life and make it meaningful and relevant to her students."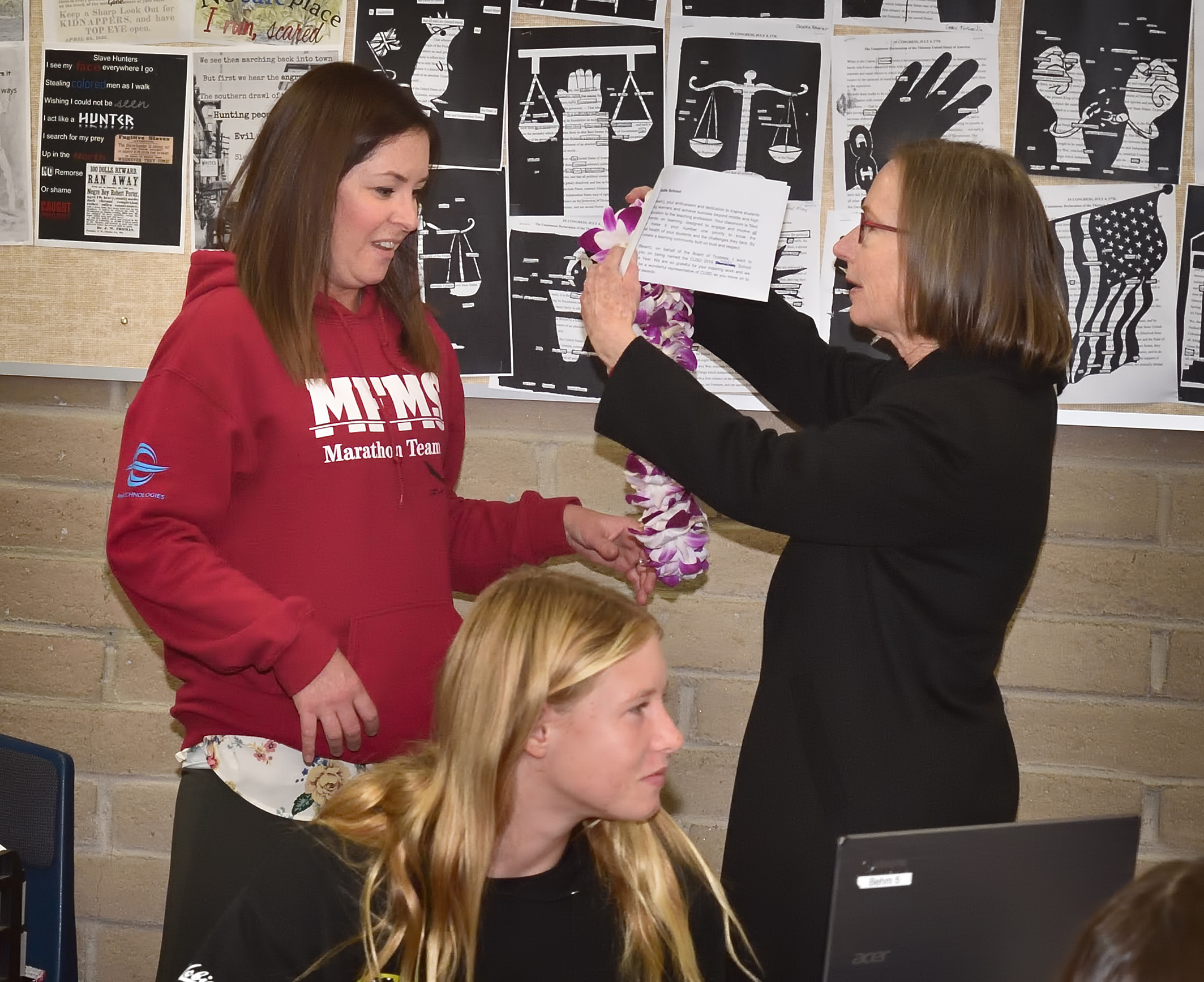 In addition, she's a coach for the Students Run LA Marathon team and has supported and involved her students in charitable activities.
"I take the time to make a connection with each and every one of them, and I know I am doing everything in their best interest, both socially and mentally," she wrote.
"I know I have reached my students when former students come back and say the lessons they learned in my class were valuable and my class empowered them to make change."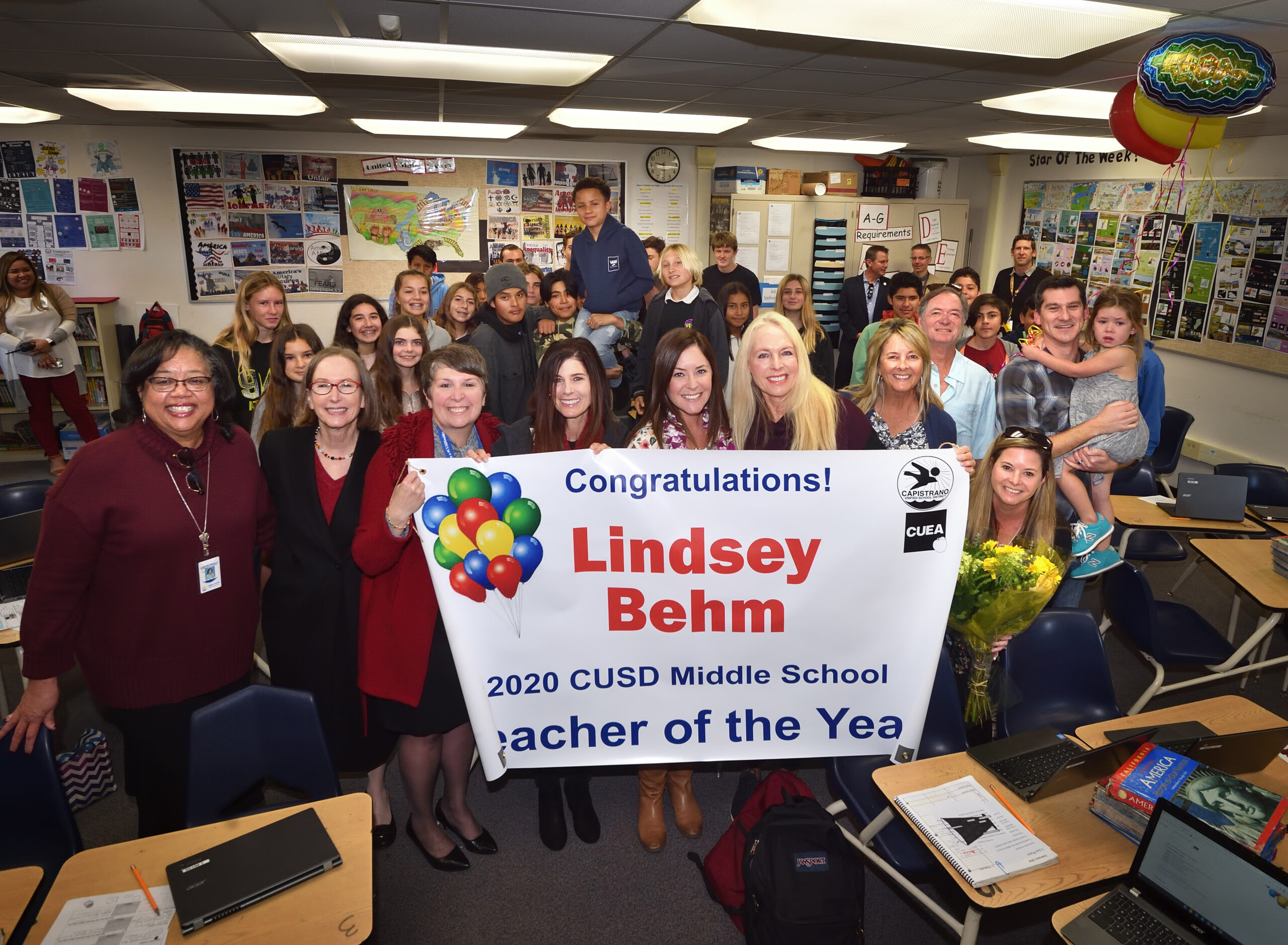 Christy Curtis, Capistrano Valley High School
Curtis was surprised on the Capistrano Valley High football field. The physical education teacher spent nine years as the school's athletic director and is a sought-after speaker on personal wellness, stress management, and social emotional learning.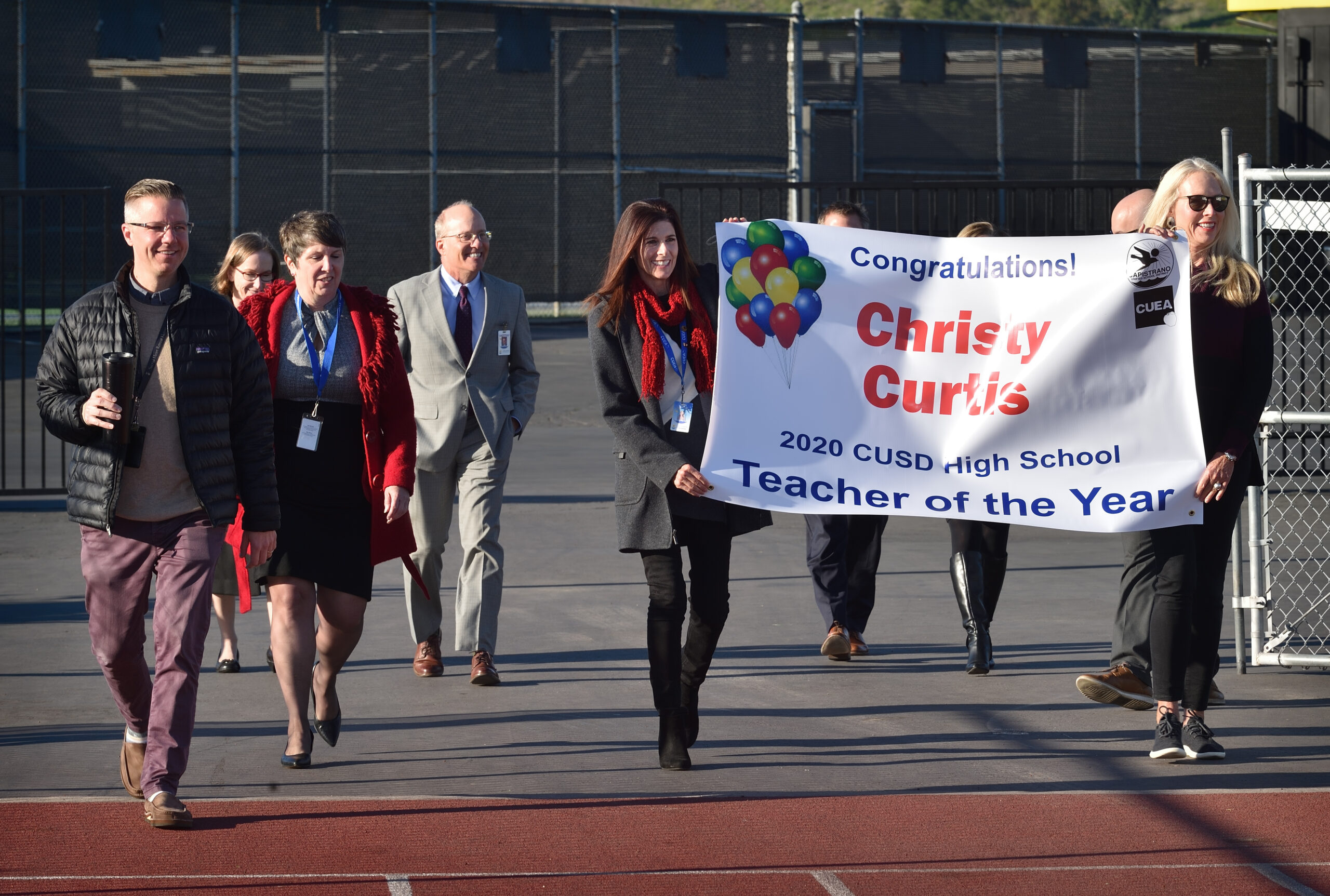 "I am here to foster a classroom environment where each student feels safe, heard, and enough," Curtis wrote.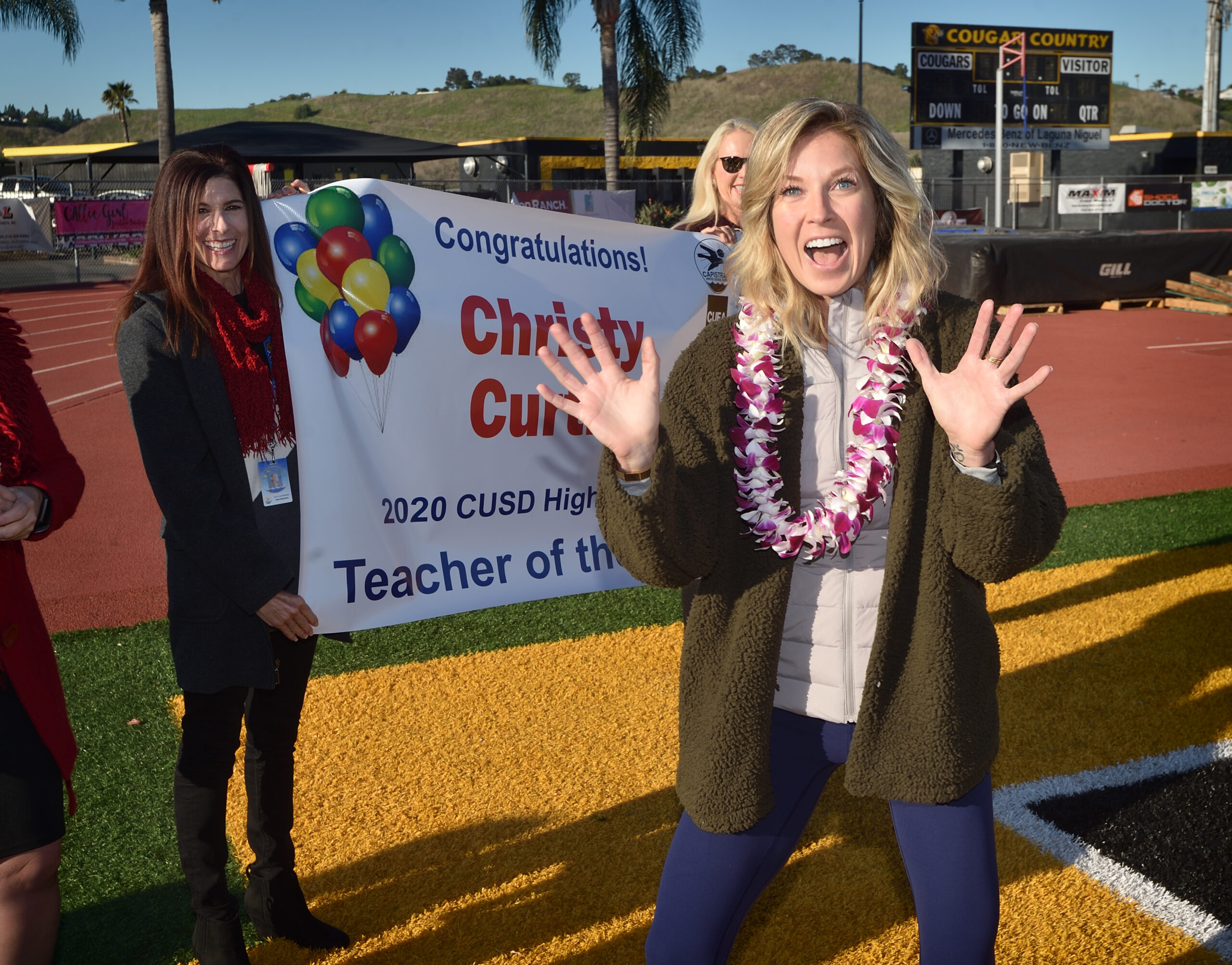 She has a storied resume with a multitude of publications including books, curriculum, and articles; mostly on mindfulness for teachers, students, and parents. In addition, she co-authored the CUSD Coaching Athletic Handbook.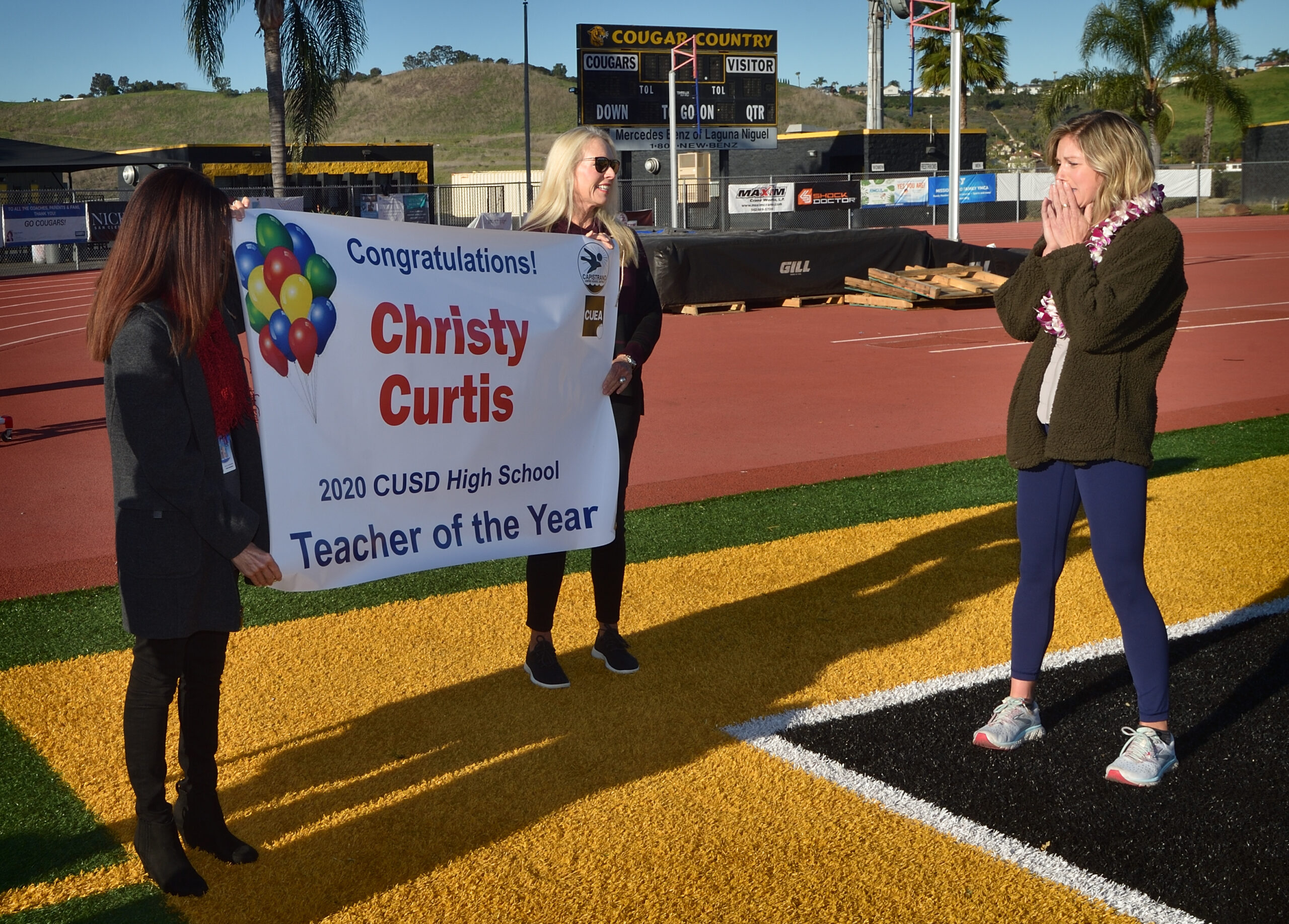 "(Christy) has a gift for encouraging and allowing those around them to shine, whether it's students, colleagues or community members," wrote Tracy Hawkins, Social Science Department Chair at Capistrano Valley High School.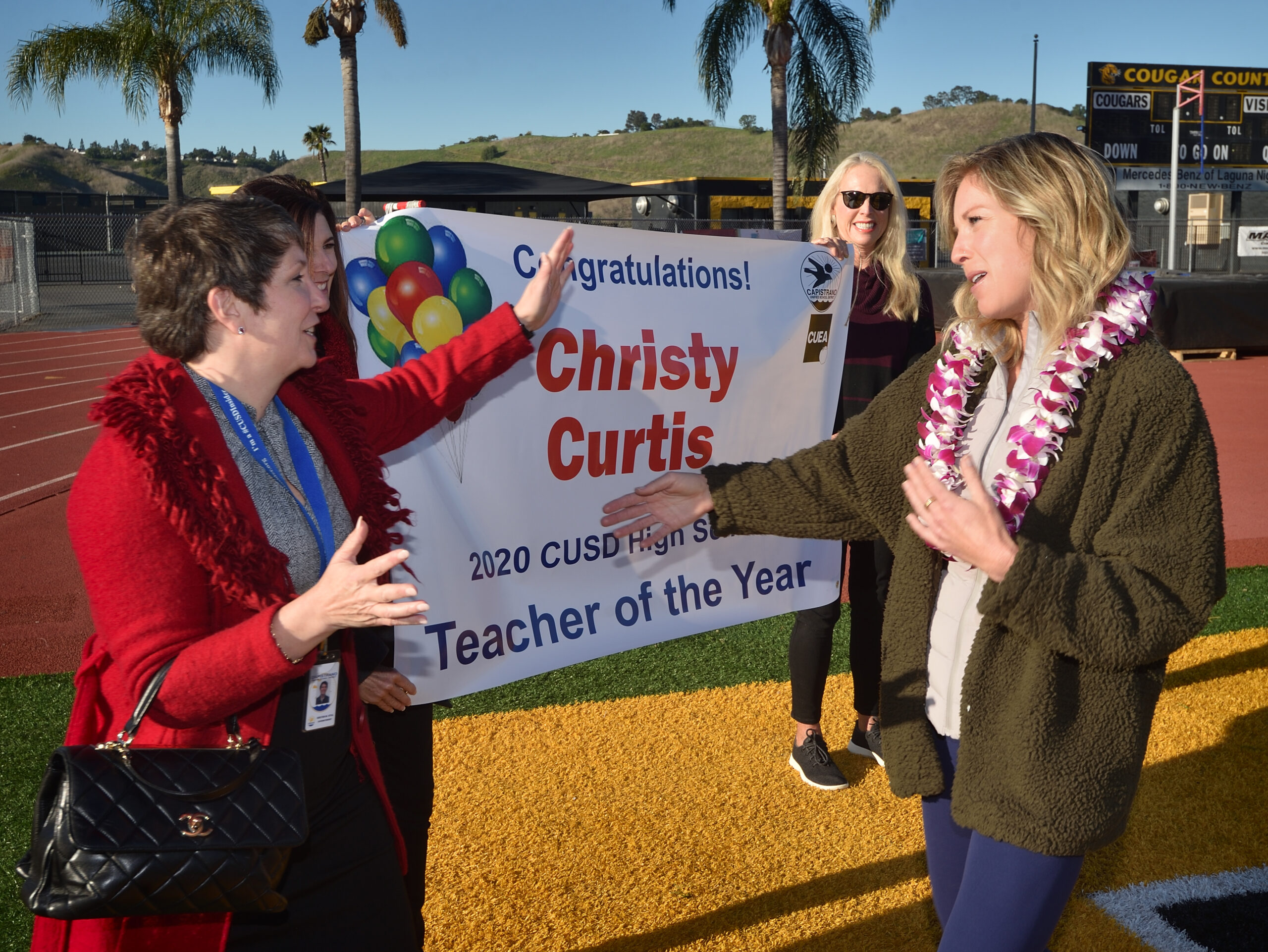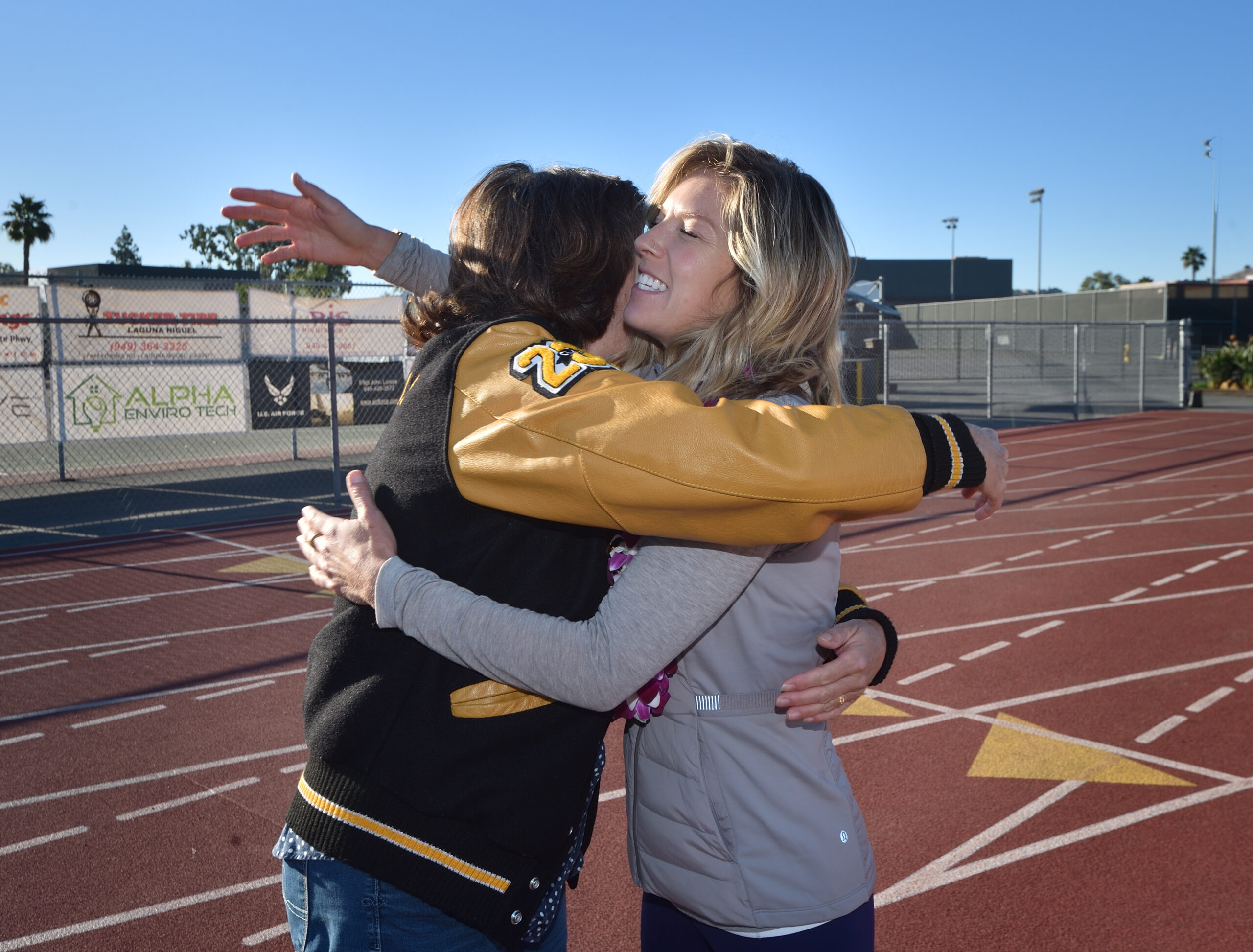 In addition, Curtis has been a member of multiple CIF committees, helped fundraise for The Joyful Child Foundation, is an ambassador for the Teen UpLift Foundation that empowers young women through yoga, meditation and compassion, and is a certified yoga teacher providing yoga classes at Capistrano Valley High School.