The Adopt-a-Cop pilot program at Carl Hankey K-8 Academy has provided great benefits to students, teachers, and to a local deputy who now has a space on the campus.
The program was started by teacher Sherri George and her seventh grade Speech/IB Design class in 2017-18. The kids were brainstorming after the shooting at Stoneman Douglas High School in Parkland, Florida, Principal Dana Aguilera said, when they came up with the idea to offer space on campus to a deputy.
"The kids were trying to figure out how schools can be safer," Aguilera said, "and someone came up with the idea of why couldn't the police deploy out of the school? I thought it was a great idea. They contacted the police chief and went to speak to the City Council."
Deputy Dana Chaney, Hankey's adopted officer, said the program (which launched in 2018-19) has been a great partnership that has allowed her to get to know the kids and school staff by name.
"She's amazing," Aguilera said. "She's part of our school community and we're so excited she came back (this year)."
In fact, on the latest California Healthy Kids Survey, Hankey's fifth-graders' perception of safety increased by 2 percent over the previous year, Aguilera said. The kids were asked whether they feel safe at school.
"I would say that's a good indicator," Aguilera said. "Their sense of security is greater."
Mission Viejo Police Services Chief Lt. Quyen Vuong said Chaney's presence on campus as part of a normal, everyday routine – not just when something bad happens – builds a valuable sense of comfort for students and parents.
"The program is a win-win for the city, the school, and the Orange County Sheriff's Department," Vuong said. "There is zero cost to having her there… Carl Hankey itself is a very safe school, but we do feel that having her there probably helps in having a more relaxed atmosphere on campus because they know she's there for them as a resource."
Her presence, Vuong added, likely prevents bullying, truancies, and other incidents that might have occurred without a police presence at the school.
"It's been nothing but great and we'd like to replicate that throughout the city," Vuong said.
Chaney visits classrooms to teach kids about law enforcement, talk about her job, and help with story time on occasion. Chaney's office on the elementary side of campus is decorated with drawings the kids made to thank her.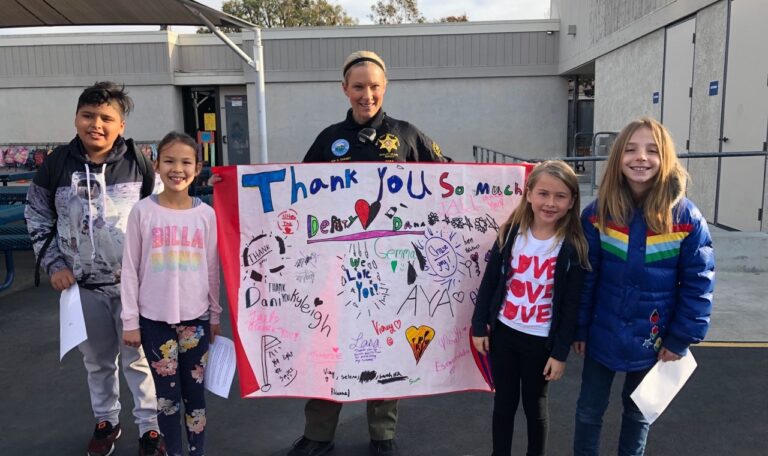 "It makes my day when I'm able to see them," Chaney said of the kids. "All the imagination you could think of went into creating this little artwork. That brings me so much joy."
Chaney, who is the Orange County Sheriff's Department's Quality of Life deputy and received the department's 2018 Mission Viejo Deputy of the Year award, worked closely with the Hankey HAWKS (which stands for Hankey Action Wonder Kids), a fourth- and fifth-grade service group that gathered supplies to help homeless people, as well as with eighth-grade teacher Kathy Beitz and students in Beitz's Individuals and Societies class on community projects related to homelessness.
It's all part of the Hankey mission, which teaches students to take action to make a difference in the world.
The kids interviewed Chaney to determine how they could help the homeless population. In December they collected socks, toothbrushes, toothpaste, snacks, deodorant, handy wipes, and water bottles and spent a lunch period placing the items in 70 Ziploc bags.
"It directly benefited the community," Aguilera said. "It was really cool because it was all done at the kid level. It was crazy. I could not believe how many socks and things they collected."
Chaney hands out the hygiene kits when she meets people in need.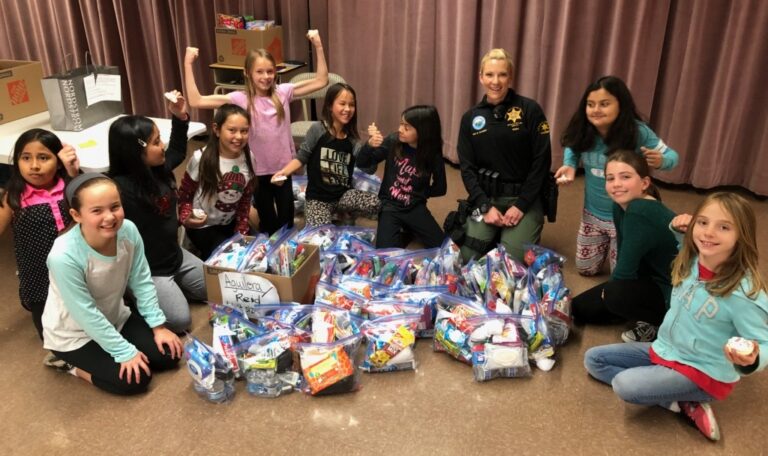 "These kids are amazing," Chaney said. "They totally did this just out of willingness to want to help."
In addition, Chaney works with students when problems arise, district officials said, and she helps students learn about behavior expectations and restoring positive relationships during times of conflict. She also directs parents to city and legal resources when requested.
"People feel like they can come to you as well, knowing there is a deputy on campus," Chaney said. "You build those relationships, and they do come to me, but I've got another role in the city that I deal with on a daily basis."
The Orange County Sheriff's Department has a school resource officer assigned to Hankey and several other schools who handles issues such as truancy, counseling, or vandalism, but Chaney helps when she can. A patrol officer, motor officer, and civilian community service officer also work from various Mission Viejo schools as they're able, Vuong said.
"I love this," Chaney said. "I love that balance where I'm talking to a homeless person, and then I'm talking to some kids who just love you no matter what. They think you're a superhero."