By Cindy Arora
When Neil Kardan's mom found an Amazon box at their front door, the first thing she wondered was if someone had ordered something.
But the box wasn't a new video game or a pair of sneakers. The box held Kardan's future as one of 100 students selected nationwide for the Amazon Future Engineer scholarship.
It's a moment the Capistrano High School student will never forget.
"I was so excited," he recalls. "I wasn't expecting it. I was talking to my Dad when my mom came in and told me there was something for me from Amazon … I couldn't believe it."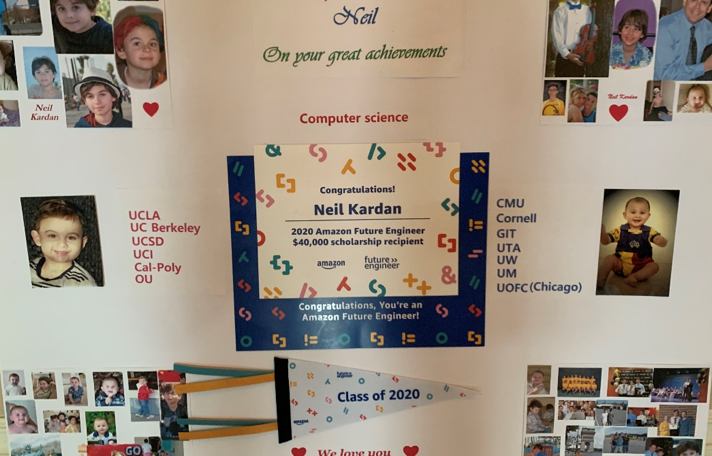 The prestigious award comes with a scholarship for $40,000 that will be dispersed $10,000 a year toward Neil's college education. The company also awarded him a once-in-a-lifetime internship at the Amazon office in Seattle after he completes his freshman year of college and the opportunity to take advantage of everything Amazon has to offer – curriculum, online courses, recruitment resources, career connection and hands-on experience.
For Neil, who is finishing his senior year at home due to COVID-19, the scholarship is a bright spot during a strange time.
"I'm very sad about this year, but there's not much I can do. I miss my school so much, but am trying to make the best of the situation," he said.
Neil's Dad, Faramarz Kardan, didn't know his son had applied for the scholarship. He was in disbelief by the win and what it means for his son.
"I could not be more proud of Neil for all his achievements over the past 12 years, for his acceptance to so many great schools and, of course, for the unexpected Amazon scholarship to make this such a memorable ending," he said.
The 17-year-old Kardan found a kinship with computers when he was in 3rd grade and started to learn how to type. By the time he was in the 4th grade his fingers flew over the keyboard.
In 6th grade a friend of his, a year older, introduced him to coding and programming and he knew he was hooked.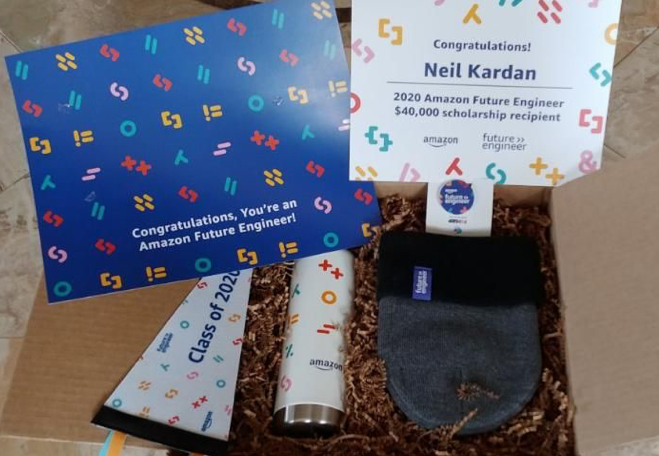 At Capistrano Valley High School Kardan was able to thrive with the help of teachers and staff who helped guide him.
"I will never forget the people at Capo and the entire community surrounding it. Our school is exceptional and accepting, everyone is kind, passionate, and driven," Kardan said. "From football games to theater shows, Capo students and parents are always there and supporting. The environment that surrounds Capo is amazing, it's unifying and captivating."
He is now looking ahead to being a freshman at UCLA in the fall and majoring in computer science with a double major in business or economics and a minor in Spanish.
"I've always been proud," said Neil's older brother, Nick. "I am happy that Amazon knows how to spot a hard worker with a heart of gold. Usually with Neil you never really know how much he's capable of until he's giving you a run for your money."
CUSD Insider had a chance to chat with Neil about his scholarship, his time in school and what the future looks like for him after high school.
CUSD Insider: What would surprise people to learn about you? 
Kardan: I speak three languages! I speak English, Farsi, and Spanish.
CUSD Insider: Favorite food? Favorite dessert? Favorite snack? Go!
Kardan: My favorite food is most likely cantaloupe, my favorite dessert is definitely ice cream (cotton candy from Baskin Robbins), and my favorite snack is beef jerky!
CUSD Insider: How did your high school prepare you for the next step in your young life? 
Kardan: Managing my school work and my extracurricular has definitely helped me build the time management skills for my next step in life. I've become a stronger leader, learner, and thinker throughout these past four years due to the superb faculty and opportunities at Capo, and I am extremely grateful to everyone who has helped me along the way.
CUSD Insider: What do you think separated you from the many who applied? 
Kardan: I think one of my defining characteristics has definitely been my involvement in my school and community. I fell in love with Capo four years ago, and ever since I've been taking every opportunity I get to spend time there. I've been super involved in a wide variety of activities, from Model UN to ComedySportz, and I love each and every one of them.
CUSD Insider: Favorite subject outside of anything STEM related? 
Kardan: I really love politics! Ever since I joined Model UN, debate and politics has been one of my favorite non-STEM areas. I also really like economics, and have a soft spot for Spanish.
CUSD Insider: Final thoughts for all the CUSD students who are just starting out and will read your story?
Kardan: Enjoy the ride! High school is short, while you're going through it feels like eternity, but now I'm here and it feels like an instant passed by and now I'm graduating. Capo is an amazing place, make it your home because you're gonna miss it!